Keep everyone on the same page &
your projects in cruise-control.
"Brightpod is beautifully designed and a very intuitive service that will help you manage your projects more efficiently."
- Boris Veldhuijzen van Zanten, Co-founder & CEO of The Next Web
PODS (Projects)
"I can visually track how my projects are progressing."
Easily, get a birds-eye view of each of your pods (projects) and how they are performing.

Visual color indicators and progress bars easily helps you see which project is approaching (orange) its deadline and which one is overdue (red).

You can even choose a unique color for each project to easily distinguish it on the calendar.
Task Lists & Tasks
"Delegating & tracking recurring tasks is simple again."
Display task lists and tasks as Kanban boards. You get to see the flow of the project (the big picture) and your team knows what they need to do. You can even assign multiple people to a task!

Track list of blogs relevant to your industry or Plan 90 day marketing goals and get feedback from your team.

Recurring tasks lets you repeat tasks. e.g. Send client reports every Monday.
Workflows
"I can stop wasting time & automating similar projects."
Create workflows to help similar projects run smoothly and plan faster. You can also save your own workflows and reuse them since a lot of marketing tasks can be repetitive.

These are the list of marketing workflows that come with every new Brightpod account:

1. SEO Checklist
2. Email Marketing Template
3. Social Media Marketing Workflow
4. Twitter Routine
5. Facebook Advertising
6. Getting Started With Linkedin Ads
7. Setting up a Google AdWords Campaign
8. Speeding Up Your Site
9. Setting up a WordPress Site
10. Site Launch Checklist
Editorial Calendar
"My social media & content strategy in one place."
A unified drag and drop calendar lets you and your team plan content across all your projects.

We'll go one step further to let you even plan your events on the same calendar.
Focus
"The key to productivity is to focus on a few things."
The key to daily productivity is to focus on a few things. Focus, as its name implies, is designed to help you focus on just some of your tasks. Tasks requiring Focus are displayed with a star. You can move these tasks around and plan your week.

With Focus, we built a little bit of personal productivity into this project management system.
Me + Work Priority List
"Stay on top of all your high priority work."
Log in every morning and head straight to the Me page to know what you have to work on or who do you need to nudge.

The Me page will display all tasks by a person across all his/ her projects.

Prioritize tasks (by a simple drag and drop) to seperate the important from the urgent.
Time Tracking & TIMER
"Remember: time is money, track it wisely."
Budget time for each project, track time for each task, add custom time entries, choose between billable and non-billable, filter time by team members and even export all your time to a spreadsheet.

By the end of the week you'll know how much time is being spent on each of your projects.

Oh, we do have an in-built timer as well :)
email integration with Brightpod Send
"I was the bottleneck but not anymore :)"
Brightpod Send allows your team and clients to add tasks, task lists, messages and files to your projects via email.

A few ways you can use Brightpod Send:
1. Sending in ideas as you think about them.
2. Allowing your clients to send in tasks without having them to log in (most clients don't like to login).
3. Forwarding your client requests directly into Brightpod and assigning it to someone.
4. Forwarding details from your contact form (the one on your website) to one of your projects (lets say 'Leads') to capture all lead information in one place.
5. Keep track of job applicants.
Insights & Reports
"A birds-eye view of all your work during a time interval"
Insights (our take on reporting) will show you when a project, milestone, task, time was added, completed, due by any of your team members across any of your projects and during a particular time interval.
Files & ASSET MANAGEMENT
"Neatly store all media production & graphics for every client in one central, secure place."
Every pod (project) comes with a Files page where everyone in your team can upload files and keep them organized. In addition, you can upload files when adding a comment to a task or a message.

Brightpod supports uploading files via Google Drive, Dropbox and Box. Your file will still reside in the storage platform of your choice. Brightpod will only link to that file. This eliminates the need to constantly update a task or a message with the latest version of the file.
Milestones
"Track large goals and see your team's progress."
A milestone is a marker or a goal that you want to achieve for a list of tasks. When you create tasks, they are in task lists. A task list can be associated to a milestone.

For example, you could have a milestone called "Phase 1" and then have tasks associated with that milestone. As you complete your tasks, you will be able to see the progress of your milestone as well.
Messages
"Save time with all your communication in one place."
Need to discuss a website banner image with the team? Instead of sending emails back and forth, create a new message and then share your image with your team. You can attach your file from your computer or use Dropbox, Google Drive and Box.

Your teammates can like your message to give praise or show their approval.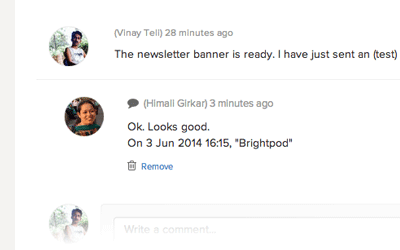 CAPTURE & Track Requests
"Capture and track requests from other departments/teams without them ever logging in."
Send in requests from a custom form and capture those request in Brightpod. This is useful when you have other departments sending in requests that your team needs to get done on time.
Easy setup, simple to use & powerful.
Personalisation
Upload your company logo, choose pod (project) colors, define task types and more.
Email Integration
Work from your mobile device. Simply participate in discussions by replying to emails.
Daily Digest
Receive a daily email notifying you of what happened the previous day and a list of your overdue work.
Google Drive, Dropbox & Box
Easily tap into your docs on Google Drive, Dropbox or Box from Brightpod.
Archive
With Archive, we have got your back. You can retrieve anything that has been removed within 30 days.
Auto-save
We have got your back again! Comments are saved even when you accidentally close the window without clicking Save.