I love presenting Brightpod to a digital agency founder or his/her digital marketing team. I think giving a demo to a prospective customer is the best way to get into their head and know what they are thinking before you make the sale. What problems do they have and why they need a project management tool for their business. I use a combination of Join.me and Skype and do anywhere from 2–6 demos each week.
Most digital marketing teams that I talk to have anywhere from 10–40 client projects and are in a growth stage. Their goal is to scale up as fast as possible. Scaling includes managing more projects with the same team. It takes time to find the right people and train them. However, its easier to win new projects and have your existing team work on them.
Today, I have come up with 6 best practices to help your marketing team manage dozens of projects with a lot of ease, confidence and control.
1. No Email
Email works with 1 or 3 projects. More than that and you are heading for disaster. How do you know which is the latest file that your client has sent your team? How would you know who is working on the Twitter campaign and if it has been completed? What if that person is absent and you need to send back the banner image to your client? How would you know how the website optimization project is going? Has the client been informed about the recent changes? Seriously, email completely breaks down when you have a lot to delegate, manage and track. Use it at your own risk.
2. Automate Using Workflows
A system, process, checklist is what every business needs. The key to your company's creativity, speed and success lies in following tasks that make up your project, campaign or process.
I read an interesting article yesterday which spoke about Apple's giant checklist to get their products out the door. It mentioned not relying on "tribal knowledge" that is haphazardly passed from one team member to another. Instead, rely on a system and a process that documents all tasks, check lists and workflows that each of your team member or a group must follow. It is human nature to forget critical steps when implementing a project or a campaign. This leads to project delays, disgruntled clients and compromises by your team.
Your marketing projects are no different from Apple's process to get its products out the door. For common projects, create task lists (think of it as a check list) and let your team re-use them for common projects. For example, every website that you create for a client should go through an "speed & optimisation" process. This could be a list of tasks that can be saved in a workflow and re-used for each of your website design projects.
Creating a system, workflow and task lists frees your team from worrying about if they are getting all the steps right so they can concentrate on being creative and focus on their core.
3. Separate Your Projects
Keeping your projects separate helps you step back, zoom-out and check if your projects are progressing as planned and deadlines are being met. The last thing you need is a surprise and a pissed off client.
4. Delegate like a Champ
With so many projects its obvious that delegation is key in getting work done on time. Delegation is not about just telling someone to do something. It needs to be written and each task needs to have a deadline associated with it. It is then only you can see what is holding your projects behind and who to blame for that.
5. Focus on only a few things
Working on multiple projects every week is chaotic. What is needed is a better way to focus and a system to help you refrain from multi-tasking. Just work on a few things every day.
In Brightpod, Focus, as its name implies, is designed to help you focus on just some of your tasks. Obviously, you can't work on everything at once. So, go ahead and mark some of your tasks as "Focus" and view it on a separate Focus page.
6. Accountability
A successful team is one which is in-sync and knows what they need to do at every step of the project. If you are the CEO then you might need to review reports. If you are the marketing manager then you need to review campaigns. If you are a content writer then you might need to research and write that article to be published tomorrow.
With so many tasks in multiple project it is easy for the system that you are using to break down. In Brightpod, we came up with the Me page — The Me Page will you zoom into stuff that matters to only you:
• Overdue Tasks• Upcoming Tasks• Tasks Delegated by you• Files that you uploaded
Now, all you need to do every morning is to login to Brightpod and head straight to the Me page to know what you have to work on or who you need to nudge. The attention page is updated automatically.
‍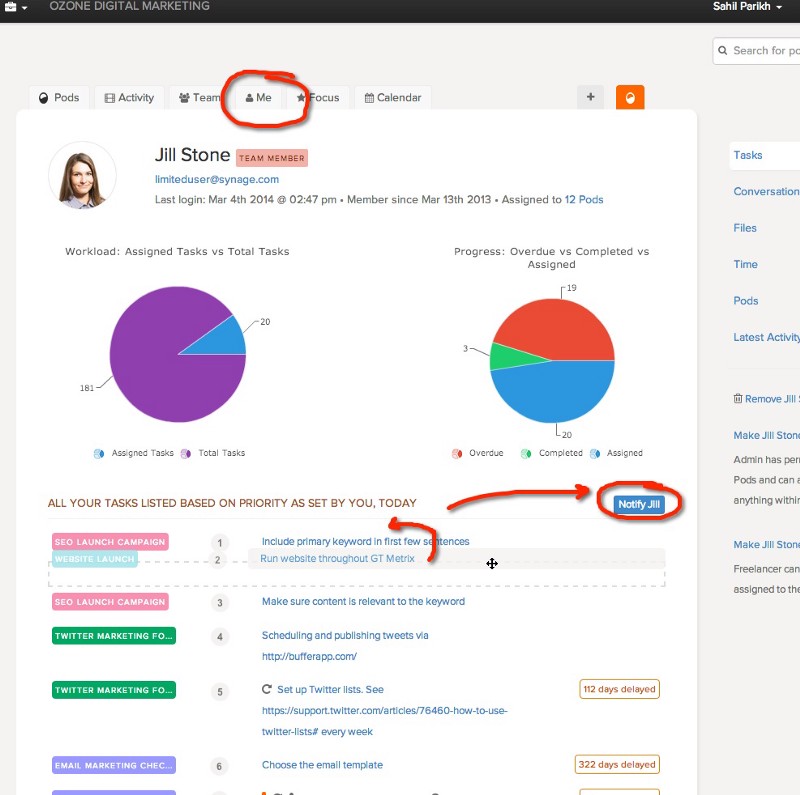 ‍
With a system in place, managing and tracking multiple projects should not be a daunting task. Wake up each morning feeling in control. Trust me, it's a great feeling when you know what everyone in your team is doing, people are working in harmony and your business is scaling up smoothly. Good luck!