We already know content marketing is key, but then what? A lot of first time adopters plunge into content marketing without a strong strategy to back them. They create a few blog posts, presentations and maybe even videos but they don't really see the results they need. The first rule of content marketing? Don't delve into it without building a strong foundation. Without one you'll be left with a lackluster effort and less than outstanding results. In this post I've outlined 6 key elements of a winning content marketing strategy. I vehemently believe that these steps can help you craft a winner of a content marketing plan!
Define Objectives
Before diving into content creation, it's imperative for you to align your content marketing objectives with your overall marketing strategy. Different companies have different objectives from content marketing. You could be an early stage startup looking to generate awareness, strengthen SEO or a more established company with a goal to establish thought leadership. Your primary objective could also be more directly linked to generating qualified leads for your businesses or nurturing existing leads. This exercise requires a clear thought process about the results you want from your content efforts and how you can shape your plan to get these results. Pro Tip: Define one or two objectives in the beginning and tailor the rest of your plan on them. Trying to accomplish multiple objectives will do you more harm than good.
Flesh out Buyer Personas
Before creating any sort of content or even thinking about content topics, you should give some serious thought to who your customers are. That's right. You'll need to flesh out detailed buyer personas so you can tailor content for their needs. Building out buyer personas is a great exercise for sales and marketing teams and one that I recommend they collaborate on. While fleshing out buyer personas, here are the elements you should concentrate on:
Demographic Information: Details such as gender, age, location, designation etc. are the hallmarks of a well rounded out buyer persona. These details alone can help you craft relevant content and educate your buyers about your products in the right way.
Pain Points: Listing down the pain points your buyers face with respect to the problem your product solves, will help you craft content that educates them and helps ease their concerns.
Their hopes and goals: What are your buyer's goals and aspirations? This should specifically be in regard to the need your product solves. For eg, if you're selling a marketing automation tool and your buyer persona is a young content marketer, her goals could be increasing traffic to her blog or generating more leads.
Where can they be found? Understanding where your buyers spend their time is a crucial element of the buyer persona. This could be a physical place like a trade show or a virtual one like a discussion forum.
Keyword Research
Keyword research has traditionally been associated with SEO and higher rankings, however, it's also an important part of content marketing. Picture this. A prospective buyer is looking for advice on how to track social media ROI and you've written a few detailed posts on the topic mentioning your product as well. These now pop up on his search results (because of relevant keywords). How does this help? Well, apart from getting an interested, targeted lead on your blog/website you've also provided value and built trust. Two supremely important (and difficult) elements of content marketing. For this reason, detailed keyword research is a must before you delve into content creation.
Map Content Topics to Buying Stages
Content marketing should also be closely intertwined with your sales efforts. To help leads at every stage of the buying cycle convert, it's necessary to create supporting content for each stage. To start off, you'll need to list your buying stages. Once you have your buying stages noted down, you'll need to think about the issues your buyers/leads face at each stage. A lot of this information will come from your existing buyers, your sales and your support teams. Once you have a fair idea of the issues faced, you can get started on creating helpful guides, videos and other supporting content.
Determine Content Topics
Once you've made your way through the previous steps, you can start brainstorming on content topics and ideas. There are a couple of ways to ensure you create a large bank of ideas.
Go through your Feed Reader for inspiration
Use InboxQ to understand the conversations people are having on Twitter related to your topic
Go through your product feature list and list down valuable topics around them
Use sites like inbound.org, alltop.com for inspiration
Have a brainstorming session with your entire team
Once you have a decent bank of ideas, say for at least 120–180 days, you can move on to the next step.
Create an Editorial Calendar
Creating and maintaining an editorial calendar has multiple benefits. By creating one, you can bring order to the chaos of content marketing and keep multi-author teams in sync. At Brightpod, we recently launched an all new version of our Editorial Calendar.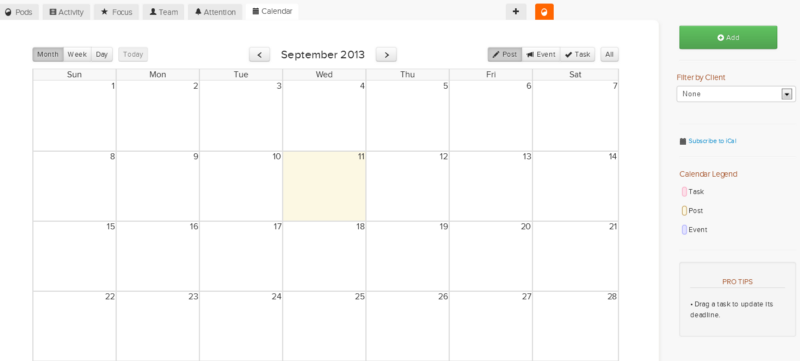 Brightpod's editorial calendar makes content marketing a breeze and this is what we use to handle our content marketing as well. If you'd like to give our new calendar a try, you can sign up for a free 14 day trial of Brightpod. So there you go, the 6 key elements of a winning content marketing strategy. Thanks for reading!