This week we feature, Evgeny Kruglov, CMO and Co-Founder of AppFollow. AppFollow is a real-time monitor for user reviews, versions, rankings, search result positions & more in the App Store, Google Play & Windows Store.
In this interview, you can read more about his work at AppFollow, favorite marketing tools, productivity tips as well as his advice for budding marketers.
‍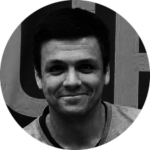 ‍
Your location: Helsinki, Finland / Moscow and Rostov-on-Don, Russia / Minsk, Belorussia.
Your favorite gadget: iPhone.
You start your day with: Checking mail and news and having a cup of coffee.
Your favorite time-saving trick: Put on the headphones to focus.
Your top blogs you read daily: I am not that much blogs reader but I'm fond of twitter: @BenedictEvans, @ycombinator and lately @steipete
"We always try to catch up with our customers on our plans and goals."
Describe an average day at AppFollow?We work as a distributed team from Moscow, Helsinki, Minsk, Rostov-on-Don and even Berlin. In the morning we have either Skype calls or chat in Slack setting up day or week priorities. Slack allows to track changes in Trello or Github so everyone knows what are the latest changes. We — as co-founders — have a separate chat in Telegram app where we discuss latest news, exchange ideas or just get statuses from each other. Anatoly works mostly with the product pipeline and analytics, Pavel is our CTO, so he is in charge of all tech questions. I do financial and marketing, as well some customer care. But, to be honest, all three of us answer our customers every day.
As a startup founder, what are some of your favorite productivity hacks?
That's a tricky question. Well, in AppFollow we don't have any secret souse here, we just make use of what proved to be useful: weekly planning sessions are done in 3/3/3 format (3 thing done / 3 things failed / 3 goals for the week). On a weekly basis we talk with our mentor who guides us in terms of strategy and primary goals to focus on. All three of us are used to set up daily goals as well not to miss something important. We use Trello for that as well everyone has a choice of a simple to-do manager. I personally prefer 2Do app.
As a person who is well-versed with online marketing, I'm sure you rely on a few marketing tools to automate your efforts. What are the top 3–5 tools you use?
Actually, we're only starting our online marketing. So there is not that much to talk here about as we only just began to form the pool of tools to help us here. As of today, we have our corporate blog based on Medium.com, we had two very successful launched on Product Hunt. For analytics we use Google and Amplifier. We as well collect all the data through Segment which егектув out to be a very powerful tool.
Your company has a growing community of users. How do you use this treasure trove of customer insight to power your marketing efforts?
The most powerful thing we have from our customers is a word-of-mouth: they all are eager to share with colleagues their experience with AppFollow and that helps us growing a lot. We always try to catch up with our customers on our plans and goals. That's why we do monthly reviews of thing we implemented in the service, we as well share our quarterly results and we have a public road-map which anyone is welcome to comment.
What is your strategy for getting people to your site and then converting them to a customer?
So far we were not doing that much special efforts to catch people on our web-site as we were much more focused on developing the product itself. But we had few landings that were targeting Slack or HipChat users solely. We plan to introduce new ones very soon. I already mentioned our blog which also served that goal. And we had few articles published in the media which also drove some attention to us.
Is there any advice you'd like to give to budding startup marketers to help them work smart and stay productive?
Well, we're only learning things ourselves, so I afraid I don't have a silver bullet yet. But I would strongly advise all co-founders find some time to do monthly and quarterly strategy meetings when you don't discuss daily routines but only goals and visions. As well, having a good mentor can be of great help in getting a helicopter view on what are you doing with your product or service. And never loose trust in your team and yourself!
A big thanks to Evgeny for taking the time out to answer these questions! If you haven't already, we highly recommend that you check out AppFollow.
Managing marketing projects shouldn't be chaotic — Try Brightpod for free and start focusing on what matters.