This week we feature, Janessa Lantz, Principal Content Marketing Strategist at HubSpot. HubSpot is a company based in Cambridge, Massachusetts that develops and markets software products for inbound marketing.
In this interview, you can read more about her work at HubSpot, favorite marketing tools, productivity tips as well as her advice for budding marketers.
‍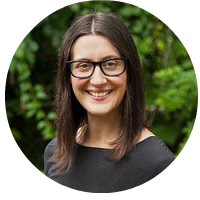 ‍
Your location: Philadelphia, PA.
Your favorite gadget: I'm going with my headlamp. If I'm wearing it, it usually means I'm camping and having a lot of fun. You don't realize what an amazing gadget a headlamp is until you're trying to start a fire in the dark.You start your day with: I try to do a little reading before I open my computer, but I haven't made that a habit quite yet.Your favorite time-saving trick: Say no. Tune out all the things that aren't important. Focus.Your top 3 blogs you read daily: Because ThinkGrowth.org is hosted on Medium, I live there. Medium and the Mattermark newsletters are pretty much the sum total of my daily content consumption.
"The worst thing you can do in marketing is half-ass a lot of things."
Describe an average day at HubSpot?
‍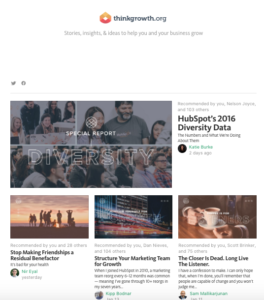 ‍
I work remotely from my home in Philadelphia, running HubSpot's Medium publication, ThinkGrowth.org. We publish about five times a week so my morning usually starts with a final edit, publishing, and then promoting the day's post. Then I settle into my work — responding to story pitches, working on my own writing, sourcing stories. It's usually about the time I have a video call that I realize I still haven't combed my hair so I do a mad dash to appear like a somewhat normal working professional. I'm still figuring out this whole work from home thing :)
As a marketer, what are some of your favorite productivity hacks?
The most common productivity suck is spending time on low-impact work. I've started to use "hours worked" as my "canary in the coal mine" that indicates I might just be working harder, not smarter.
For example, I hit Friday the other week in a panic, realizing I had so much work left to do, and when I looked back at my hours, I had been working 9–10 hour days every day. What happened? We had an influx of pitches that weren't even close to being a fit, and I was giving careful feedback on each one.
I was doing this because I know how it feels to be getting started as a writer, and I wanted to be helpful. But I needed a more scalable way to get people on the right track. So I created Gmail canned responses that include different tiers of feedback. Now when I get a pitch that's far off the mark I can respond in 2 seconds vs. 10 minutes — and I'm still giving them some next steps:
‍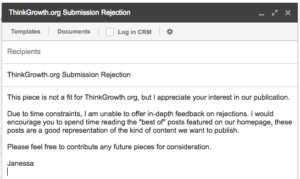 ‍
If I'm coming up on the 7 hour mark of a day and feeling like I'll never get everything done, that's a sign to reevaluate. Am I working on the most important things? What was the biggest time suck of the day? Is that something I should be doing?
If you need to work a 50–60 hour week every now and then, by all means, do it. But don't wear busy like a badge of honor. It almost always indicates that you're spreading your focus too thin which means you're killing productivity on the things that matter most, and probably doing a crappy job all around.
As a person who is well-versed with online marketing/ inbound, I'm sure you rely on a few marketing tools to automate your efforts. What are the top 3–5 tools you use?
I'm a huge Trello fan. They have a handy email-to-Trello feature, so when pitches come into my inbox I forward them to the Trello board where I manage ThinkGrowth.org workflows. It's a simple semi-automation that keeps my inbox cleared and prevents task-switching.I use Toggl for the time tracking I mentioned above, super easy.And I already mentioned Gmail stock responses. Those are incredibly useful.
Your company has a growing community of users. How do you use this treasure trove of customer insight to power your marketing efforts?
HubSpot has just been phenomenally successful marketing to a persona we call "Marketing Mary." The core blog gets 4.5 million visitors every month and content on the site generates 60,000 leads every month. The team creating this content blows me away. They're so good at what they do.
But this is not my audience for ThinkGrowth.org. ThinkGrowth.org is targeting a new persona for HubSpot, one that is less likely to be using HubSpot in their day-to-day work, but will likely show up in the buying decision. So we publish very little of the practical, how-to content that does so well on our blog. There's only about a 10% overlap of ThinkGrowth.org readers who are also in our database, which tells us we're reaching a very different audience.
So back to your question — the HubSpot team does an amazing job at using customer insight to power its marketing efforts, but I can't speak to that :)
What is your strategy for getting people to your site and then converting them to a customer?
ThinkGrowth.org is part of an off-site content play that also includes Inbound.org (community) and The Growth Show (podcast). All of these plays are far more top of funnel than our other properties so I don't spend my day-to-day thinking about converting people into customers.
This is new for me.
In my previous job I was working as a marketing director at a SaaS company and spent a lot of time thinking about lead-gen,website optimization, and conversion paths. In this role, my job is to build an engaged reader base. It's a new challenge for me that's much more about building credibility as a publisher for a new persona than it is about lead-gen.
Is there any advice you'd like to give to budding marketers to help them work smart and stay productive?
I didn't really have a philosophy for my approach to work until I joined HubSpot. They talk about "GSD" (Get Shit Done) as a value. That's the best advice I have for new marketers. Hit publish. Analyze the data. Send the email. Just do the work.
At first, you'll do a lot of stupid stuff. You'll look back at the first posts you published and wish you could get them off the internet, you'll send an email with typo, you'll host a webinar and nine people will show up — yes, all of these things have happened to me :) — but you'll get smart really fast about what works. You're at a stage in your career when people expect you to make mistakes, make them! Just don't make the same mistake twice.
And pair that with rigorous prioritization. There are so many good things you can do to move your business forward, you have to focus. And you can't really focus on more than three things at a time. Put all your weight behind those three things and ignore everything else. The worst thing you can do in marketing is half-ass a lot of things. Pick a small set, and then do the work to make them as amazing as you can.
How do teams at HubSpot have fun at work/ make work fun? OR Describe one fun activity you did recently that energized your team?
The content team did an outing in December where we made gnocchi. It involved eating a lot of really great food and rolling some dough…so it was kind of perfect.
Here's a photo of us all eagerly waiting to begin:
‍

‍
A big thanks to Janessa for taking the time out to answer these questions! HubSpot's products and services aim to provide tools for social media marketing, content management, web analytics and search engine optimization. If you haven't already, we highly recommend that you check out HubSpot.
The 'How Marketers Stay Productive' series asks marketers their tips & strategies for staying productive. Every week we'll feature a new guest and the tricks that keep them working smart. Know someone you'd love to see featured? Email Us.