This week we feature, Jeremy Blazé, Founder of Feedline. Feedline is a simpletool for adding a feedback form to your website in less than 5 minutes.
In this interview, you can read more about his work at Feedline, favorite marketing tools, productivity tips as well as his advice for budding marketers.
‍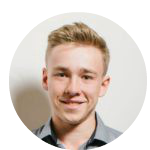 ‍
Your location: Melbourne, Australia.
Your favorite gadget: My iPhone 7+, closely followed by my Apple Watch.
You start your day with: I work best in the early hours of the morning. I always get up nice and early and get right into work.
Your favorite time-saving trick: Automating everything that can be automated.
Your top blogs you read daily: Cult Of Mac, Fastco Design, TNW
"Staying on top of what you need to do can cause a lot of stress."
Describe an average day Feedline?
My day generally starts pretty early. Working from home I'm able to go straight to the desk and get right into knocking over some todos. I always try and do client or personal projects first thing. Once the regular 'business day' starts I get into design work for Contact Light, the company I'm a full time designer at.
Being able to work remotely definitely has heaps of benefits and being able to work at odd hours is one of them, but I still try to whenever possible work at semi-normal hours (rather than late night or early morning), just so I can be around while the rest of the team is active. It's always better to be able to throw an idea into Slack and get a response in 5 minutes rather than send an email and have to wait until the next day for a response. You can read more about Contact Light's culture in our handbook.
As a startup founder, what are some of your favorite productivity hacks?
Pretty much all of my work is computer based, so I'm going to list a few of the tools I use most that help keep me on track.
Field Notes: You can really use any notepad but I've come to love these little pocket-sized books. These are great for jotting down random notes and making quick lists. I recommend this over any note taking app. Notes are supposed to be quick and messy, and digital solutions are just too organised.
Focus: It's easy to get distracted when you have an internet connection. Focus temporarily blocks distracting websites and apps.
Tunnel Vision: If you're using Trello you've got to give this a try. Whenever you open up a new Chrome tab, you get a list of next tasks for all your Trello boards.
Read further down below for some of my more general opinions on staying productive.
As a person who is well-versed with online marketing/inbound, I'm sure you rely on a few marketing tools to automate your efforts. What are the top 3–5 tools you use?
Marketing web products isn't easy, especially if you don't want to 'advertise' (i.e. pay for ads). Social networks are of course the first place to look. Twitter, Product Hunt, Dribbble, Instagram. In that order. If you have something of a following on any of those social networks… use them!
In terms of automation, I use Buffer to queue up tweets and Facebook posts for my many accounts. For Instagram, I use Grum which is a properly automated Instagram scheduler. A lot of Insta schedulers only remind you when you need to post. Grum is completely automatic.
Your company has a growing community of users. How do you use this treasure trove of customer insight to power your marketing efforts?
Being in a small team (in the case of Contact Light, it's 6) is awesome in that you can change direction incredibly fast. Even before the launch of Embark (Contact Light's flagship app) we were conducting user tests and bringing in testers from all sorts of demographics. We took on their feedback and made a Public Roadmap of what we were working on and what we hoped to get onto next. This is truly something that can only be done when you're in a small, agile team.
The next level of this is working solo. Working on your own you can make whatever decisions you want and that can go south very quickly. It's easy to build the product you want rather than the product your customers want. I take user feedback really seriously for this reason and ready ALL of it. The customers are the people using the product the most so they should be the ones deciding what comes next.
What is your strategy for getting people to your site and then converting them to a customer?
Converting viewers to customers is a much studied topic. I take a very simple view of it. If your product is good, people will want to use it. Too many online businesses get bogged down in trying to "convert" users and fail to realise that it's simply the product that's letting them down.
Is there any advice you'd like to give to budding startup marketers to help them work smart and stay productive?
Staying on top of what you need to do can cause a lot of stress. Stress means poor productivity. There aren't any quick hacks to fix your mile-long todo list — you just need to do less stuff. This is when you need to get outside help. This help can come in many forms. For development tasks it could be as simple as not coding that little slideshow plugin and using a pre-built one from GitHub. If it's maintaining your social presence that can be easily automated with tools like Buffer. For anything else you've got to wonder whether it can be done as well by someone else as it can be done by you. If you have any tasks that are far below your skill set or that don't really need any specific skills, get someone else to do it.
For keeping yourself on the ball, just make sure that you always know what you need to be working on NOW. I used to find myself getting caught by trying to over-plan my schedule. Planning is something that happens once a day. I always plan out my days right at the start with an ordered list of what I need to do. That way I always know what I need to be working on.
A big thanks to Jeremy for taking the time out to answer these questions! If you haven't already, we highly recommend that you check out Feedline.
The 'How Marketers Stay Productive' series asks marketers their tips & strategies for staying productive. Every week we'll feature a new guest and the tricks that keep them working smart. Know someone you'd love to see featured? Email Us.