This week we feature, Justin Keller, Senior Marketing Director at Whil. Whil is the leader in digital training in mindfulness meditation, yoga and leadership for individuals and companies.
In this interview, you can read more about his work at Whil, favorite marketing tools, productivity tips as well as his advice for budding marketers.
‍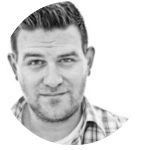 ‍
Your location: San Francisco, CA.
Your favorite gadget: Other than my phone? I couldn't get through the day without my headphones.
You start your day with: 5:30 am Crossfit followed by a ten-minute meditation and a bunch of Vitamin B complex.
Your favorite time-saving trick: Save. Every. Thing. It's amazing how much you can repurpose work you've already done if you get creative about it.
Your top blogs you read daily: FiveThirtyEight , Content Marketing Institute , Harvard Business Review
"We focus on telling great, compelling stories on how mindfulness benefits a business."
Describe an average day at Whil?
The average day at Whil is not at all average. As a small, high-growth startup we constantly have changing priorities, surprise projects and unexpected emergencies that totally reshuffle the day's schedule. There are two constants though: Everyday at noon, we all gather together in our kitchen and have lunch together. There are almost no other times when a company can easily convene the entire team. Lunch is super important for team morale, departmental updates, and because it's usually super delicious. The other constant is our daily meditation. Every day at 3:00, most, if not all, of the Whil employees will gather in our yoga/meditation studio, called "Studio Fifty-Flow" for a brief ten-minute meditation.
As a startup marketer, what are some of your favorite productivity hacks?
Meditation. During my morning commute I'll spend ten minutes focused (usually using Whil), to prepare myself for whatever comes my way. Being able to stay positive, focused, and resilient is crucial in a startup environment. Meditation is, by a mile, the most important tool in my belt to achieve that. It's also a great source of energy. On days when I miss our daily 3:00pm meditation I hit a wall around 5:00pm and productivity suffers. That ten-minute sit at 3:00pm is like jet fuel that helps me successfully cruise past 6:00pm.
As a person who is well-versed with online marketing/ inbound, I'm sure you rely on a few marketing tools to automate your efforts. What are the top 3–5 tools you use?
Marketo is our marketing automation weapon of choice.
We're highly collaborative so there are at least 3–4 Google Docs tabs open on my browser at any time.
Sprout Social helps us automate our social activity.
We're a content heavy marketing team, so we use Outbrain to help tell our stories.
Your company has a growing community of users. How do you use this treasure trove of customer insight to power your marketing efforts?
Just like in most startups, Whil's sales, marketing, and product teams are all inextricably linked. We all gather and analyze user data to inform our respective activities and plans– especially with our corporate users. We try to gather data at every point and analyze it to decide, "Who's an ideal customer, who's not? What commonalities do they have in common and what do they definitely not?" It's perhaps a little counterintuitive, but as a startup finds its footing with it's buyer demographics, it's potentially most valuable to know who is definitely NOT your buyer and actively navigate away from them.
What is your strategy for getting people to your site and then converting them to a customer?
Whil is a novel solution in the burgeoning segment of employee well-being. We're doing things that no one does in a category that's still in virgin territory. For that reason, storytelling is absolutely crucial to our acquisition strategy. It's exactly why we don't invest much in traditional digital advertising. Rather, we focus on telling great, compelling stories on how mindfulness benefits a business– all backed up by data– so that we can start the long process of broadening our marketplace and defining it in our terms. It's working really well– 9 times out of 10, when we get to tell our story we have a new customer.
Is there any advice you'd like to give to budding startup marketers to help them work smart and stay productive?
Meditate. Seriously. There is a learning curve and a lot of discipline involved, but it's amazing what you can accomplish when your head is in good shape. I hate to do a shameless plug, but my company's product is built specifically for professionals who are looking for that mental edge. Here's an eBook we put together all about the science of how mindfulness training helps driven professionals get that edge.
A big thanks to Justin for taking the time out to answer these questions! If you haven't already, we highly recommend that you check out Whil.
The 'How Marketers Stay Productive' series asks marketers their tips & strategies for staying productive. Every week we'll feature a new guest and the tricks that keep them working smart. Know someone you'd love to see featured? Email Us.