This week we feature Karlista Lex Okoh, CEO of Barttar, a service designed to create a barter for any product or service.
In this interview, you can read more about his work at Barttar, favorite marketing tools, productivity tips as well as his advice for budding marketers.
‍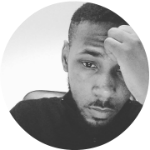 ‍
Your location:Lagos, Nigeria.
Your favorite gadget:My MacBook Pro.
You start your day with:Listening to Kanye's Graduation Album, hit the gym and then I go through my mails.
Your favorite time-saving trick:Holding meetings while walking or standing up. I also set the timer to alert us at every hour so we know exactly how much is being spent on a project.
Your top 3 blogs you read daily:TheNextWeb, Medium, Twitter.
Describe an average day at Barttar?
Low volume music from Ezra's Mac, featuring the obligatory tracks from Nas, Tupac, Fela and Queen's "we will rock you". Everyone with heads buried into their work stations, exchanging messages on slack, debating strategy and exchanging opinion. There is often a routine outburst from Anita about her PCs slow response to which everyone replies "get a Mac". Meetings if there is any on schedule and "shade throwing". Basically everyday is filled with sweat, an insane work ethic, plus a drive and passion like I have never seen before.
As a Founder/CEO what are some of your favorite productivity hacks?
I try to hit the gym every morning, it helps me resume with a clear mind. I also take the occasional walk or a power nap if I sense my brain being clogged with distractions. I often break tasks into smaller achievable goals before I set out to achieve them. I have found the simple act of standing on the balcony, looking at the average Lagosian, observing that in their own world they are also giving their all — from the water vendor pushing his cart to the delivery guy carting away pizzas. This more than anything inspires productivity within me. I set the clock on my mac to always announce the time every hour, that way I know exactly how my day is going and how much I have done within that time. I prioritize every activity so I am not found doing an activity whose deadline isn't as pertinent over one whose deadline is.
As a person who is well-versed with online marketing/ inbound, I'm sure you rely on a few marketing tools to automate your efforts. What are the top 3–5 tools you use?
We use trello to manage tasks and projects as it saves time. We use Hootsuite for social media publishing. We rely on Product Hunt to find out the best products and technological trends. Basically we read a lot and try to find what works…empirically.
Your company has a growing community of users. How do you use this treasure trove of customer insight to power your marketing efforts?
We pay close attention to the information that emerges with teeming users and with this we customize a service delivery that will make using barttar.com even more efficient. Our aim is to continually satisfy our consumers' every need and enhance the way goods, skills and services are exchanged globally.
What is your strategy for getting people to your site and then converting them to a customer?
We put out precise, witty and targeted ads. Once users come to the site and experience the simplicity, they become converts. Since the platform does not request long form registration, this helps anyone join and trade on barttar.com within seconds.
Is there any advice you'd like to give to budding marketers to help them work smart and stay productive?
Yes, I'd like to simply quote Steve Jobs "remain hungry, remain foolish"
How do teams at Barttar have fun at work/ make work fun?
At barttar, it is customary to indulge in the occasional game of charades, scrabble or good old "shading" of one another as we bond over childhood memories. We also have a foosball table and the guys are always good sport. To celebrate our first million users I have promised the guys a a holiday in the Bahamas so there is more fun to look towards so far as we put in the required work.
A big thanks to Karlista for taking the time out to answer these questions! If you haven't already, we highly recommend that you check out Barttar.
Managing marketing projects shouldn't be chaotic — Try Brightpod for free and start focusing on what matters.