This week we feature Lisa Marcyes, Sr. Social Media Marketing Manager at Marketo. Marketo Inc. makes marketing automation software for companies.
In this interview, you can read more about her work at Marketo, favorite marketing tools, productivity tips as well as her advice for budding marketers.
‍
‍
Your location: San Francisco Bay Area.
Your favorite gadget: Gotta have social media at my fingertips, so it has to be my phone!
You start your day with: A quick check of the news and a look at any updates on the social channels I may have missed.
Your favorite time-saving trick: Twitter Lists. They allow me to keep everything in one place. I can curate content, keep updated on trending conversations, engage influencers, and see what's trending.
Your top 3 blogs you read daily: Social Media Today is my go-to for up to date social media news. Social Examiner is a fantastic source for how-to's in social. Last, I'd have to say QuickSprout. Neil Patel has a way of simplifying complex ideas that I find very helpful.
A picture of your workstation:
‍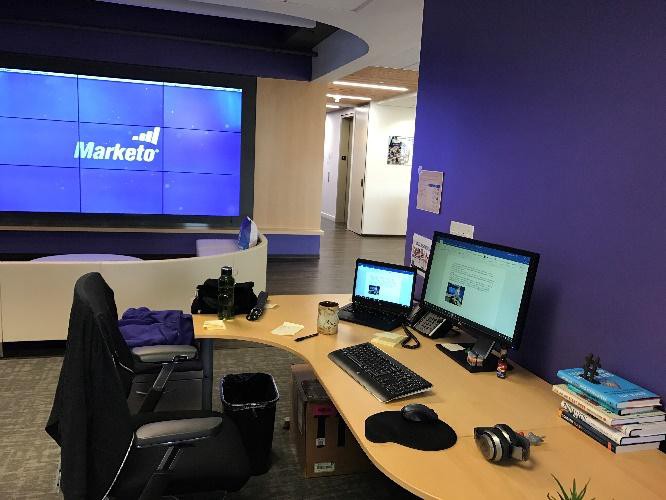 Get clear on your goals and objectives. It's a lot easier to say "no" when you're clear on what you need to say "yes" to.
Describe an average day at Marketo
On a typical day you'll find me writing, scheduling, and posting content to multiple social channels. Increasingly, social listening has become more important throughout the day so I can respond immediately to customer inquiries. Weekly, I livestream on Periscope and Facebook, or host #marketochat's to engage our social audiences. And when I'm not drafting content or streaming, I'm meeting with cross functional teams to strategize on ways we can incorporate awareness around their initiatives both internally and externally via social.
[Scroll to the bottom of this interview to read a more detailed account of Lisa's work day]
As a marketer, what are some of your favorite productivity hacks?
I'm a big believer in lists. So much of my job involves being in the know, and I've found the easiest way to do that is to curate content. I maintain several lists in Twitter that are my go-to for up to date marketing posts.I also keep a running spreadsheet of all of the social content I write, especially around events and webinars so I can easily repurpose the content at a future date.
As a person who is well-versed with online marketing/ inbound, I'm sure you rely on a few marketing tools to automate your efforts. What are the top 3–5 tools you use?
Hootsuite for scheduling on most social channels, monitoring key hashtags, and shortening urls.Slack for quick asks is imperative.Getty Images for a visual standout in all my posts.Simply Measured to track cross-channel social performance, SoV, and to get competitor insights.Marketo for tracking conversions and revenue.
Your company has a growing community of users. How do you use this treasure trove of customer insight to power your marketing efforts?
One of the most exciting parts of my job is that I have the unique opportunity to market to marketers. When I came on board, I wanted to create a way to engage with our audience live; and the #marketochat program was born. Bi-weekly we'll host Twitter chats with industry experts sharing insights and answering questions live via Twitter. People from all over the world jump in and offer their opinions and views. On alternate weeks, we livestream on Facebook and Periscope to interact face to face with our audience. It's been a great way to open the door to communication and encourage engagement. In addition, we encourage commenting on all of our social channels, and have a growing Marketing Nation Community that offers a library of educational resources, blogs, discussion forums, and product documents.
What is your strategy for getting people to your site and then converting them to a customer?
I'm a big believer in educate first, sell second. In order to create lasting relationships with our followers, I need to 1) be where they are 2) stay relevant and 3) provide something they'll care about.I do that in a couple of ways:Share timely, meaningful content-including outside sources to show we have a pulse on what is trending in the industry.Initiate and contribute to ongoing conversations, providing a clear point of view.Interact (favorite, like, share) with followers content.Respond when followers comment.Provide timely customer service when complaints arise.Of course I incorporate tracking url's that direct to relevant landing pages (blog, e-book, definitive guide, webinar, etc)If your audience finds value, they'll continue to come back, remain engaged, and hopefully when they're ready to buy, think of you.
Is there any advice you'd like to give to budding marketers to help them work smart and stay productive?
Get clear on your goals and objectives. Once you are, you'll be able to outline a strategy and prioritize accordingly. It's a lot easier to say "no" when you're clear on what you need to say "yes" to.
How do teams at Marketo have fun at work/ make work fun?
Our team host's regular "Marketing Happy Hours" where we let down for an hour, eat great food, and grab a drink. In addition, at least once a quarter, we participate in community service events. It gives us the opportunity to have fun outside of the workplace, and give back!
It's a community service project. We worked with Hands On Bay Area to create new parent kits. (We rented out the back room at a local tavern and provided lunch/drinks to participants.) [Image below]
‍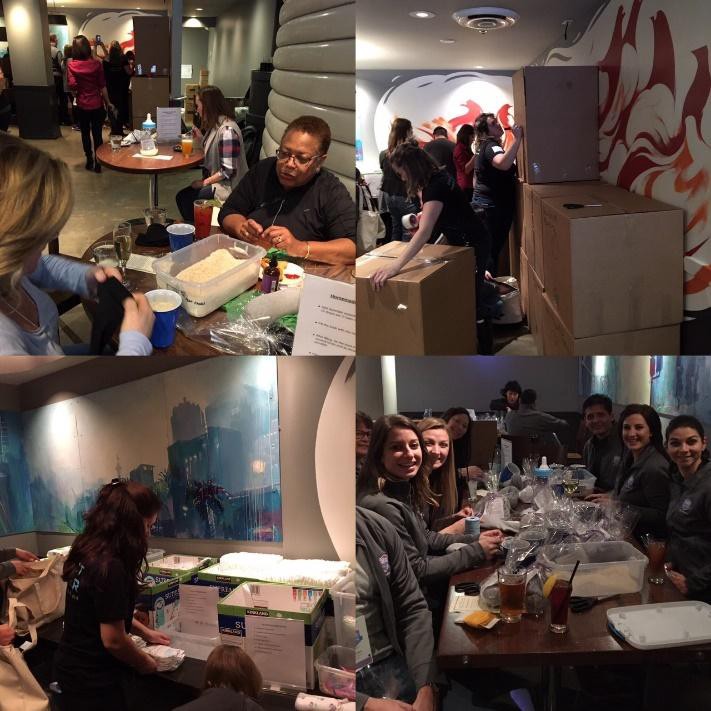 ‍
How do you make use of your downtime? Any hobbies, out of work interests that rejuvenate you?
I have a travel bug. Every year I plan a destination vacation to someplace I've never been before. Last year was a tour of Southern Ireland. This year I'm heading to Maui.
[Bonus section!! Here's a complete detailed account of Lisa's work day as a social media marketing manager as narrated to Brightpod]
Let me outline exactly what I did today to give you an example:
My day began with a quick check of the social channels for any mentions that needed addressing and a review of the news that I'd missed.
I then published the daily blog to Facebook and LinkedIn, creating unique posts for each channel as our audiences differ.
Drafted tweets for the day incorporating our UK time zone. Curated the content, wrote the tweets, downloaded the images, and scheduled them.
Engaged with several influencers via likes, mentions, or retweets.
Hosted a livestream. Set up the recording room, made sure participant was comfortable, knew all the questions we were going to ask, and was on time and ready to go live on Facebook and Periscope.
Took a few minutes to fine tune the blog I've been writing that is scheduled to be published next week.
Met with Corporate Communications to see what executive interviews, press releases are coming up and how we can incorporate social into their initiatives.
Met with Content Team to determine how social will develop a strategy around their newest content releases. As well as, advised on trending topics I'm seeing on social to see where we might find value in developing future content.
Submit art requests with design team for upcoming infographic as I'll need compelling images to promote via social.
Coordinated a few live tweets to drive traffic to booth on show floor of event, promoted speaker session at the event with photos.
Submitted activity challenge for employee social sharing via our engagement tool.
Sent potential title and questions to #marketochat guest for review so I can get the art request in to start promotions.
Met with Summit Comms team to determine if current promotions are resonating, reviewed registration numbers, checked in on next week's promo messaging and graphics.
Second post to LinkedIn and Facebook.
Took photo around the office to post on Instagram, giving a behind the scene look at "Marketo Life."
Mapped out Snapchat geofilter for upcoming conference. Brainstormed on ideas for what we'd think will work.
Drafted and scheduled tweets for early morning posts on Twitter.
Last meeting of the day, new Gartner report is coming out so will need to get pre-written drafts of all social promotions we want to push out over to their team for review. In addition, will need all visual content being used to be reviewed, so need to submit art requests to meet deadline. (Added to to-do list)
On my shuttle ride home, I reviewed any mentions on Twitter I may have missed in meetings and responded accordingly.
A big thanks to Lisa for taking the time out to answer these questions! If you haven't already, we highly recommend that you check out Marketo.
Managing marketing projects shouldn't be chaotic — Try Brightpod for free and start focusing on what matters.