This week we feature, Pierre Lapointe Founder and CEO of Vinty. Vinty is the best marketplace for Vintage and Classic Car Rentals.
In this interview, you can read more about his work at Vinty, favorite marketing tools, productivity tips as well as his advice for budding marketers.
‍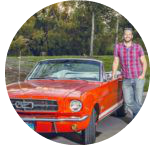 ‍
Your location: Oceanside, CA (San Diego County).
Your favorite gadget: Macbook air.
You start your day with: Coffee & Family Time (sometimes surfing!).
Your favorite time-saving trick: https://ifttt.com/recipes best automation website.
Your top blogs you read daily: Petrolicious , ycombinator , Nextdraft.com
"Do things that don't scale"
Describe an average day at Vinty?
Everyone's day is different at Vinty. On my end, I usually start by catching up on messages quickly (slack, email) to see if there is anything that should be taking care of the same day. I will then open Analytics and check on visit and conversion results from the day before. Following this, I take a quick look at automotive news and start my work based on my Trello lineup for the day.
As a startup founder/ marketer, what are some of your favorite productivity hacks?
I would say that removing the notifications of non-urgent tools such as email or social media is essential.
You want to remove distraction as much as possible so you can focus on what matters.
We also keep meetings focused and short to make the best use of everyone's time.
As a person who is well-versed with online marketing/ inbound, I'm sure you rely on a few marketing tools to automate your efforts. What are the top 3–5 tools you use?
We use a few tools that are helpful such as Hootsuite for social media or Boomerang for Gmail.
We also have an online chat on our website (Tawk.to) to be able to engage customers directly when they are looking for a car to rent.
These tools help us in our marketing efforts to be efficient and performant.
Your company has a growing community of users. How do you use this treasure trove of customer insight to power your marketing efforts?
We listen very carefully to feedback from our users. It is clearly a priority for us to understand our customers and enhance our product based on what they tell us. There is nothing more valuable than our user community. We try to talk to our community as much as we can, online and offline to events and car shows.
What is your strategy for getting people to your site and then converting them to a customer?
We try to inspire them with the content we published via social media and our blog. We do run Adwords campaigns as well. We also do a lot of tests on our website to see how we can convert people to users more efficiently.
Is there any advice you'd like to give to budding startup marketers to help them work smart and stay productive?
Nothing new but Paul Graham's quote "Do things that don't scale" is the best advice you can give to someone starting their company. When you are small, you can provide a level of service and delight to your customers that almost no big company will be able to match, enjoy it!
A big thanks to Pierre for taking the time out to answer these questions! If you haven't already, we highly recommend that you check out Vinty.
The 'How Marketers Stay Productive' series asks marketers their tips & strategies for staying productive. Every week we'll feature a new guest and the tricks that keep them working smart. Know someone you'd love to see featured? Email Us.