This week we feature, Ryan Kulp Founder of Fomo. Fomo empowers websites to display recent customer actions (purchases, newsletter signups) with one line of code.
In this interview, you can read more about his work at Fomo, favorite marketing tools, productivity tips as well as his advice for budding marketers.
‍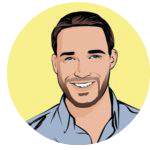 ‍
Your location: I'm split 50/50 between NYC and San Francisco.
Your favorite gadget: Alexa, by Amazon. From sharing the weather to tuning my guitar, Alexa is my right-hand.
You start your day with: Emails with international customers and partners.
Your favorite time-saving trick: Two huge computer monitors, and a computer everywhere I work (apartment, office, girlfriend's apartment, etc). Sleeping < 6 hours every day, drinking 2+ coffees, and not going to meetup groups, also save a lot of time.
Your top blogs you read daily: Stratechery by Ben Thompson — he is brilliant. Tomasz Tunguz of Redpoint Ventures. Seth Godin's blog.
"Ruthlessly eliminate non-essential tasks."
Describe an average day at Fomo?
We have a distributed team — from Calgary, Canada, to San Francisco, to New York City and Ljubljana, Slovenia. I split my time between New York and California, so my day either starts with customer service or developer standup meetings.
Because our customers are spread all over the world, there's very little predictability in the average day at Fomo. Our live chat is on 24/7, our customer success team works weekends, and our dev team pushes code on Friday nights. It's a blast.
As a startup founder, what are some of your favorite productivity hacks?
As a founder, one of the most productive things I can do is eliminate roadblocks. This could be as simple as sharing admin access and passwords with the dev team, to letting customers update their own billing information. For me, getting out of the way and empowering team members to create things autonomously is critical.
As a person who is well-versed with online marketing/ inbound, I'm sure you rely on a few marketing tools to automate your efforts. What are the top 3–5 tools you use?
We're big fans of Mixpanel, for understanding user experience and automating some of our onboarding email sequences. Otherwise, we don't really have a marketing stack (yet). The typical stuff — Google Apps, Mailchimp, Slack, Trello — are the only core products we use to grow and serve customers.
Your company has a growing community of users. How do you use this treasure trove of customer insight to power your marketing efforts?
Customer feedback is everything. We share verbatim feedback constantly — screenshots of happy (and unhappy) emails, feature requests, chat transcripts, etc. We also use a CRM, Propeller, to maintain context between our team and users over the course of weeks or months of communication.
Our primary marketing effort is building native integrations for non-technical users. We launched as a non-friendly API, but have since added 1 or more integrations per week. Most recently we built integrations with Gumroad, Instapage, and Delighted.
What is your strategy for getting people to your site and then converting them to a customer?
Building a company is a journey, and we're very open about sharing ours. The Fomo blog is responsible for nearly half of our users, and basics like word of mouth and some light PR attribute the rest. To assist in on-page conversion, we launched a Live Preview portal that lets visitors input their own website to test Fomo live on their site without signup up or writing any code.
Is there any advice you'd like to give to budding startup marketers to help them work smart and stay productive?
Ruthlessly eliminate non-essential tasks. Creativity is addicting, and it can spin you out of focus quickly. One day you'll think of increasing pricing, the next you'll consider a forever free plan. There will always be another feature you can build, or another market you can go after. We've considered building an advertising component to Fomo ever since Day 1, but have continued to push it back because it would distract us from our core audience and our core competencies.
Put another way learning to balance opportunistic ideas with your company's vision, mission and goals is one of the most important frameworks for staying productive and on-brand.
A big thanks to Ryan for taking the time out to answer these questions! If you haven't already, we highly recommend that you check out Fomo.
Managing marketing projects shouldn't be chaotic — Try Brightpod for free and start focusing on what matters.