This week we feature, Shawn Stolfus, Founder/CEO of Barcodely. Barcodely turns your email (or anything else) into a scannable barcode you can use for things like paperless checkout.
In this interview, you can read more about his work at Barcodely, favorite marketing tools, productivity tips as well as his advice for budding marketers.
‍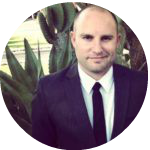 ‍
Your Location: Orange County, CA.
Your favorite gadget: iPhone.
You start your day with: Some play time with my puppy and a coffee.
Your favorite time saving trick: Not working on projects when forced and the ability to put together ideas on the go.
Your top 3 blogs u read daily: Ad Age Digital, Product Hunt ,Fast Company.
Describe an average day at Barcodely?
Since Barcodely is still in the startup phase, there is so much to do on the day-by-day. A normal day includes checking analytics, finding new channels and opportunities for growth, following up with feedback, and building the next versions and upgrades.
As a Founder what are some of your favorite productivity hacks?
A lot of my life is on the go. So things I can do on my phone or tablet can really help me be productive. I really enjoy the some of the simplest tools that are easily accessible like Notepad, analytics apps (Google) and even mobile ftp access apps for making edits on the fly.
As a person who is well-versed with online marketing/inbound, I'm sure you rely on a few marketing tools to automate your efforts. What are the top 3–5 tools you use?
Atom — Plain text coding editor. Really helps speed up the coding process.
Mailchimp — I've used a lot of the bigger email companies but there is just something about Mailchimp and it's functionality that keeps it releveant for small and medium size businesses. Also the automation is great for saving time.
Notes (iPhone) — This may seems somewhat silly but for someone on the go it can really help to catch a new idea, continue work progress or make quick edits.
Barcodely — Sorry, have to do a little self promotion here. We created this tool to help reduce the amount of time it takes to checkout and get a paperless receipt with your email. So our whole philosophy is based on productivity and ease.
Your company has a growing community of users. How do you use this treasure trove of customer insight to power your marketing efforts?
There is a lot of information that is accessible and a lot of ways to get it. I believe it is best to start with the basics like Google Analytics, app insights and email metrics.
What is your strategy for getting people to your site?
We first created a fun, savy and easy to use tool in both web and app functionality. It only took a few weeks for this to get picked up by Hacker News, Product Hunt and Reddit. These are great ways to get people to have eyes on your product. For us it is really about having a creative and easy to use service that people want use and recommend.
Is there any advice you'd like to give to budding marketers to help them work smart and stay productive?
Always be ready for new ideas, stay current on trends and don't be afraid to test and try any projects/enhancements you may have.
How do you make use of your downtime? Any hobbies, out of work interests that rejuvenate you?
I really enjoy snowboarding and getting away to the mountains. Getting away can really help you reconnect your ideas.
A big thanks to Shawn for taking the time out to answer these questions! If you haven't already, we highly recommend that you check out Barcodely.
The 'How Marketers Stay Productive' series asks marketers their tips & strategies for staying productive. Every week we'll feature a new guest and the tricks that keep them working smart. Know someone you'd love to see featured? Email Us.