This week we feature, Stephanie Gonzalez, Director of Marketing Communications at TeamSnap. TeamSnap is the №1 sports team management software for coaches, managers and organizers to save time organizing their teams and groups online.
In this interview, you can read more about her work at TeamSnap, favorite marketing tools, productivity tips as well as her advice for budding marketers.
Your location: Memphis, TN.
‍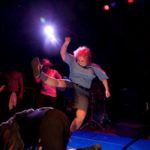 ‍
Your favorite gadget: My phone, of course. :)
You start your day with: Saying hi to the dog and having a cup of green tea or coffee.
Your favorite time-saving trick: Organization!
Your top blogs you read daily: Hubspot and Moz are probably the two blogs I read the most. And of course blog.teamsnap.com. ;-)
"Know your goals and develop a strategy right off the bat."
Describe an average day at TeamSnap?
That really varies widely. TeamSnap has about 80 employees, and although we have an office in Boulder, Colo., only 25% of TeamSnappers actually work there. The rest of us are remote employees spread out across the country and world. I live and work in Memphis. We also have employees in Portland, Ore., Los Angeles, San Antonio, Raleigh-Durham, Minneapolis and even one in Croatia. About 10% of our workforce actually live and work in RVs, traveling around the country. We have several employees on extended European travel trips right now, working while overseas.
So we're working from different "office" (or not) environments, in different time zones and in different ways. We do have a few things in common though: The average day involves a lot of tools to make working in these different ways functional. So most folks log on, open Slack and their project management tools (we use Jira and Trello) and get to work. We stay in touch throughout the day via Slack and Zoom meetings, as well as email. We pride ourselves on what we call "over communication," checking in throughout the days, holding regular 1–1s, update meetings, scrum meetings, etc. Because we operate on a flexible hours model, the length of days and times we work also vary, but we're all committed to doing the best job we can for our customers and achieving our personal, departmental and company goals.
As a marketer, what are some of your favorite productivity hacks?
I don't know if I would call these "hacks," but here are a couple ways I maintain productivity:
I hold my "big thinking" projects for the times when I know I'm most productive. For me, that's first thing in the morning. I'll often start working at 7 a.m., before most of the company is online yet and just crank out writing or strategy projects during that quiet time. Not only is morning when I'm personally most productive, but I also get fewer interruptions, which keeps me productive once I get into a groove.
Organization is a huge one for me. Keeping my email organized, Dropbox, having systems in place for how to start and what info is included in our Trello cards for task management, having creative briefs completed for project requests, etc. The more information I can get for my team on the front end and the more organized we are throughout the process, the more productive we remain. There's no searching for files and we can move quickly.
As a person who is well-versed with online marketing/ inbound, I'm sure you rely on a few marketing tools to automate your efforts. What are the top 3–5 tools you use?
We probably use social media automation tools more than any other automation tools — Radian6 and TweetDeck, which is an oldie but a goodie. These tools help up stay on top of discussion not only around TeamSnap and our competitors but also around topics that affect the youth sports community.
Your company has a growing community of users. How do you use this treasure trove of customer insight to power your marketing efforts?
One of the things we've been really having fun with is making infographics based on our customer data. We can discover things like how many hours a team practices, what's the most popular team name, how many games teams play, etc. We've been gathering those types of data points, compiling them into engaging illustrations and then sharing with our customers, potential customers and partners. Folks love them, and the playful nature of the infographics speak to our brand identity and voice. You can see a few here.
What is your strategy for getting people to your site and then converting them to a customer?
We rely on fairly traditional methods to draw people to the site — paid keywords and advertising, search engine optimization, etc. But we do a lot of experimenting with landing pages, CTAs, buttons, graphics, messaging, etc. on the landing pages those folks wind up on. We've been experimenting more and more with video and video advertising lately, which has been working well for us. And one of our biggest ways of getting new customers is simple word of mouth. Our customers are eager to recommend us, which honors us.
Is there any advice you'd like to give to budding startup marketers to help them work smart and stay productive?
Know your goals and develop a strategy right off the bat. Especially when you're just getting started, it can be really appealing to just do a little of everything. Experimentation is great, but know what you're end goal is, and if the experiment doesn't speak to that goal, ditch it. Having a strategy tied to overall goals makes it that much easier to concentrate on the projects that matter and spend less time on the less important ones.
A big thanks to Stephanie for taking the time out to answer these questions! If you haven't already, we highly recommend that you check out TeamSnap.
The 'How Marketers Stay Productive' series asks marketers their tips & strategies for staying productive. Every week we'll feature a new guest and the tricks that keep them working smart. Know someone you'd love to see featured? Email Us.