This week we feature, Ben Guttmann, Partner of Digital Natives. Digital Natives Group, a digital marketing agency, offers branding and custom activation solutions on web, mobile and social platforms. A digital marketing natives who understand brand equity.
In this interview, you can read more about his work at Digital Natives, favorite marketing tools, productivity tips as well as his advice for budding marketers.
‍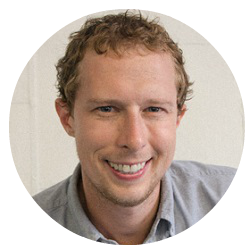 ‍
Your location: Queens, New York.
Your favorite gadget: Saying the iPhone or iPad is cliche, so I'm going to go with the electric smoker that I just bought.
You start your day with: An hour at the gym.
Your favorite time-saving trick: Try not to solve the same problem over and over again — learn and build with systems, templates, and processes.
Your top 3 blogs you read daily: Gothamist, FastCo Design, The Onion.
Describe an average day at Digital Natives?
In any small agency, no two days are exactly the same. At Natives, we'll frequently start the day with a morning stand-up meeting where the whole team goes around sharing what's on their agenda and making sure we're all on the same page. After that brief chat, we have "no-meetings mornings" where everybody can use their best energy to tackle their biggest tasks of the day.
A day for me might involve working on some UI/UX design for a new project, having a status update call with a client, and responding to a volley of emails and slack messages about a slew of different items. Of course, being a business owner also means that my day may include some other glamorous tasks such as unclogging the toilet or fixing a broken desk.
As a Founder/Marketer what are some of your favorite productivity hacks?
I've noticed a material difference in my productivity and well-being on days which I exercise in the morning compared to days which I skip. There's something about getting up before the crack of dawn and knocking off the "hardest" thing from my list that makes everything feel easy later.
As a person who is well-versed with online marketing/ inbound, I'm sure you rely on a few marketing tools to automate your efforts. What are the top 3–5 tools you use?
Email, email, email. We've been telling all of our clients for the past year that the email is what really moves the needle. Facebook, Twitter, and Instagram are all nice to have, but at the end of the day you're just leasing your audience on these platforms compared to owning it on your own email list. There are plenty of quality email service providers out there, but we most frequently use Mailchimp (or Madmimi for simpler, smaller campaigns).
Furthermore, we're big users of Sprout to help automate and analyze our work on social projects. We've been with the platform for the long time, and have been happy to see how it's grown into a more well-rounded solution for agencies like ours.
Your company has a growing community of users. How do you use this treasure trove of customer insight to power your marketing efforts?
Each client is different in terms of what insights we glean and how we apply them. Broadly, over the past couple of years we're shifting more into funnel-building activities for our clients, and less so general social awareness campaigns.
We do a lot of work in publishing and throught leadership, as well as in tourism and trade marketing. In both of these fields, we're able to see what's working in one project and then apply those insights to our next project — building upon our success in each step.
What is your strategy for getting people to your site and then converting them to a customer?
For our own website, the goal is to tell the story about who we are and what we do in a very linear fashion. We first analyzed what a potential client is thinking when they first hear about us, and then reverse-engineered our site's language and structure to guide them along their internal conversation. With every website we make, we identify what is the "one thing" we want a user to do at the end of their visit, and then we work backwards from that.
Is there any advice you'd like to give to budding marketers to help them work smart and stay productive?
Make it a priority to take time off and experience the world. Great marketing is about connecting to the culture and how people behave in it. If you spend all your waking hours staring at a screen in your office, you begin to lose touch with with the "real world" of the consumer, and you become less effective. Plus, you simply get burned out from working all day every day.
How do you make use of your downtime? Any hobbies, out of work interests that rejuvenate you?
I teach digital marketing as an adjunct at my old alma mater, Baruch College. While this may not count as downtime to some, getting back in the classroom and sharing my experiences with students is my favorite hobby.
Beyond that, I'm actively civically involved in my community here in Long Island City, Queens — which is the best neighborhood in NYC by the way. Like many others, I also travel, bike, and read as much as I can.
A big thanks to Ben for taking the time out to answer these questions! If you haven't already, we highly recommend that you check out Digital Natives.
Managing marketing projects shouldn't be chaotic — Try Brightpod for free and start focusing on what matters.