This week we feature JJ Mathewson, Director of New Accounts at Ruckus. Ruckus is a full-service digital agency specializing in web design, app development, branding & interactive marketing.
In this interview, you can read more about his work at Ruckus, favorite marketing tools, productivity tips as well as his advice for budding marketers.
‍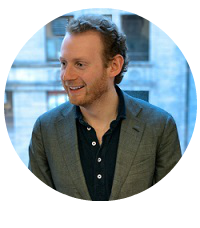 ‍
Your location: Manhattan.
Your favorite gadget:iPhone 7, no question.
You start your day with:Iced coffee, particularly cold brew (Even during the winter)!
Your favorite time-saving trick:X.ai for scheduling meetings!
Your top 3 blogs you read daily:Wait But Why, Apple News (not a blog, I know!), RadReads.
Describe an average day at Ruckus?
Wow, that's difficult to answer (albeit a cliché response)! Ruckus focuses on branding, platform design, and marketing campaign development work, so no two days are alike at our office. As our Director of New Accounts, I spend my time either working with clients to understand and frame their challenges or developing our business development systems with our internal teams to continue growing the business. I also do quite a bit of travel across the US to pitch and meet with clients, which can be quite disruptive to the average workday. It is a nice change of pace though!
As a marketer what are some of your favorite productivity hacks?
The most time-consuming aspects of my job are emailing prospects, scheduling, and keeping records of action items I need to take care of each day. I try to keep all my information indexed well, since I find that managing scattered information time-consuming and mentally draining. Google Calendar, believe it or not, is an excellent tool for mapping out to-do lists each day. It is easy to use because the calendar has a "smart" quick-add feature that allows me to quickly add all-day events (e.g. "today, send a proposal to X"). It really helps me connect my to-do list to my scheduled events!
As a person who is well-versed with online marketing/ inbound, I'm sure you rely on a few marketing tools to automate your efforts. What are the top 3–5 tools you use?
Ruckus uses a ton. Dropbox, Slack, Teamwork, G-Suite are the big ones for us. For me in new business, we have really tried to stay away from automation. We have our own CRM system, which connects nicely into the G-Suite and Streak. I have also explored X.ai and ReBump for automating meeting scheduling & responses to my emails as well. Right now, I'm trying to use a bunch of little tools that connect into something well tailored for our business development infrastructure.
Your company has a growing community of users. How do you use this treasure trove of customer insight to power your marketing efforts?
The more we grow and take on projects of different shapes and sizes, the more parallel business cases we can use to understand emerging challenges for ourselves and our clients. Each success, failure, misstep, etc. that we have is valuable in understand the bigger picture. In marketing, everything is a moving target, so effectively learning from the past is crucial.
What is your strategy for getting people to your site and then converting them to a customer?
I think the most important facet is to serve relevant content. When someone comes to our website searching for branding, the first thing they should see is our branding work! This principle sounds very simple, but from a tech standpoint, we can really drill down into it and serve great quality content based on what people are seeking. It's a huge trend in digital advertising, and its only getting more prevalent.
Is there any advice you'd like to give to budding marketers to help them work smart and stay productive?
To be honest, everyone has their own little tricks for productivity. For example, my Google Calendar trick works for me, but I've shown it to others at the office who think it wouldn't work for them.
But the big picture here for productivity and success is to be hungry. There are hundreds of thousands of marketing firms out there, each with their own specialties and abilities. What sets certain agencies or marketers apart is their hunger to go after new things, come up with creative answers to dynamic challenges, and to be ready to learn. Marketing is changing so quickly that you always need to be thinking about new ways to solve similar challenges. That's what keeps our industry fresh and interesting!
How do you make use of your downtime?
I love watching NHL hockey (which is tricky as a Montreal Canadiens fan living in NYC), curating my own fashion, and playing the guitar when I have the time.
A big thanks to JJ for taking the time out to answer these questions! If you haven't already, we highly recommend that you check out Ruckus.
Managing marketing projects shouldn't be chaotic — Try Brightpod for free and start focusing on what matters.