Unlike forgetting where you put your keys in the morning, not remembering where you left certain tasks or comments in Brightpod won't cause you a sense of panic.
We've revamped and improved our universal search so that you and your team are never left wondering where something disappeared to.
‍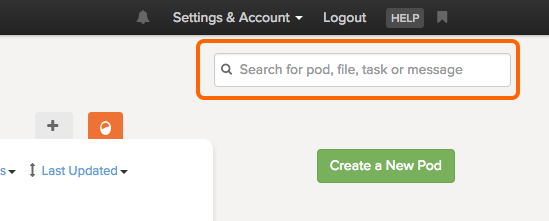 ‍
It's as simple as entering some keywords of what you do remember and using the basic filters. The search also offers advanced search query capabilities, so you can have some peace of mind knowing that you can get specific and find what you're looking for quickly.
Quickly find tasks with basic search and filters
For example, if you know the task name had the word 'blog' in it, you can search blog. Enter this in the search field and press enter.
Your search results will show anything that contains the word blog in order of relevance.
‍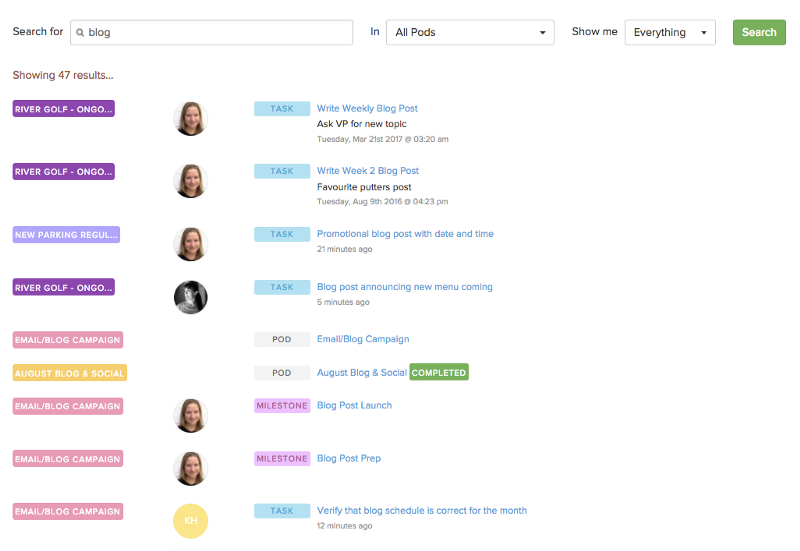 ‍
You can narrow down your search by using the Pods and Show me filters.
‍

‍
Use Advanced Queries for a Smarter Search
If you want to get more specific (or if you remember more specific details about your lost task,) using symbols (+ , — , "", and * ) in a search query can place limitations (beyond the basic filters available) on the results that appear.
Let's say you have many types of ongoing campaigns: print, email, social media, discount promotions, etc. The task you're looking for you know for certain is not in an email campaign.
The '+' and '-' symbols can be useful if you want to search all campaigns but not email campaigns. Your query (in the search box) would then look like campaign +-email. This is saying that you want items containing campaign AND NOT email. Every item with the word campaign will appear, but not items with the word email.
You Found It!
It's a great feeling to search and find what you're looking for. Here at Brightpod, we want to make sure you feel in control of your projects, can find what you're looking for, and get on with your day with focus.
To learn more about our universal search and finding your lost keys… err tasks, check out Brightpod Help and search for search!
At Brightpod, I listen to and speak with you, our customers, then translate your insights into helpful articles for others at help.brightpod.com.
Managing marketing projects shouldn't be chaotic — Try Brightpod for free and start focusing on what matters.