IFTTT, if you haven't heard of it, is an automating service that in their words, 'Puts the internet to work for you'. Now, IFTTT is a pretty nifty little tool when it comes to automating the routine, daily tasks so many of us have to do.
In this post, I'll share with you, some of the time saving 'recipes' that social media managers and marketers can use to get the routine tasks out of the way and focus on the important stuff.
With this recipe you can employ the help of your entire team to help build your social media updates. What this recipe does is automatically saves an article in Pocket if it has been marked as 'save for later' in Feedly.
Simply give access to a common Feedly and a common Pocket account to your entire team and watch as your get new & great articles to share on your social media accounts.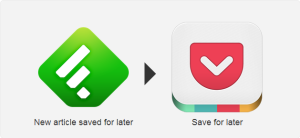 This is an extension of the above recipe. Now that you've got an interesting list of articles to share (in Pocket), you can use this recipe to create Hootsuite drafts for archived items in Pocket.
This is perfect for large teams that can help with the social media process.
Tip: If you're a social media manager, make sure you go through all the articles saved in Pocket and only archive the relevant ones. Also, there might be duplicates so watch out for that!
If like me, your strategy is to share the latest social media news (or any news for that matter) with your followers, this recipe is for you.
Remember, this is just an example and you can create a similar recipe for any blog with an RSS feed.
‍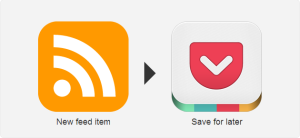 This is something I've seen countless times — brands changing profile pictures or header images on one social network and neglecting the other. It simply looks bad.
Keeping your branding consistent across all social networks is essential and this recipe can help with that.
Tip: Use a larger image as Facebook profile pictures have larger dimensions than Twitter's.
‍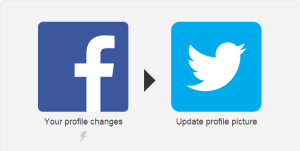 This relatively recent change was met with disappointment by many social media specialists.
With the above recipe, you can bypass the rule and share Instagram pictures as native Twitter pictures instead. Engagement on both social networks — Complete Win-win!
This is a great way to reach out to new followers. With this recipe you can automate this process and send a fun little tweet to engage with your newest followers.
Tip: Try being warm and helpful rather than pushing your products & services with the welcome tweet. It'll go long way in helping you build a good relationship with your followers.
‍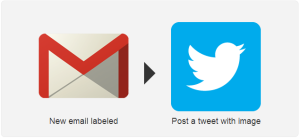 Since Google Plus and Facebook have similar styles in terms of posts (higher word limit, links etc.), you can consider sharing your Facebook posts to your Google Plus page.
Tip: Do keep in mind that just copying over your posts from Facebook does not equal a good Google Plus strategy. There are various features on Google Plus to leverage in order to have a strong social media presence such as Communities and Hang Outs. So don't forget about those!
Bliss is a great tool to help social media managers stay on top of all the admin settings for each social network.
I'm talking bio, profile picture, username, password, 3rd party permissions and more. This recipe will send you a reminder every month so you can make sure all your settings are up to date.
‍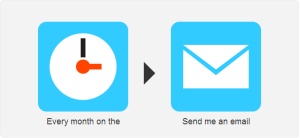 If part of your social media strategy is to provide value on your area of authority on Quora, then this is a fantastic way to filter through Quora questions & keep a watch on questions you would want to answer.
Again, this is simply an example and you can do this for any board on Quora by creating a new recipe yourself.
If you leverage both Pinterest and Tumblr as part of your visual social media strategy, this is a wonderful recipe to share Pinterest pins on your Tumblog.
I'd love to know what you think of these fantastic ways to automate social media tasks. What tools and tips do you use for the above?