Every business is in the phase of extending its digital arm, while big brands invest time and investment in growing their presence, local businesses seem to to be holding back. With over 1.28 billion users active daily, Facebook is easily becoming the best and most cost-effective marketplace to acquire customers from diverse parts of the globe. With over 65 million businesses actively engaging and benefiting from Facebook, posting content on pages is not the only way to stay in the game. If you thought Google Adwords was your strategy to go, that's where you've hit a roadblock. Whether a dry cleaning store or a grocery shop, every local business can expand their reach and draw in more footfall with optimized Facebook ads directed to reach out to customers around you.
Every customer goes through the phase of awareness, consideration and decision, when it comes to buying a product. Customers usually look to Google when when they don't need something on an urgent basis, they go local when want something immediately. To capture the right consumer, all you need to do is focus on the right set of people in your geographical radius and drive them to your place of purchase. Have a sale at your boutique you want people to know about? Have specific sales targets to meet? Or simply just want to raise awareness about your new business? No problem. We're all familiar with the line 'No pain, No gain', so to get the right audience, it's time to step up your game.
Goal-setting: Facebook advertising is one of the simplest methods to attract new customers to you meet your business objective. But, to meet it you need to set one first. Decide what exactly you would want to achieve with your advertising strategy. Would it be to get more awareness about your brand? More likes on your page? Or simply just promote an exciting offer? Leverage your game plan and then get started on your advertising.
Audience insights: Think about the buyer persona in mind while creating your plans. What is going to entice them to meet your business objective? What appeals to them? Visualize your buyer and present your copy for them. Think about their pains and wants and strategically align your advertising to meet their requirement.
Design thinking: When you have all your plans ready, all you need is some simple design. Choose images which are simple, easy to read and gets the message across the fastest. Make your offer appealing and include CTA which will drive the audience to the right page. You can check out examples of ads that have worked in the past here.
Get started on local advertising
Now that you're ready with your objective, it's time to meet it. The best way to get the most of your advertising is to grab the customer's attention with something that will benefit them. You could simply offer them a coupon, a special discount or host a sweepstake giveaway. Whether it's the copy or the imagery you're planning to use, it is essential to keep the customers thought process in mind, and ensure you pique their interest. When it comes to advertising on Google via Adwords, you know where the customer's attention is at, on Facebook you don't.
Before you head over the creating your local awareness advertisement, ensure that your company has enlisted itself as a local business and not a brand. You can check under the about section and see whether it's enlisted as 'Local Business' under category.
Once you're enlisted as a local business, you can take charge of the features which are specially made for you. Start by heading to the 'Manage promotion' option in the bottom left of your page. Decide whether you want to promote your website or reach out to people nearby. Select 'Promote local business' to target people near your business.
‍

‍
Local awareness ads promote your business by showing relevant details such as a Map card, which provide directions, distance and hours of operation. You can also add a call-to-action button such as 'Like' page, call now, get directions etc. Add local context to connect with your audience.
Select the radius of your potential reach, for example, if you have a bakery or a local convenience store, chances are your ad will show up to people in the same building or just around the corner. So it's best to select a proximity which is the closest to you, or toggle according to your custom target audience.
‍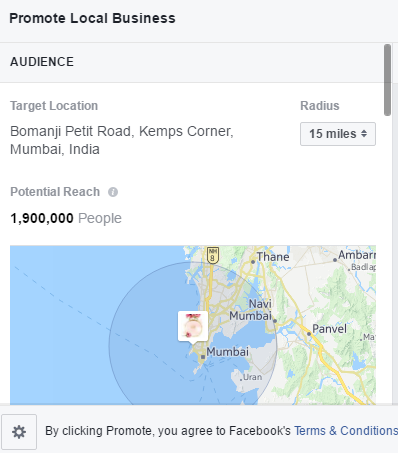 ‍
You can then go ahead and plug in your ideal target audience that you would like attract for your business. Does your business appeal to the affluent female or maybe just 'Millennial Moms? Pick what suits your business best for your promotion.
Additionally, in 'Interest' insert your competitor businesses so that you can reach out to the more people interested in the same things. Consider running the ad on Instagram so that you can get a wide variety of people. Once you're done creating your ad, you can select a call to action to add such as call button, directions, like page etc. To further hit home on your ad you can select the Map card option so that people understand it is a local brick and mortar business within the proximity of the user on FB or Instagram. The map will then appear as part of a slider within your ad.
‍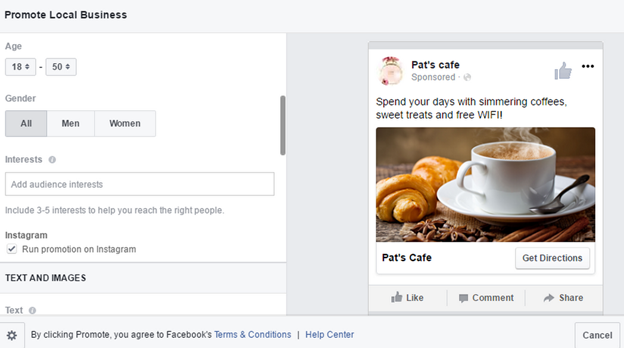 ‍
TIP: Another helpful way to reel in customers is by plugging a custom lookalike audience into your targeting. If you have gathered email addresses of your customers over the years, this is where it will come to use. Simply, plug in email addresses into Facebook and it will show ads to people who are similar to your current customer. This will helpful and make you waste less time (and funds) in finding your ideal customer base.
‍
‍
Alternatively, you can also create these ads in your ads manager. Head to the manager, click on Reach ads, to show your ads to the maximum number of people.
Once you've started creating, under location, you can select the option 'Use your Facebook Page location to reach people near your business. This allows you to show your ad to potential customers which are present in your business locality. Select the radius on where you would like to show you ad, between 1–15 miles would be idle to grabbing the right audience.
Under detailed targeting you can look at plugging in pages of your competitors and other relevant business options. Continue by creating a budget and a carousel ad.
Local awareness ads that work
Case story: Castle Chevrolet
There's a success story to every business, let's take the case of Castle Chevrolet, a family owned automotive dealership in the windy city of Chicago. Castle understood the importance of Facebook advertising in 2007 to connect with local market and have authentic conversations.
While Castle's content on its pages has always been about engaging with the fans with content and promotions, it's media strategy has been about acquiring new customers.
The business has been using all ad placements and strong call to actions that appeal to its audience. Their strategy has always been to acquire a certain demographic of people within a 15 mile radius of their dealership. For this, the dealership has been showcasing Facebook-exclusive deals that create virality and buy one get one free offers. Apart from promotions, the business has also tailored specific content to audiences giving them incentives to purchase new vehicles.
Castle's strategy has yielded them 24X return on ad spend for a buy-one-get-one-free oil change Offer, 75% savings over direct-mail marketing, 9% redemption rate on buy-one-get-one-free oil change offer.
Read more about their success story here
There you have it, here's all you need to know to get started on your local awareness campaign for your business. You can now direct foot traffic to your store or simply create more awareness of your brand. Follow these tips and insights and take your business a step ahead.
Managing marketing projects shouldn't be chaotic — Try Brightpod for free and start focusing on what matters.