Influence is valuable as a social currency, on social media and off. More business are on social networks now than ever, and social users have begun to see through marketing tactics and attempts at promotion. As a result, individuals with influence over specific communities or "influencers" have become popular among brands and marketers, as means to overcome that hurdle.
These influencers are known to have social authority, or the ability to engage and influence certain sections of social networks.
What is social authority?
Social authority is a measure of the social media engagement that an individual or brand can drive, by sharing content on their social accounts.
Moz calculates the score for Twitterati based on retweets of the most recent tweets, time decay of those retweets, and expected retweets based on follower count. StatSocial also considers the influence that the followers of the account being assessed and the networks of those followers' followers (to the second degree).
If you're attempting to build your social authority, these numbers will help you measure your progress.
Why you should care
In a study conducted by Stone Temple analyzing 1.94 million tweets, it was discovered that social authority strongly correlates with the effectiveness of engagement tactics deployed by an account.
With the power to engage, you can build your own brand and business, or help other brands build theirs, as influencers.
The skills required to build social authority and how to acquire them
If you have paid close attention to social media influencers, you'll notice that they have some of or all of these skills.Proficiency
The people who have most followers on Twitter are usually considered to be very good at their jobs or have content of irreplaceable value to share with followers (advice, interesting content or entertainment). Popular CEOs, politicians, artists and journalists — people follow these accounts for the value that they receive.
You can develop your proficiency by constantly working on your technical skills and demonstrating them via social accounts.
Since content is at the heart of demonstrating your proficiency, you can refer to experts in your field and follow their example.
For instance, when Rand Fishkin shares his weekly Whiteboard video on his account, it is very well received by a loyal community that follows his ideas.
‍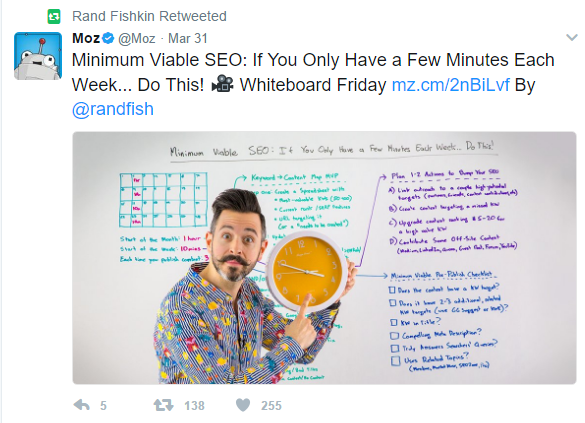 ‍
The same can be said of Gary Vee and his short videos that share smartly quipped ideas that reflect his experience and capabilities.
Follow experts in your field and use their content to update your technical knowledge. Conduct experiments based on case-studies and insights they share, and use what you learn to establish your profile.
Content curation
Many influencers have large followings because they are trusted as a neutral source for information in a niche. They share important industry developments, discoveries and great content created by other sources as well, showing their audience that they care about them and not just selling their own business.
With so much content being produced each day, content curation has become an art or skill.
Here's a quick two-step hack to make it easy:
1. Set up keyword alerts on Twitter advanced search, and use IFTTT to send you an email when the keywords you care about are mentioned.
Even if you are away from your PC, you'll probably see the notifications on your mobile device and always be updated on the latest happenings.
2. Use your keywords to set up content streams on DrumUp. Even if you don't sign in to the web app, the tool will prompt you to check the latest posts on your mobile device.
Read through the posts and then schedule them from the app, using the #tags and @mentions in the suggestions.
Curation isn't just for staying on top of your industry, but also building relationships with important people in it. This exercise will increase your overall social authority.
Presentation
Presentation is everything. Two people can say exactly the same things and receive entirely different responses because of how they said it.
Dropping attention spans and overexposure to too much information has made today's audience hard to please. You need smart quips, numbers presented in an engaging manner and entertaining content to catch their attention.
Look at your posts like copywriters and graphic designers would before posting them, and you'll eventually develop a sense of presentation that will benefit your authority. You can also refer to this guide on how to create a share worthy presentation and apply its ideas to your social media posts.
Here's how Richard Branson tweeted his latest inspirational post -
‍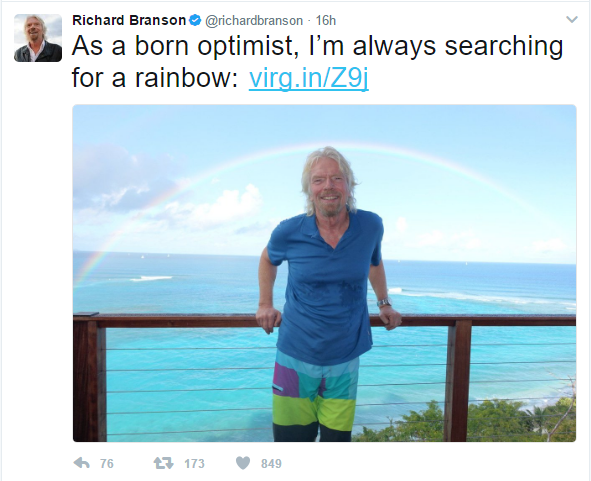 ‍
Save ideas like these when you see them, and use them for inspiration when creating your own posts. Over time, you will develop a great sense of presentation.
Persuasion
Persuasion in an innate part of influence, marketing and sales. If you can't be persuasive, you can't convert your social media audience.
Persuasion requires certain verbal skills and an understanding of human psychology to pull off. Of course, you also need to know your audience very well.
To persuade someone you first need to know what makes them tick. The great news is that most social networks, Google and analytics tools give you access to audience insights — interests and purchase behaviors.
Use that knowledge to improve your communication with your audience.
Personalization is also an important part of persuasion. Mari Smith always adds little tags (that hint at the action she wants you to take) at the end of her reading recommendations that make them seem more genuine and land better.
‍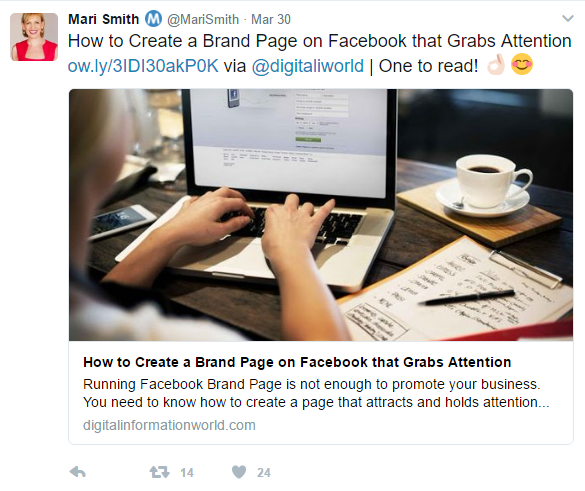 ‍
A unique personality
Establishing a standout personality online requires real skill.
Every social influencer has a distinguished personality — something that you can expect them to do exceptionally well. What do you do better than anyone else?
Focus on that aspect of your personality and let it shine through your posts.
Are you a conversationalist, curator or responder? Define your identity and consistently display it through your conversations on social.
Wrap
Social networks are increasingly gaining importance in the marketing sphere, and social authority or influence is a massive part of making big impact on social. Work on your personality and content, and begin building your authority on social networks today.