The digital world does not stop. It evolves faster than any other phenomenon we have experienced in our time. And content strategists are as caught up in this evolution as are designers, developers, and other IT professionals. Whether they are employed by a single enterprise or act as content marketing consultants, they live and work in a competitive, rapidly changing whirlwind.
Planning a content strategy, often for a full year at a time, means anticipating the trends that will be hot, so that content delivery methods, places, and frequency will capture the right audiences and meet their demands for information, entertainment and inspiration.
Anticipating the Trends for 2017
It's all about the audience, but hasn't it always been? The single thing that drives content trends is capturing an audience, keeping it, and moving it through a journey from recognition to engagement, and, ultimately to purchase. Strategists must greet them where they are, nurture relationships with them, and become a trusted brand source.
Thinking in these terms, here are the eight trends that must be embraced during this year.
1. The Good News (and the Bad) — Content Strategy is Getting Better
Both B2B and B2C content marketers have reported, at the end of 2016 that they are getting a better grasp on their strategies and reaching more of their target audiences than ever before. A recent Content Marketing Institute poll shows that as much as 62% of content marketers state that their strategies and tactics are positively impacting their enterprises' revenue numbers.
While this is encouraging, it also brings consequences. Budgets need to be bigger and the competition will be much stiffer. To truly stand out in this sea of content marketing, strategists will be "under the gun."
Fortunately, there are enough analytics, even just through Google, to demonstrate audience response to content. Showing the numbers to the budget decision-makers can certainly help the cause of higher spending requests.
2. Mobile is Top Priority
This is nothing new of course. More people access the web from their mobile devices than from their PC's, and this is transforming content marketing more than any other disruption right now.
The implications for content marketing are obvious — more visuals, more video, far less text, and, of course, apps. One thing content marketers must do is access their own content via mobile and see how it comes across. Is it exciting and fun? Does it convey the message in a user-friendly way? Using visuals and videos will continue to be the key to content marketing from now on. Even unskilled content strategists can use the super-easy tools to produce these — Photoshop, Unsplash, Photogrid, Canva, and Wordswag, for starters. People want to access your content on the go and they don't want to read it. Don't disappoint them.
3. Social Media — Facebook Still Reigns
Twitter and Instagram (along with Snapchat, Pinterest, and more) are certainly giving Facebook a "run for its money," but Facebook is still the gorilla in the mix. Content marketers cannot ignore Facebook if only because it is the "go to" platform of virtually every demographic. Your audience is there. Facebook is increasingly becoming a "pay to play" channel, however, so content marketing budgets should plan for that.
As far as Twitter and Instagram are concerned, content strategists will need to determine the use of those platforms by the personas of their audiences. Both are growing, and the demographics of those users are as well. There are currently, for example, 342,000,000 active Twitter users.
4. Visual, Visual, Visual
This cannot be repeated enough. Social media marketing platforms and the rise of mobile are demanding it, as are your audiences. Anytime you can say what you need to with a visual, you must do it. Here are a few ideas: Get great photos of your place of business, your staff, any community/charitable events you participate in. Here is a sampling of Instagram photos/videos from Red Bull.
‍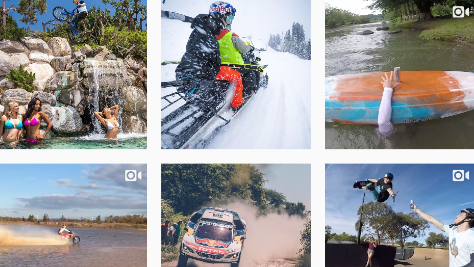 ‍
And visuals are not just for retailers. Here are a few photos from GE's Instagram account:
‍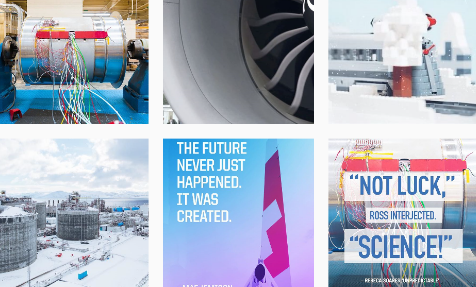 ‍
Both B2C and B2B companies should be making use of lots of visuals. Once you have a pile of photos, use Canva or Stencil to modify. Also, take a look at Design Pickle or UnDullify for design ideas.
Caution: Do not, do not, do not use stock photos, unless you are creating memes.
As a marketing tool, Instagram can be pretty powerful. Check out Foundr Magazine's Instagram account and then read how the founder, Nathan Chan used it to build an amazing following.
5. Videos
Notice that some of the photos above have a camera in the upper right-hand corner — that's because they are videos. And the video has become a core piece of content marketing in recent years. In fact, in a recent article from Contently, here is the prediction of the future of video traffic between now and 2020:
‍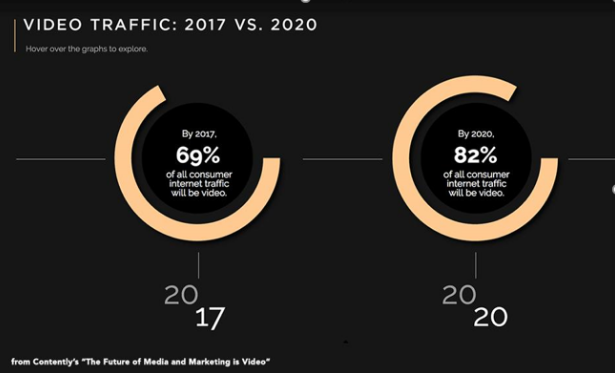 ‍
While many mid to large-size companies are certainly using professional videographers, content marketers working with or for small business can use the amazing tools built into their smartphones or the editing tools available for download. Apple already offers iMovie for free with all new iOS devices. Add to that some great video editing tools like Adobe Premier Clip, Vee for Video, or Magisto, and even an amateur can produce professional quality.
6. Storytelling
Stories do not require professional business writing skills. They require some creativity, some visuals, and a point to be made — inspiration, information, entertainment. Storytelling has become a powerful marketing tool for three reasons:
People find stories interesting, and captivating ones provide entertainment. Stories build trust. When readers/followers come to know the people behind the businesses from which they are considering purchases, they develop a more personal relationship. Relationships result in sales.People remember stories, far more than information and dry facts. If you can convey product or service value or the value of yourself and your people, your brand will be remembered.
7. User-Generated ContentSocial proof it's called. And it's more than just that. In a recent study, 85% of people trust content created by people just like themselves as opposed to content created by a company. When people make positive comments, give good reviews, share their good experiences with others, they are brand ambassadors for a company. There has been a lot said about influencer marketing, and that is certainly one tool to use. But when you can get actual customers to share and praise, you have "gold." Ask your customers for their content — photos, videos, text feedback/comments. They are usually flattered and happy to do so. Check out ModCloth's site and social media channels — many of their clothing models are customers in the pieces they have bought.
8. Personalization — the Newest Competitive EdgeConsumers are well aware that company sites they have visited have their information. That's why they see ads from those companies on their Facebook walls, on the side rails of their searches and email accounts. And, if they have made a purchase, the company has their name and email address too. But personalization has gone far beyond just putting a customer's first name in an email or a text message. It's moving into chatbots, such as those crafted by Taco Bell (Tacobot) and H & M clothing. At H & M clothing, for example, a visitor will message back and forth with a personal assistant who will ask questions about color, style, etc., and then pull up items the visitor might be interested in. This is the future of personalization over the next few years — personal conversations that are fun, build trust and connect people with brands. Here's a scenario from Tacobot:
‍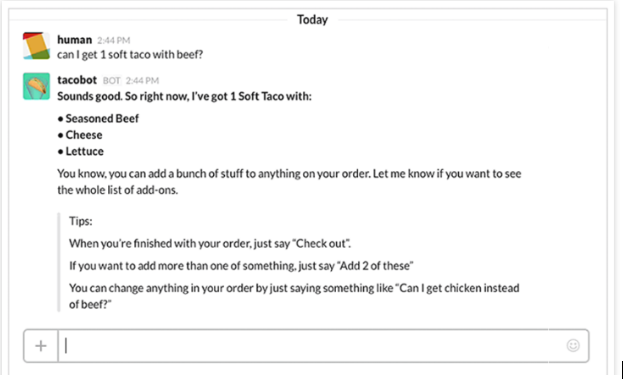 ‍
The Common Denominator
Bill Clinton had a famous line when he was President — "It's the economy, stupid." In the world of content marketing, "It's all about the customer." Every strategy, every tactic, every post, video, photo, or story must be written with the target audience in mind. Great content marketers don't create what they like — they create what they know their audiences like.