Here's why I hate distance.
After college, much of my friend circle moved out to some god forsaken part of India and some managed to scurry to a whole another end of the world. I and three of my best friends are literally located in four corners of the world, and from talking across the desk every time a fly buzzed by we went to talking on hangouts every two weeks or three.
But in the last couple of months, our-grown up selves have come up with a system of sorts (occupational hazard, you see) for syncing our respective schedules for the next hangout session. I am quite proud to say that I have managed to "tech-it" all the way and collaborating schedules is literally a matter of clicking on a shared planner app.
What we do is basically update our tentative hangout/Skype/travel schedules on the app calendar and set reminders to get the group date happening. Truth be told, keeping in touch has never been more chilled out an affair. It's so much more convenient than having to scan through emails and a long line of WhatsApp texts for confirmations across the 4 of us because I can just click on the planner app and it's all right there — all the suggestions, schedules, and shenanigans.
One reason why it's been so easy for me to adopt the charm of tech into just about every aspect of my daily life is because I work remotely.
I work on Brightpod for Brightpod and it wasn't too difficult for me to convince my homies to get on board with this idea of using the collaboration app for planning our upcoming trip, given our time zone condition did not really allow us to collaborate in any other productive way.
But let's talk more about my other remote team — the work team. Ours is a team of people located in one too many places. And even though we may not seem like too many people in the lineup, it's still a challenge for us to collaborate over emails — the seemingly endless trail of which bores the wits out of us all.
But then again in the spirit of shoring up great talent irrespective of where it's physically located, it pays to have a collaboration system in place that helps make our collective tasks and individual tasks clear, perceivable and achievable within reasonable timelines.
Here's how the editorial team comes together on Brightpod:
Quite simply, our content activity pod is based on the kanban system where ideas for upcoming content responsibilities are tabulated across categories titled 'to do', 'doing' and 'done'. As and when one of us is hit with some brand new idea, we list it out on a separate 'ideas to work on' tab.
‍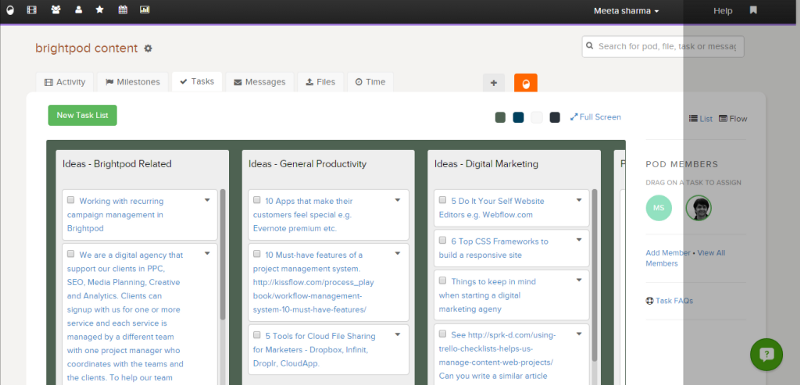 ‍
Every week, we pick a topic to work on, assign a timeline to the task and chalk it out on the editorial calendar. This way we all know what the other person is working on and by when we can expect to see the draft. And every time I or a fellow member completes an activity, we simply check it off the tab. This way we see a content project through to its completion, check by check.
Number of emails sent: 0
Scope of confusion: nil
Deadlines met: almost-all
Over all feeling: priceless (excuse the dramatics)
Why does it work so well?
For one, this simple tool does not intrude but enable. Effects are planned and assigned on a shared panel. The team members can drop each other messages and remarks on the tool, share files on it as well, and we can clearly see the hours we have clocked in. That's at least 10 emails-worth of activity we save ourselves daily.
And even though most of us are geographically displaced, ideating and planning content is hardly ever a function of our respective time-zones anymore. We put in our two-penny-worth insights as and when we can on the app and it's better noted there than on a hurried email or text (both of which are likely to get lost eventually). And, if at all, on some decided date we have the option to review all that's been done and all that needs to be done in the coming months over a quick group call or a one-on-one session. (Ok, I admit it, I hate daily meetings and think they are a thing of passé, and it's high time we all embrace this fact.)
Additionally, a collaboration tool like Brightpod really helps streamline the entire project process, make it perceptible and take the guess work out of the picture. Chalking all project related details on a shared platform (say content themes for the quarter, topic suggestions for future blog posts, schedule for content distribution, and so on) presents a thorough view of the entire activity, helps track progress during the implementation stage, and simultaneously lends the option to zoom into every enlisted task if need be, without reaching out for an email intervention or (god forbid) meetings.
To be able to bring your distributed organization together onto one shared platform is a great step toward sustaining a forward-looking, futuristic culture where accessibility to great talent is not bound by geographical constraints.
In this day and age technology is a remote team's best friend. It offers a lot more room for agility and doing things in a smart way.
‍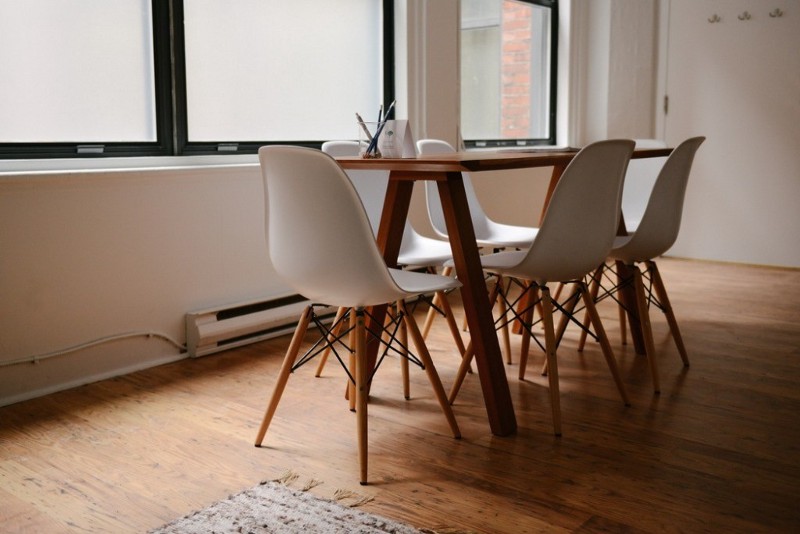 ‍
Imagine if you and your remote team could carry out a task together over a project management tool like Brightpod, have important team meetings scheduled over Skype/Hangouts and share a repository of documents on the same project management tool without having to physically share a concrete space. Believe me, you end up with a lot more bandwidth to do the actual work, free up brain space to attend to tasks thoughtfully and truth be told, the group productivity continually remains at optimal.
Meeta Sharma is an independent writing and editing professional from digital marketing domain. Loves marketing and everything about it.