Pamela Hilliard Owens is a freelance writer, blogger, entrepreneur and owner of 3 successful businesses.

She specializes in working with graduate and postgraduate students, individuals, and SMEs. She also manages seven freelancers/team members in four states and two countries and has clients in twelve countries!
‍
Her background includes many years in sales and sales management. She is also an educator, English teacher and college professor. Her English language expertise is very helpful to many of her student-clients and business clients for whom English is not the first language
Has been using Brightpod for: over 2.5 years
Favourite features: Pretty colors, Editorial Calendar, Task Flow View, Email Notifications & Reply to tasks and messages, GCal and iCal Calendar Integration.
Favourite time saving trick in Brightpod: Using the task flow feature to modify or adjust the tasks as necessary.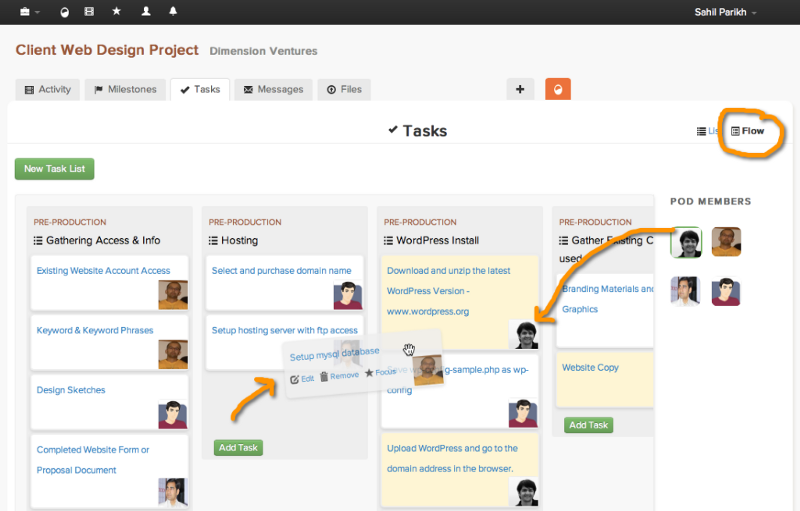 Would you recommend Brightpod to other business owners & marketing teams? Yes.
One productivity hack that keeps her sane: Having the best two assistants a small business person could ask for. You just cannot do it all yourself. Don't be penny-wise and pound-foolish.
The Challenges
Pamela faced two major challenges in organizing and managing her individual and team tasks.
Challenge 1: Finding the perfect tool
Finding the right tool for the team's needs has proven to be difficult.
"The biggest issue has been finding easy-to-learn and easy-to-use apps that were neither bloated nor very expensive. You name the tool and we've used it."
Pamela was clear in her goals: She wanted a tool that is simple, uncomplicated and built for small businesses.
"I only looked at apps that are designed for freelancers, SOHO owners, and "actual" small businesses, not scaled down enterprise apps."
Challenge 2: Finding a tool fit for remote teams
Apart from searching for the perfect tool, Pamela faced another challenge i.e. making sure the tool they use is collaborative enough to allow remote teams to work together effectively. Also, it was every important for her to use a tool that had a negligible learning curve so that her team members could begin using the tool instantly.
"Since (except for my husband and me), my team is located all over the place, we needed a tool that everyone could pretty much "teach themselves" to use. We also wanted features that allow everyone to communicate with whoever they need to for a particular project."
How Brightpod empowers Pamela & her team to be more productive
Uncomplicated and built for Small Businesses
Pamela was certain that her team needed a simple tool that was built for small businesses like hers.
Brightpod's minimal and beautiful interface was perfect for her and the rest of her team as a task management tool is something they all would use everyday.
"I also looked for a "pretty" interface, probably because I am a right-brained creative. Last year I tried an app that had most of what I was looking for, but the gray (and gray-only) color scheme bored me to death. I like pretty colors — I'm not apologizing for that!
Also, I do like that the Pods with overdue items are highlighted in red. Those 'pretty colors' again!"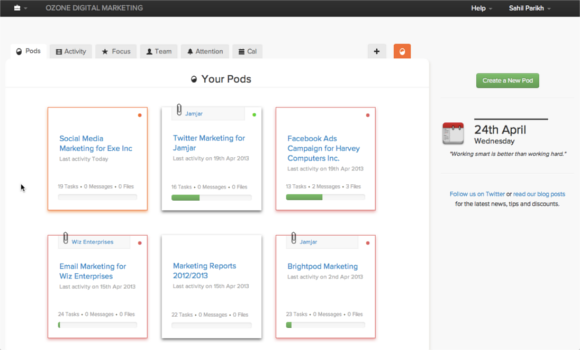 Another aspect that Pamela considered is the customer service that helped her feel like Brightpod is an app built for small businesses like hers.
"I cannot express enough how important it is for "little guys" like us very small businesses to have almost immediate access to personalized support — especially at the beginning as we are learning how to use the app."
Perfect for Remote Teams:
With 7 team members in 4 different states and clients in 12 countries, Pamela desperately needed a tool that worked well with remote teams i.e. had collaborative features and was easy to pick up for anybody.
"I like that I can assign tasks before the traditional start of the business day and every one knows what to do on their own schedule. At the end of day (or sooner if necessary), I can check everyone's progress, including my own….
… I am not a sales manager (been there, done that), I don't have time to monitor everyone else's activities all day long. The app is easy enough to learn and intuitive enough for everyone to "get it".
Perfect for Marketing & Content Projects:
A big part of Pamela's businesses involve blogging, other types of "in-house" writing (versus writing for clients), and many different marketing tasks.
She works on several content projects at one time and even handles marketing campaigns. Having been built for content and marketing teams, Brightpod helps her bring her marketing campaigns together and plan out editorial tasks for her entire team.
For instance, her husband, who has several books already published or almost ready for publishing on Amazon and Kindle, can work closely with their social media and web design specialist to manage the marketing of his books.
The ready-made marketing workflows in Brightpod also make it easier for them to plan campaigns.
For editorial tasks, Pamela prefers the Editorial Calendar in Brightpod because,
"It is a lot easier to see and use than Basecamp's. Also, the calendar in WordPress is way too complicated and time-consuming for our needs (plus, you have to open each calendar for each blog!). Having everything on one calendar on Brightpod is much easier."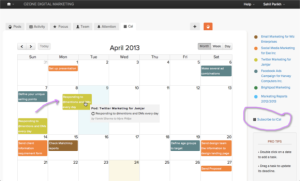 All in all, Brightpod's ease of use, intuitiveness, clean interface, personalized support and the overall "small business experience" helps Pamela and her team to plan their marketing & content campaigns effortlessly.
I believe this case study can help small businesses everywhere can gain a little more insight into choosing the right tool for their teams.
A big shout out to Pamela for taking the time out to answer questions for this case study and we all wish you the best of luck with your businesses!
If like Pamela, you're looking for the right task management & collaboration tool for your business, give Brightpod a try.