Today, we have revamped the Attention page into the all new Me page (with pretty pie charts). The Me page will display:
All Tasks by a person across all his/her pods.
Work Priority List: Prioritize a team member's tasks across pods.
All tasks delegated by this person.
All conversations this person has participated in.
All files this person has uploaded across pods
All time this person has added.
A list of Pods this person is a part of.
‍
‍
The idea of the Me page and Work Priority List started back in August 2013. One of our customers, Doug Karr (from DK New Media & Marketing Tech Blog) emailed me while trying out Brightpod:
One key feature we'll be testing but I'm not sure whether or not your platform supports it is prioritization across pods. Example: Stephen works on all of our clients, and once we get a list of tasks in there for him, I would like me or Jenn (administrators) to be able to prioritize his list of tasks (regardless of which pod the task is in). For example, he may have:
Pod 3, Task 1Pod 2, Task 4Pod 5, Task 2Pod 1, Task 3Pod 3, Task 4Pod 3, Task 2
Ultimately, we should be able to look at the task list under any user and drag and drop their priority.
I liked the idea. I followed up my a question which he promptly responded to.
Sahil: When you mean priority is it ok to just drag and drop the most important task (within a particular user's page) at the top?
Doug: We often have a lot of low priority tasks but if the client is coming in for a meeting, we may want to prioritize those tasks above high priority items for other clients. An admin should be able to drag those around wherever they want.
I hope that helps. It's basically a work priority list.
As an administrator should be able to review each of our employee's task lists and prioritize them. Additionally, once we submit the priority change — it would be cool to send a note to the team member and let him know the task order has changed. Every day, I want our employees to login and see their list.
Thanks for your openness on this. We've actually discussed this with other agencies and it's a very common issue.
Doug
Personally, I felt this process to be very useful to anyone planning tasks and projects. We have so many tasks (across projects) that are assigned to us but how do we know what we need to work on? None of the tools I checked did this well. So, after a month of design/dev we have launched the Me Page + Work Priority List. Check it out, you'll love it.
Quick Tutorial: Me Page & Work Priority List
Everyone has their own Me page. Click on the "Me" tab to check it out.
Only Administrators can view everyone else's Me page. If you are an Administrator, head to the "Team" tab and click on any of the team member's name. This will take you to their Me page. You can explore everything this person has done in Brightpod. Moreover, you can move tasks to prioritize and even send a notification which will tell the person that their tasks have been prioritized by you.
‍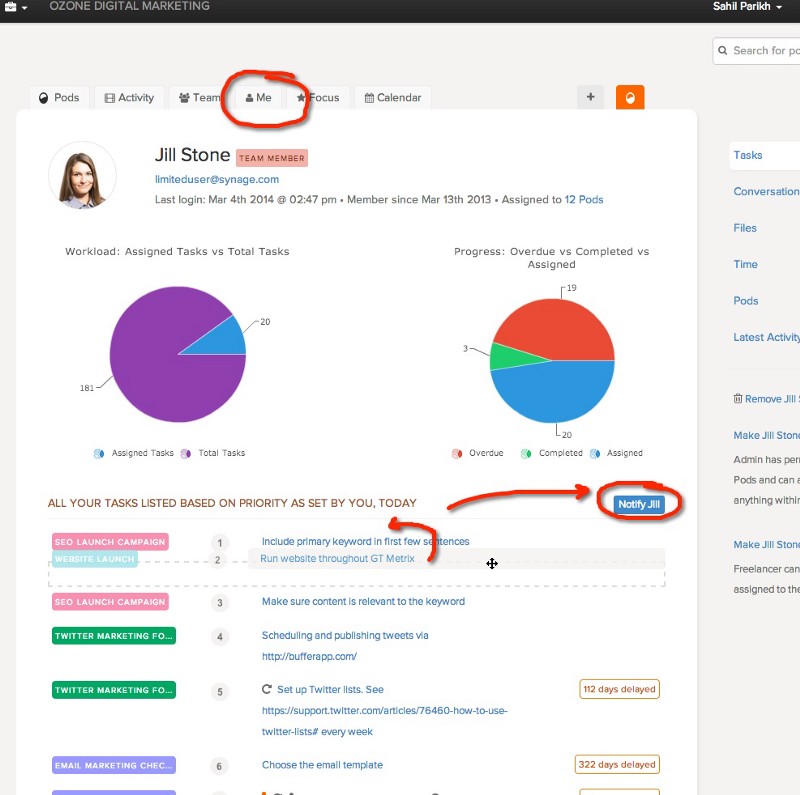 ‍
We are very excited to see how teams use the Me page + Work Priority Lists.