Facing the threat and coping with competition is the basics of any long-term business strategy. But, how do you determine your competition? And how do the players in the market affect your future plans? To answer these questions, it'll be helpful to analyze the competitive forces that exist in the industry. Customers, new entrants, suppliers and substitute products are all competitors that are prevalent in the markets today. Porter's Five Forces breaks down competition into five distinct categories that help evolve your business strategy
MICHAEL PORTER'S FIVE FORCES
‍
‍
In 1979, a young associate professor at Harvard Business School published his first article in HBR, "How Competitive Forces Shape Strategy." In the years that followed, Michael Porter's explication of the five forces that determine the long-run profitability of any industry has shaped a generation of academic research and business practice.
According to Michael Porter's Five Forces, competition is not determined by market share, but which business is the most profitable. For example, even a company with a strong position in an industry unthreatened by potential entrants will earn low returns if it faces a superior or a lower-cost substitute product
Understanding The Five Forces:
‍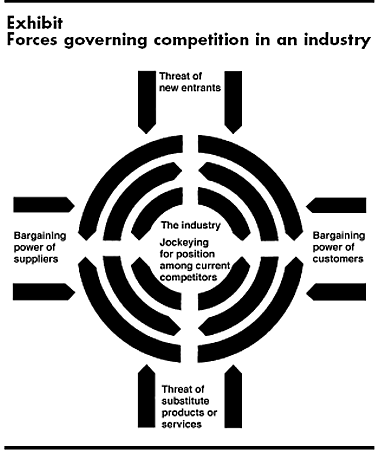 ‍
COMPETITIVE RIVALRY
Direct competitors play a major threat to any company and reduce its likeliness of profitability. Rivalry competition is high when there are just a few businesses equally selling a product or service, when the industry is growing and when consumers can easily switch to a competitor's offering for little cost. The larger number of competitors along with the products and services they have can affect the overall business.
BARGAINING POWER OF SUPPLIERS
This force addresses how suppliers can easily drive up the price of goods and services which in turn affects profitability. This force is affected by the number of suppliers available, the fewer suppliers there are, the more power they have. Businesses are always in a good position when there is a multitude of suppliers.
BARGAINING POWER OF CUSTOMERS
This force determines how consumers affect the pricing and quality of the product or the service. This force determines the cost involved for a customer to switch from one product or service to another. Buying power is low when consumers purchase products in small amounts and the seller's product is very different from any of its competitors.
THREAT OF NEW ENTRANTS
Any new entrant in the market impacts the running of the business. The forces that determine for a new entrant to enter the market need to be determined. If the forces are easy, it's easy for an entrant to enter and eat up market share. Barriers to entry include absolute cost advantages, access to inputs, economies of scale and well-recognized brands.
THREAT OF SUBSTITUTE PRODUCTS OR SERVICES
This force determines the competitor substitutes that pose a threat to the product or service by the business. The threat of substitutes is informed by switching costs, both immediate and long-term, as well as a buyer's inclination to change.
NETFLIX'S FIVE COMPETITIVE FORCES
Let's take the case of Netflix. We all know about the subscription-based video streaming service that has gained relevance over the years. What are Porter's Five Forces that determine Netflix?
Bargaining power of suppliers
Netflix procures different movies and TV shows available to stream on their website. To keep their customers happy and keep the website more relevant Netflix needs to ensure good contracts with its suppliers. Some suppliers may develop strategic alliances or partnerships. For instance, Netflix competitor Hulu is actually a joint venture between the Walt Disney Company's Disney/ABC TV Group, Twenty-First Century Fox's Fox Broadcasting Company and Comcast's NBC Universal Television Group. In addition to streaming their content, Hulu also produces some of its own content. The service still has the opportunity to be a money maker for them, without much cost. However, to reduce contract load, Netflix is also going its own way by creating it's own Netflix original series and movies.
Bargaining power of customers
One of the biggest threats that Netflix faces is high switching costs. With the many video streaming options to chose from such as Amazon Prime, Hulu, Showtime and more, it's easier for customers to switch between each. Apart from that, customers can cancel subscription anytime without any termination fee. At $8.99 a month, Netflix is quite inexpensive when it comes to their library and the content available to stream so that works advantageously for them. However, that increases consumer expectation and brings out price sensitivity and at the state of dropping Netflix in case of any change in pricing. In 2011, when Netflix divided its DVD by mail and streaming services, charging $7.99 per month for each service instead of $10 access to both distribution methods (Shankland, 2011), resulting in a loss of 800 000 subscribers within three months of the announcement. In 2014, it again raised its prices from $7.99 per month to $8.99 per month. It mitigated the risk of losing viewership by giving existing customers a two-year reprieve from price increases. Netflix mitigates the bargaining power of buyers by offering customers original content only available through Netflix. In March 2011, Netflix began acquiring original content for its popular subscription streaming service, beginning with the hour-long political drama House of Cards, which debuted on the streaming service in February 2013 (Netflix, 2015). Since then it has added more original content, which has popular with customers, including Orange is the New Black, Fuller House and more.
Threat of Substitute Products or Services
Although on a decline, there are many products or services that act as a substitute to Netflix, such as cable television, DVD players and more. Apart from that, piracy plays the biggest threat for Netflix, as no business can compete for something that is available to consumers for free. With live streaming services, widely available, they also add to the substitution effect for video streaming website.
Threat of New Entrants
With video streaming being one of the most growing industries, the threat of new entrants is only to intensify in the future. One such contender is YouTube Red, a premium version of YouTube with some extra features. Not only does it let subscribers watch its content commercial-free, but it provides access to original shows and links to a YouTube Music app that creates playlists from the videos you stream. Plus, it gives subscribers access to Google Play Music, which normally costs $9.99 per month on its own, for less than $10 per month as of December 2015. YouTube Red is a new service and appeals to a specific demographic, but the opportunity for a new entrant to the streaming video industry is apparent when combining original content, music and social media. While Netflix may face many new entrants within its sector, it remains unclear whether these new entrants truly represent a threat.
Rivalry Among Existing Competitors
Netflix competes against Hulu and Amazon directly — each one streams movies as well as TV shows and creates some of its own content. But Netflix competes with other providers as well. Major networks like CBS and Fox have their own streaming video service available on their websites and apps for streaming devices like Roku, Google Chromecast, Apple TV and others. These networks can stream their entire catalogs of shows. Outside of the ability to view current content, there is also very low product differentiation between video streaming providers. This enhances the competition between providers.
While Porter's Five Forces is a time-tested model, with the change in the landscape of the digital era has certainly affected it. With the change in business structure due to social media, the threat of new substitutes have become more pervasive, however, the roots of Five Forces still persist.
Managing marketing projects shouldn't be chaotic — Try Brightpod for free and start focusing on what matters.