If you aren't already using a social media calendar to plan and schedule your posts, then start immediately!
I am not trying to push a cause here but what's the harm in making your life a little bit easier. A Social Media Calendar is one of the best tools out there for organizing your content publishing activity — for mapping the 'what-when-where-how' for all your upcoming posts and ensure that your team is on the same page when it comes to the publishing schedule of all your outgoing social media content. What's more is that such a tool is really handy when you want to look back at your social engagement activities, say for the year, and in doing so achieve a documented account of your social media efforts during the time period.
So, instead of publishing content out of whim every minute of the day such social media content marketing tools make your life far more organized by helping you plan and even automatically schedule posts across your chosen set of media conduits.
If all of the things said above have failed to make a strong, positive case for social media calendars then let me try and present it all in a relatively logical way:
To start with, today your customers find you and choose to stay connected to you via Social Media — Social Media channels are conduits for promoting your content — Promoting good quality, relevant content is as much a result of your creative genius as it is a result of the consistency and timeliness observed in publishing content pieces across social networks most relevant to your cause — Regularity observed in publishing content is typically an outcome of some planned activity which you undertake with your team — And planning is nothing but an act of thoughtfully scheduling your tasks on appropriate dates and time.
Making this particular aspect of 'scheduling' simple to handle, hassle free and free of constant manual intervention is the core purpose of a social media calendar. Added benefits include:
Easy review of all content publishing activities over a period of time
Ensures consistency and timeliness when it comes to publishing posts
Helps establish a logical progression to your social media campaign
Is a great tool for keeping your team on the same page with respect to your campaign's activity schedule
Adjusting task schedule is easier with a tool like this
The key to remember here is that a social media calendar is not just some content publishing tool. It's a tool for engaging in planned publishing.
Getting started
Every scheduling activity starts by first defining the goals of a social media campaign and outcomes sought thereof. This helps you further outline what kind of content messages will work best for your cause. For instance, if the primary goal of a social media campaign is to gather immediate attention and eye-balls for a brand, you may consider opting for online contests or building highly attractive serial content that leads to an impressive brand revelation of sorts. Understand what end you seek out of a stand-along message (say, the contest) and how best can a medium deliver it. Thus, it is important to keep in mind the scope and limitation of each social medium you look to tap.
Once you know what kind of messages you would like to promote, establish an appropriate content-mix, that is, how much of each of the content messages should you be publishing per day/week/month. The best way to ascertain this is by knowing your audiences' preferences and their online activity. If you know that an attractive serial content is most loved by your audience, emphasize on promoting that particular content message than, say, bombarding them with some sales-promotion offer.
Finally, move on to determining the frequency of your messages. Decide on what is the best time to post a message on a social network, how often should you post a particular kind of message, how best can you reinforce a message across multiple social networks, etc.
Only when you have clearly established what you want to post, how much of it you want to post and where you would like it all being posted, move on to preparing a schedule. This is where we bring in our social media calendar.
Creating a social media calendar for your team
Creating a social media calendar is no rocket science. You don't really need fancy software or some web application for scheduling your social media content. The whole idea is to keep it simple, understandable, and easy to execute. If you think you can work better with a marker board, go ahead. Draw out a grid (just like a regular calendar would have) and start scheduling. As long as manual intervention proves no hassle for you and your team, leave out the technology and go the old school way.
‍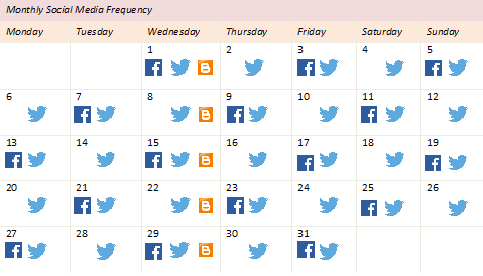 ‍
Here's what an absolutely basic social media calendar could look like:
The above grid simply maps out the frequency of use of respective social media channel in the course of one month. You can also choose to break down this grid further and work with different permutation and combination of parameters that best fit your cause. So, you may opt to map your activities further on parameters ranging from date of a post, time of posting, the topic of a post, its publisher, post type etc.
If, however, you would rather opt for automation and get the whole business of posting content 'as-you-go' out of the way, a proper social media calendar application is advisable. There are plenty of options out there you can choose from. Here are a few options you can start with:
For basic activity scheduling:
Microsoft Excel: It's easily available to everyone, easy to use and does the job for free.
Google Calendar: Very simple to use, this time-management web application is hands down better excel (being more focused in function). I would advise this as a good application to start with. Plus, it's free!
‍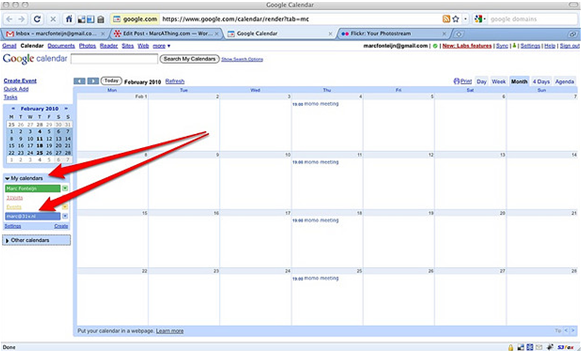 ‍
For scheduling activities and managing their publication:
Hubspot Editorial Calendar: This one is an excel blog editorial template, downloadable free of cost.
Wordpress Editorial Calendar: This is a simple blog post content management system and can be downloaded for free. You can arrange your posts in a calendar form, and schedule them as per your task goals. Although limited in its scope, this tool is very helpful in managing your blogging schedule, at the very least.
‍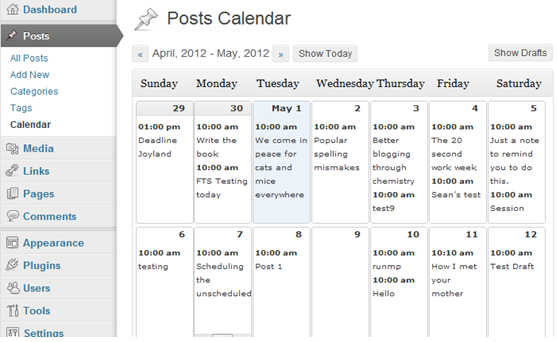 ‍
There are plenty more paid web applications available, including ContentDJ, CoSchedule, Kapost, and DivvyHQ which are great for content planning and scheduling, especially useful for high-volume teams. We at Brightpod use an in-house editorial calendar for planning and organizing content for the website's homepage, the blog, micro-site, Twitter and Facebook account. Take a look:
‍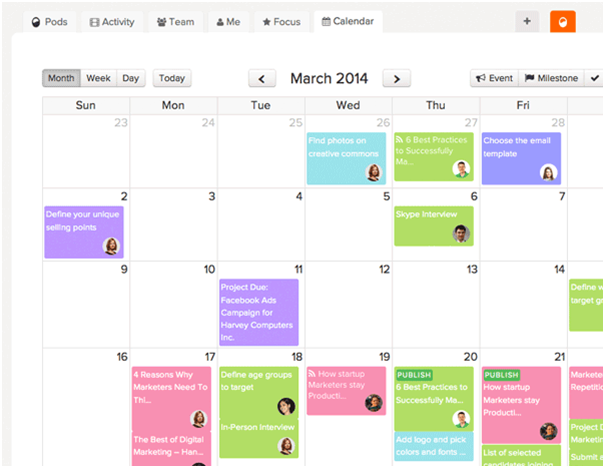 ‍
No matter which tool you choose to adopt — a fancy web application that looks really good to clients or a simple pen and marker — the bottom-line remains that in today's social media frenzy, when every brand is trying really hard to grab your customer's attention, adopt a pro-active, planned approach than a reactive one. And one way to ensure proactive endeavors is to plan ahead and remain relevant.
Meeta Sharma is an independent writing and editing professional from the digital marketing domain. Loves marketing and everything about it.