Like it or not, most of our communication with our team and clients happens via email. Your clients sends you a list of things to do, your designer sends you the updated homepage image or your colleague sends the entire team an email asking everyone their opinion the latest Facebook campaign. Once triggered, the chain emails don't stop and you drown in email overload. Important ideas and project related conversations are buried in email. This is manageable for 1–2 projects but not for many.
Till today, the only way to get emails into Brightpod was to copy paste them. Our customers kept telling us that this was cumbersome and there should be an easier way to get data into Brightpod.
We heard you and thats why created Brightpod Send.
How does Brightpod Send work?
Brightpod Send allows you to add tasks, task lists, messages and files to your project via email. Each of your pods (projects) in Brightpod will have a unique email address which you can customize and retrieve from the "Send" page below.
‍

‍
Once on the page, we have a set of instructions and syntax rule you can follow to send tasks, task lists, messages and files into Brightpod. It is pretty simple.
Here is an example of how I can send a task into my project in Brightpod:
‍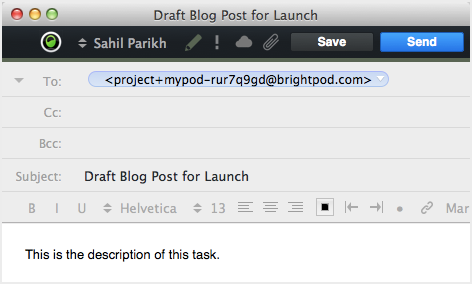 ‍
Brightpod Send can be used for various purposes:
Assigning a task to a colleague when on the road.
Sending in ideas as you think about them.
Allowing your clients to send in tasks without having them to log in (most clients don't like to login).
Forwarding your client requests directly into Brightpod.
Forwarding details from your contact form (the one on your website) to one of your projects (lets say 'Leads') to capture all lead information in one place.
Keep track of job applicants.
The possibilities are endless…
Brightpod Send is available on all paid plans.