This interview was first published on siftery. Kevin William David interviewed Sahil Parikh, Founder of Brightpod.
Hi Sahil, Can you tell us about Brightpod?
Brightpod is a project management software for marketing and creative teams. It helps marketers get instant clarity on their team's projects, goals, tasks, discussions, deadlines & more. We want to be the go-to solution for teams to plan their marketing campaigns and daily activities.
I am the founder of Brightpod. I mainly focus on product marketing, product UI/UX, customer service and business dev. I wear multiple hats and that's what makes my week interesting.
Tell me more about why you are building this?
Back in 2008, we launched DeskAway (now phased-out) as a general project management tool. We saw that a lot of marketing companies started using the app to manage their marketing projects. There were a bunch of other service-based businesses that were using the tool for general project management. In 2011, we decided to design a new product built specifically for "digital marketing agencies" — build for a vertical rather than remain very generic.
As more and more companies use online marketing they will either do it in house or outsource it. This to me looks like a big ready-to-use market if we can build a solution to help them manage their work and help them succeed. Clients are spending more and more money on digital marketing, as a result of which marketing firms have more work than they can handle. This is where Brightpod comes in — to take the chaos out of marketing collaboration.
‍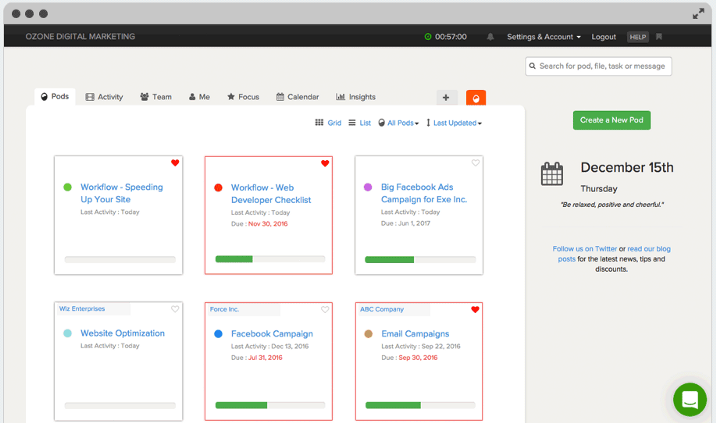 ‍
What's unique about what you are building & why do you think companies should use Brightpod?
Brightpod is a marketing collaboration software built for marketing & creative teams in mind. Most of them currently use a general purpose collaboration tools like Trello, Basecamp and Teamwork.
We design software that people love using and feel good. The software is designed specifically for them as opposed to for everyone. We don't differentiate on features and don't care if we have fewer or many features. What matters to us the most is if our software is easy to use, clean and clutter-free.
‍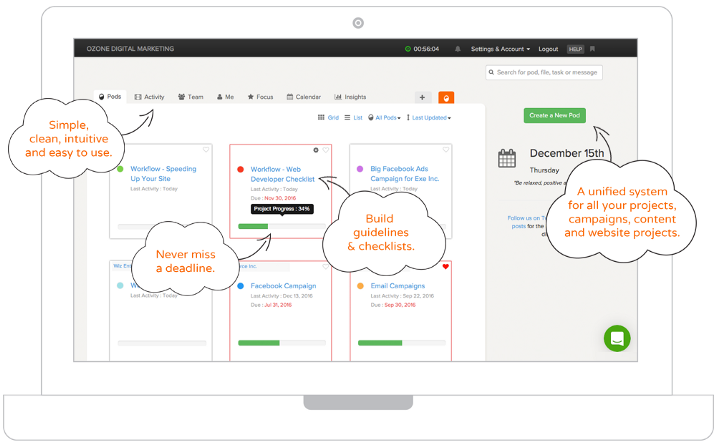 ‍
Who uses Brightpod? What types of roles do your customers have at their companies?
Brightpod is used my small creative/marketing agencies as well as teams within larger companies. For example, we have DK New Media as a customer since 2013. We have typically seen the following designations that sign up for Brightpod for their teams — Founders, Creative Director, Communication Director, Marketing Officer, Director of Marketing VP of Marketing, Accounts & Digital Media Manager, Project Manager and Marketing Manager.
How are your customers using Brightpod? Could you share a few different use cases?
We have a few customer stories on our site here — https://www.brightpod.com/customer-stories
Have there been unique use cases for Brightpod that you hadn't thought of or expected?
Yes, these are few that our customers shared with us…
"We were using a shared Outlook calendar. We liked how Brightpod organizes projects, how we can assign tasks and set deadlines.
"I have never successfully put a client into our system before. Now we have clients using Brightpod almost like a ticketing system. We can see the requests they put in and they can see where in the process the request is at any time they like. It has cut down on all the back and forth emails."
"It has been useful to track an issue with a project, by looking through the notes and when work was done on the timer. We could then show that the work had been done as asked."
"Yes, we used it for our first web platform launch this past Fall/Winter — which had a very aggressive implementation timeline of 6 weeks. So, it was really great to be able to create a project plan, share it with those who were on the implementation team, and the dept. supervisors so they could see all the steps involved, who was responsible — and over time our progress and be able to comment on the the timeline, tasks or milestones along the way. It was a great success and I like that we can archive and reuse those steps for other/future implementations — it's a win-win."
"It has evolved to help us coordinate on large projects. In the beginning we were using it only for graphics and publications."
"Brightpod comes in extremely handy when working across time zones. Rather than 4am emails, our clients can login in wherever and whenever to see what's going on — making it easier for them to check progress and cutting out time-consuming Skype calls."
‍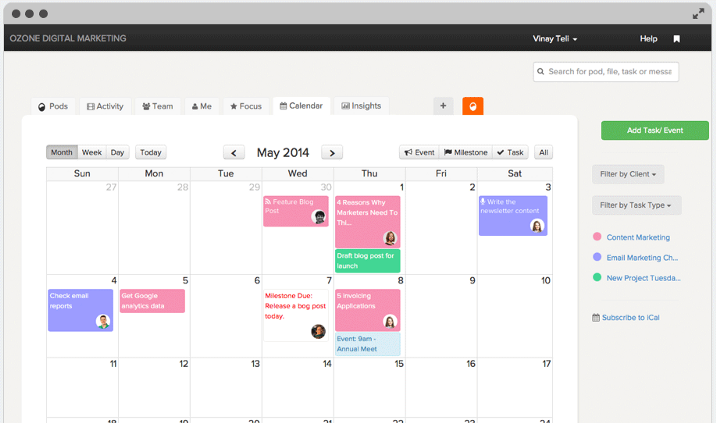 ‍
Were there any early 'growth hacks' or tactics that have contributed to your current success?
We focused on our website and content early on.
What in my opinion helped us improve our conversion rates early on are…
Make your visitors feel awesome.
Keep your site simple, clean and clutter-free.
Include quotes from customers and media.
Make sure your site loads fast.
Build trust.
We don't have a strategy as such. I try to get content on interesting topics and cater to our target audience — marketing teams.
We have a section on the blog called "How I Stay Productive Series" where we interview startup marketers and learn from how they manage their day. We have been doing this since 2013. Some of the people we have interviewed are Robby of RescueTime, Thomas of Blossom, Laure of Olark, Christophe of GetApp, Natalie of Wildbit and Rob of Kashflow.
What were some of the biggest challenges while building the product early on and how did you solve them?
The challenges were less about development but more about marketing — getting people to know about Brightpod and to try it out. There are just so many apps out there for every category. How do you stand out? This is such an important problem to tackle. We built our Customer Stories and Buzz pages slowly. Building trust on the website was very important early on.
We also knew that getting traffic from organic search was important. So we had to figure out Google search when most of the keywords people type come under "not provided". We did this through a combination of trying to rank for the keywords that we think our customers would search for (e.g. marketing project management software) and build content around these keywords.
What have been some of the most interesting integrations you've added? Are there any that have been particularly impactful for you?
We have added the following integrations but neither of them have been extremely impactful. They are more like "must-have" features within the app:
Email — people can send in their tasks and comments via email.
Harvest — if you already have a Harvest account you can push your time from Brightpod to Harvest.
Google Drive — you can point to a file on Google Drive within Brightpod comments.
Finally, What are the top products that you depend on to run the company & how do you use them?
Intercom — use it for CRM, helpdesk, on-boarding messages and in-app announcements. This by far is the most important product we depend on as it packs so many features into one.
Ahrefs — for SEO, link building and competitor analysis. We just started to use Ahrefs so we will see how it goes. So far it has helped us clean up a handful of poor quality backlinks.
Google Apps — for keeping our internal docs and emails. Super simple to setup!
Postmark — for transactional emails that go out from Brightpod. Their service is very dependable and their reporting is extremely well designed.
Webflow — for designing and hosting our site. Their app is very sophisticated and gets us up to speed with making changes to our site and publishing on their CDN.