Ever since we started building Brightpod, we had one goal in mind. To make it exceptionally easy and stress-free for marketing teams to plan and collaborate on their marketing campaigns.
After learning a lot about how our clients manage their content marketing efforts and what they were looking for from an editorial calendar, we got to building the easiest editorial calendar you'll ever use.
Why you need an Editorial Calendar
Ever since businesses started waking up to the importance of content marketing, marketers have been on the lookout for a simpler and more efficient way to manage their content efforts.
This is where an editorial calendars come in. An editorial calendar is an effective way to manage content marketing for several reasons and should be a part of your marketing arsenal.
Stay on track with your content marketing strategy
As a blogger and content marketer, I know how easy it is to lose yourself in your day-to-day activities and get sidetracked from your broad marketing strategy. After all, if your content doesn't align with your marketing goals, what is it good for?
An editorial calendar helps you keep your content marketing and overall strategy in place while you're planning your content so you can achieve your objectives.
Document your ideas in one place
If you're a part of large content team, you'll often find co-workers emailing you ideas or maintaining separate lists of topic ideas themselves. An editorial calendar makes it so much easier for everyone to share their ideas and brainstorm on topics together.
Manage multiple authors seamlessly
An editorial calendar is especially important for multi-author teams. With an editorial calendar, managers/editors can easily assign content pieces to the respective authors and even get a bird's eye view of what each person is working on.
Collaborate better
An important element of any content marketing effort is collaboration. Teams with winning content marketing efforts ususally mobilize different departments like sales, development and customer service to create content that appeals to clients and readers. Being part of such a massive operation can be difficult if you don't have the right tools to collaborate.
A true editorial calendar lets co-workers comment on tasks and approve content seamlessly without ever having to resort to unending email chains.
Introducing the stress free way to manage content marketing — Brightpod's new Editorial Calendar
To help marketing teams do all of the above, we recently launched a new version of our Editorial Calendar.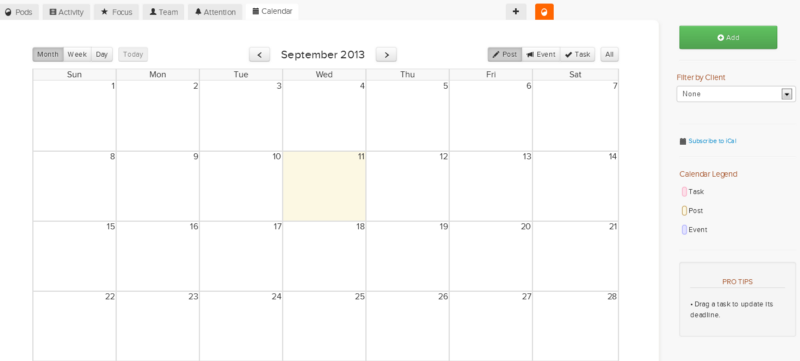 Adding a new content piece is super simple. Just double click on the date you want the content to be published and you'll be able to specify details and other metadata for that post. Here's a quick look at everything you can specify.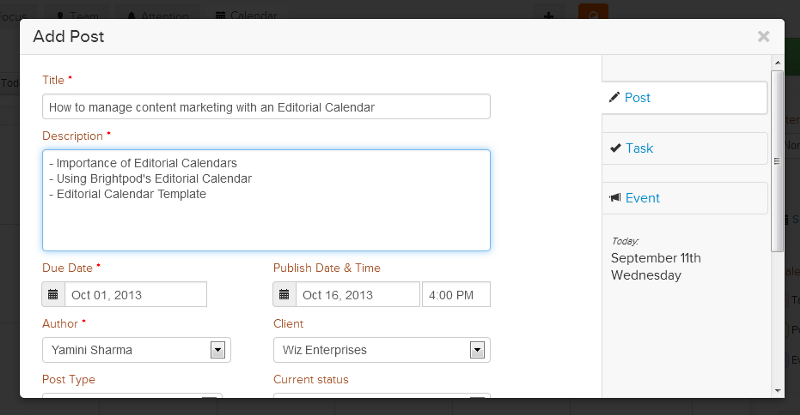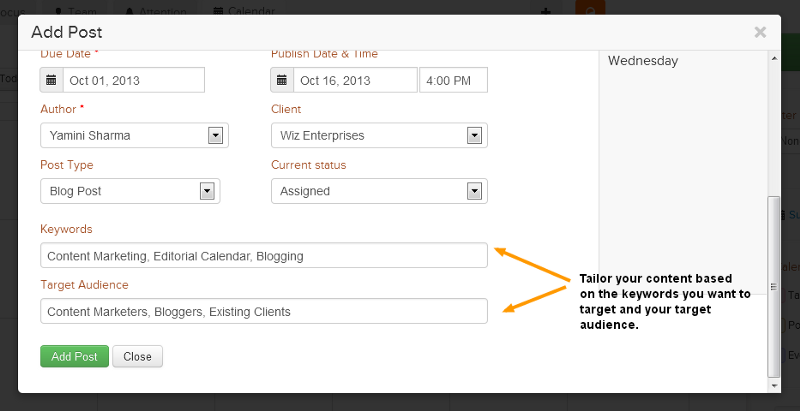 As you can see in the images, here are the details you can specify for each content piece:
Title - The title for your blog post, ebook or presentation.
Description - A description of what will be included in the content. This section can be used to give authors an idea about what angle they should use for the content or for letting other team members know what the post is about.
Due Date - The date by which the content is due.
Publish Date & Time - The date and time by which the content should be pushed out.
Author - The team member in charge of the task.
Client - The client for whom the content is being prepared.
Post Type - An option to select the form of content i.e. Blog Post, Presentation, Whitepaper etc.
Current Status - An option to choose from four statuses i.e. Assigned, In Progress, Pending Review and Published.
Keywords - To specify keywords that should be highlighted.
Target Audience - The segment of the audience that the content is meant for in order to tailor it better and make it truly relevant.
This metadata is what makes Brightpod's editorial calendar so powerful. It gives you a chance to add in the most important details about a content piece while creating a task for it on the calendar. The best part? Everyone on your team can see these details and always be in sync!
It's not just an Editorial Calendar
Yes, there's more :-) With Brightpod's calendar you can even track tasks and events.
Want a better look at all the tasks your team is expected to do this month? Just click on the tasks tab to show only tasks on your calendar.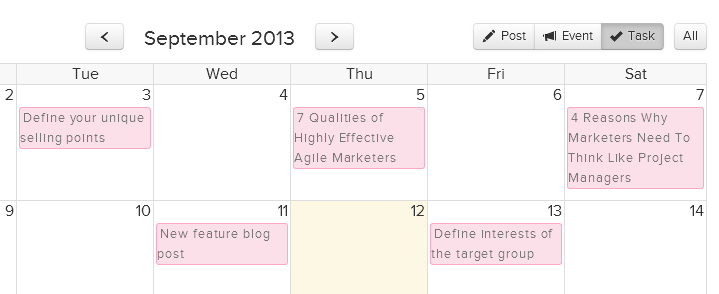 Need a way to manage meetings, conferences and client calls? Track events through the calendar as well.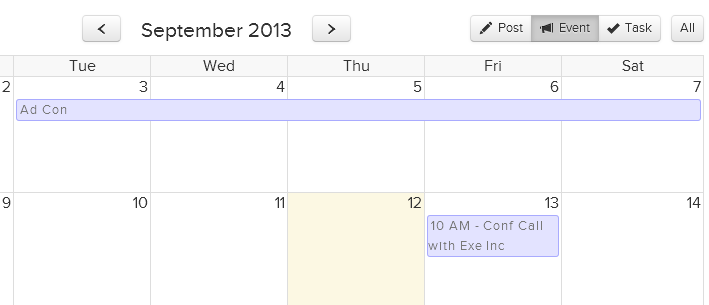 Tips on how best to use Brightpod's Calendar
Big picture aside, it's the little things that make this calendar so amazing to use. Here are a few tips to help you get the most out of the calendar.
Subscribe to iCal - You can link up this calendar to Gmail (or any other calendar that uses the iCal standard) and make sure you have all your tasks, posts and events with you wherever you go.
Colour-Coded - Brightpod's calendar is colour-coded to help you distinguish between tasks, posts and events.
Filter by Type - You can view only posts, tasks or events at one time or view them all together
Drag & drop to change deadlines - Drag a post/task/event to a new date to change it's deadline. Neat, right?
Add a task/post/event with one click - Add a task, post or event by clicking on any date. You'll get different options based on what you want to add.
Filter by Client - Filter tasks, posts or events by client to help you track deliverables better.
if you'd like to give the new calendar a try, you can sign up for a free 14 day trial of Brightpod.
Here at Brightpod, we're all really excited to know what you think about our new Editorial Calendar. Content planning is simple again.
"It is a lot easier to see and use than Basecamp's. Also, the calendar in WordPress is way too complicated and time-consuming for our needs (plus, you have to open each calendar for each blog!). Having everything on one calendar on Brightpod is much easier."- Pamela Owens, a Brightpod customer.