Over the last year many Brightpod's customers have requested a reporting feature e.g. "Can I see everything that is done in my project for a given time interval?". Come to think of it, it seems logical. They have put in time and effort in planning and organizing their projects in Brightpod and now they want the software to do the data crunching and present something meaningful — give a birds-eye view of what's happened and what's happening. Maybe, something that customers can download to a spreadsheet or even send it to their clients.
We thought about this problem and worked on it for the last month. There were 3 design iterations until we finally arrived at something that was simple, clean and very user-friendly.
Today, I'd like to introduce Brightpod Insights.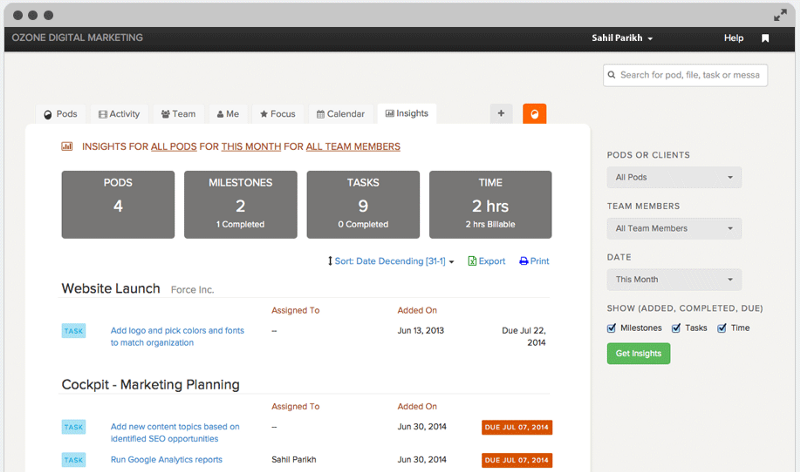 Insights will show you when a project, milestone, task, time was added, completed, due by any of your team members across any your projects and during a particular time interval.
When you work on 30–40 different projects (and some of our customers even have more) it becomes important to dive in and see what's happening in those projects. This is what Insights provides your team. This is when email can't win. Yes, you can delegate a task via email but can your inbox tell you all that is due by a certain team member across 7 of his projects for the last 2 weeks? Nope, I don't think so.
Export: Currently, you can export the Insights results to a CSV file and even print/download a PDF version to forward it to a colleague or client.
Insights is a premium feature and only available to the Studio and higher plans.
Hope you enjoy using Insights :)