One of my favorite features/enhancement has been released a few days back. When I used to use Brightpod to manage our work, I told our dev dude that something was not right. I felt that I was clicking around a lot. Here is the problem(s) I had:
1. I would login to the Dashboard and then click on a Message to comment on. I would be taken to a new page where I would enter my message. To come back, I would click on the Back button.
2. I would goto the Tasks page and click on a Task to see what is happening. Again, I would be taken to a new page.
This was kinda insane. I wanted things to be sped up. I didn't want to go back and forth.
A couple of days ago we released Quick Views. Now, everything you do in Brightpod is via super-sleek modal windows. No page back and forth. Stuff happens on the same page.
Now, you will get a lot done in the same amount of time ;)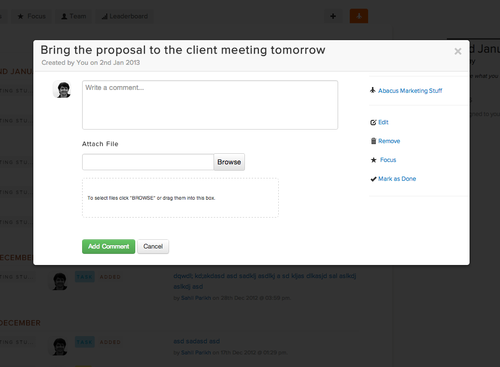 The quick view opens up whenever I click on a task from anywhere within the app.