Today's world is extremely well connected. You could be sat at home and in a matter of seconds be chatting to someone online, in full High Definition, who's sat 5000 miles away.
It is crazy, isn't it?
But, surely in this super-connected world, there must be ways businesses can benefit from this connectivity? Surely this kind of technology has opened up new ideas and services that would have otherwise been impossible?
Well, if you were thinking that, you'd be right…
The content marketing industry is booming and businesses large and small are utilizing this increasingly in demand service to grow and promote their businesses and now you can too!
Why Hire a Content Writer?
Blogs and content marketing is quickly becoming one of the fastest and most effective methods of promoting businesses, driving up site traffic and increasing potential customers to buy products and services. I've teamed up with content writer from assignment writing service to see the reasons why you might like to hire a content writer for your business.
Firstly, if your website does not already have a blog, research your competitors or similar businesses and see if they do. Chances are they probably do as blogs are renowned for being on the most effective ways to grow businesses in today's world.
It works as potential customers are browsing the web and come across an article such as 'These Pictures Will Blow Your Mind!!'. The user then clicks on the link, reads and enjoys the content. Throughout the content, there will be links embedded that lead readers to product pages and business websites, driving up traffic.
If you're interested in starting a blog for your business, you may be interested in hiring a content writer to write these blog posts for you. Content writers are experienced article creators who will do all the research and writing for you, for a price. You can then upload the article to your blog and watch your visitor count start to soar.
You may be interested in writing these articles yourself but this can be time-consuming if you haven't done it before and you're trying to run your business. Lack of experience or knowledge in processes such as SEO and keyword placement may mean your blog isn't as effective as it could be.
Finding the Writer for Your Project
But where can I find a content writer to work for me?
The Internet is a huge place and it can be hard to know where to look. Luckily, there are many service sites set up that makes finding the right content writer take a few minutes max. There are a vast amount of sites online that provide this service, each one covering its own specific niche, industries and price ranges.
If you're starting out looking for a content writer, a great place for you to start is Upwork.
This job search website was set up in 2015 when the two biggest freelancing sites. To find a writer for you, simply sign up to the site as a hirer, input all your details so your account is set up and verified and post a job vacancy. In this job posting, ensure you include all the details for the content you want to create, your budget for the project and what skill level you would like the content writer to be. It's important to check what a freelancer's past experience is.
‍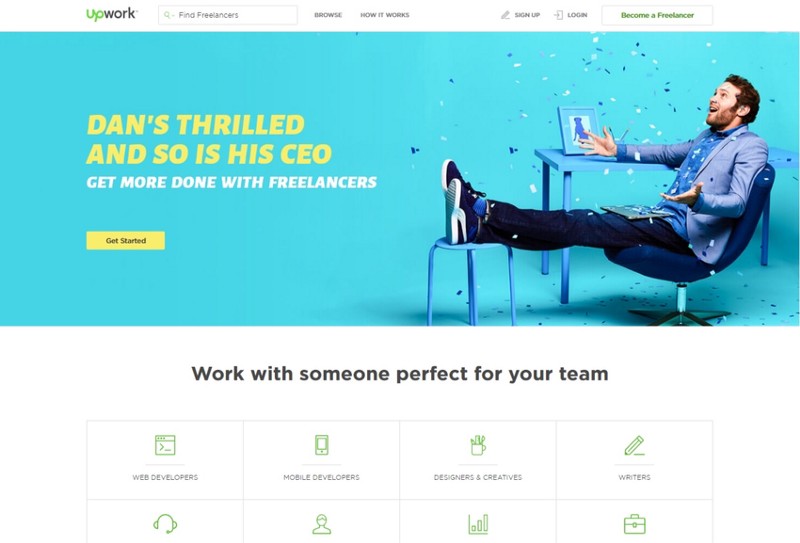 ‍
A brief example of a good job description would be:
BLOG WRITER NEEDED FOR CAMERA SALES BLOG
I am looking for an experienced content writer to research and create blog posts for my camera store blog. I am looking for reviews, comparison guides, and industry news. The project will last around 5 months and the budget is $30 per article. Samples and past experience in this industry required.
You can change and add details as much or as little as you want but as soon as you hit the post, you'll notice freelancers will begin applying for your job instantly. These applications will vary from beginners skill levels all the way through to professional, fully qualified writers so take your pick!
If you don't want to go through the hassle of setting up an account and interviewing freelancers for your content writing position, you can also head over to sites such as Academized. This is closed service so will never meet your writer but you can simply input what kind of article you want to be written and all the details including topic and page number etc and simply submit your order. This method can be more pricey than sites like Upwork but the quality can be a lot higher.
‍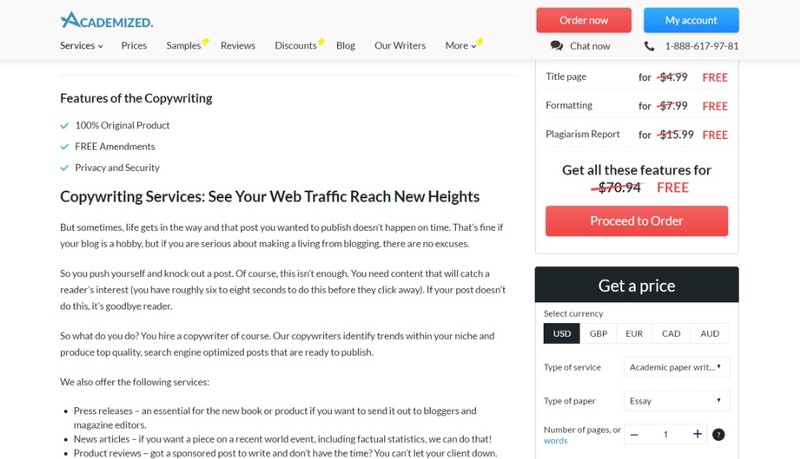 ‍
How Much Does a Good Writer Cost? Why Shouldn't I Choose the $10 Writer?
If you have opted to use any freelance sites, you'll have noticed that a lot of freelancers have bid relatively low amounts. Even if you post the same job for $10, you will receive an influx of applicants. This may seem great, meaning you can stretch your budget further than you anticipated but this is not always the case.
If you're opting to use a $10-an-article freelancer, you're opening yourself up to a number of potential problems. This can include low quality work and plagiarism (copyright-infringed content) to name a few. This can waste time, money and potentially get you in a lot of trouble if you use mainstream site's content that has been copied and pasted.
So how much should you pay for a content writer?
There are a huge amount of factors that go into article quotes. These factors include; writer's skill level, research required, time the article will take to write, word count, quality of content and much more. You could be paying anything from $20 a post to a couple of hundred. The best thing to do is agree with your content writer on a set price that you're both comfortable with. If you cannot agree on a price, use another freelancer.
How to Set Up a Content Writing Job Using Research
So you've found your writer and you've agreed your price, now how do you set up the task? 9 times out of 10, you'll never have any of form of communication other than the text chat box in your message feed so how do you set up a job for a writer to complete?
David Holmes from Australian Help, a writing service provider says "One of the main drawbacks of using remote freelance services or other writing services is miscommunication. A content writer could believe they understand the project, spend hours writing and researching, only to submit the work and find out it's not what the client wanted. It's the best practice to ensure everybody is clear on things before work proceeds.'
The best way to set up a task for your freelancer is to write up a brief on a text document/pdf that you can send to the writer to always refer to. You'll want to include information such as article title, word count, the tone of voice and style of the article (you can send links to similar articles or blog posts so they get the right idea).
To save time for the writer, and to save you money, carry out some light research yourself. This can include sites with relevant information that you want your proposed article to include alongside any sources. Anything you want to be included in your article, include in your brief.
Also, remember to set a realistic deadline and give the writer the opportunity to ask questions before the work proceeds.
Tips & Tricks to Avoid Misunderstanding and Save Time
To help you get underway with your new content marketing project, here are a few tips and tricks to remember when proceeding through the remote worker process.
Use The Review Systems — No matter what site you're using to find your content writers, always use the review system to check a writer's work history. If you can see they are consistently late on deadlines and produce low quality work, chances are they'll do the same to you.
Give Feedback and Work Closely — Imagine the content writer you hire is part of your content marketing team. Not so hard because that's what they are! Make sure you communicate regularly, provide comprehensive feedback on their work and work closely to ensure the content is exactly what you want, after all, you are paying for it.
Be Direct — Miscommunication is the biggest drawback of using writers from sites. Any form of misunderstanding can result in unsuitable content and a lot of time wasted on your project. Whether you're writing your job post, job brief or communicating with your writer, always ensure you're clear and concise at all times.
Hiring the services of a content writer can massively boost your business and online presence and is an extremely effective way of marketing in today's world. Always make sure you do your research and put you and your business first. Manage yourself and your writer, stay organised and watch your visitor count rocket!
Managing marketing projects shouldn't be chaotic — Try Brightpod for free and start focusing on what matters.