Email has evolved to become one of the most efficient communication tools in business worldwide. We use it everyday, and always with some degree of success. But, did you know that writing emails effectively can also boost your productivity in leaps and bounds? Here's how.
You can spend all day with the email tab open on your browser, and it might seem like the best way to make sure you are responding in a timely manner. But, the fact is, this technique could actually be adding to your workload, and even affecting your health. You can start taking action to increase productivity by understanding how to better manage internal email communication.
How Long Does it Take to Clarify Questions About the Emails You Send?
One of the first points to note about writing emails is the time it takes to clarify or restate a message when you don't get it right the first time. Response time for an email can reach up to two days, according to an article published in Forbes. So, if you don't say exactly what you intend, the very first time, there could be up to six days between when you intended for the recipient to receive your message, and when you finally get a valid response.
Six days is probably the maximum amount of time emailing could take, as the same article states that up to half of replies are sent within an hour. But, when working with variables this large, it is best to say what you intend the first time. Take a little extra time, when sending each email, to ensure that you are as clear as possible.
How Much More Productive Will You Be if You Spend a Few Extra Minutes on Each Email?
It's clear that taking a bit of time to say what you intend is going to be helpful, but you still don't know exactly how helpful. Here is some cold, hard data to show you the bigger picture.
‍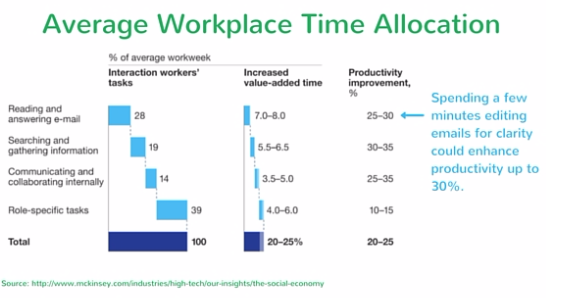 ‍
28% of the average workweek is spent sending and receiving emails, according to Mckinsey's research. By spending 7–8 minutes improving your statements for clarity and grammar, you can become up to 30% more productive. That additional time will be well worth what it saves you in the long run.
Are You Checking Your Email Too Often?
The University of British Columbia in Vancouver, conducted a study to find out what effect emails have on stress levels. What they found is that limiting the frequency of email communication to a only few times a day reduced stress levels significantly. Now, if you can say what you want to say the first time, you will have less need to be in constant communication with team members and free up time for other work-related duties.
Stress is the leading cause of illness. Your body's natural response to minor stress is the same as is if you were being chased by a predator in the wild, and hinders certain systems (immune, digestive, and more) from working like they are supposed to. If you're stressed, you won't have the same physical and mental capabilities you will if you are relaxed, and it could lead to more sick days. So, do everything you can to manage our workload and stay in a state of well-being, including monitoring the amount of time you spent checking emails.
Should You Be Using Additional Technologies to Compliment Email Communication?
As you now know, email can take anywhere from one hour to several days to be read. Is there some other sort of communication technology you can use to compliment your internal email communications? The answer is right in front of you.
Text messages can be a great way to let people know that there is an urgent message in their inbox. You can simply shoot a message out to the recipient(s) of the email, and let them know that there's something in their inbox that you would like them to see. This assures that your message will be one that is read in under an hour, since people are checking their phones constantly.
If you have an email that's been sent out to many people at one time, and you don't want to bother with sending a message to everyone on the list, one at a time, try this hack. Check out an inexpensive bulk SMS provider. These platforms are geared for marketing, but they work great for internal communications as well.
Here are a few popular bulk SMS providers to check out:
Text Magic — An all-in- one bulk SMS service for business
BulkSMS — Internet based SMS message solution
Clickatell — Various messaging products for mobile communications
Each of the providers above offers various SMS services with various pricing. They are worth looking into, especially if you find yourself overloaded with mass email response time at work.
Conclusion
Writing emails is something you're already doing, and it isn't going anywhere anytime soon. But, to decrease stress, and increase productivity, it's best to know exactly how to make the most of it. Start using what you've learned today to become a more productive email communicator, and enjoy higher state of professional well-being.
Megan Hicks is a productivity junkee who works as a content marketing enthusiast at Write This Essay company."