We have been working behind the scenes to make Brightpod better and faster everyday. Last week, we released a couple of improvements to Brightpod.
New Help & Support Centre
A few people told us that they had difficulty in finding the link to our FAQ page and also asked us if we were active on Twitter. This got us thinking about a revamp.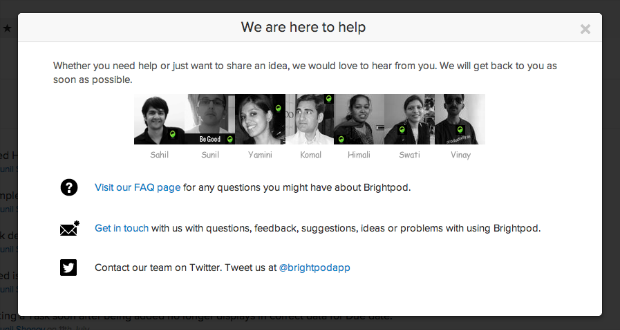 The new "Help Centre" offers a link to our FAQ page, helps you to get in touch with us via email or Twitter. What we like about this approach is that everything is consolidated in a neat little window.
We feel this is much better than what we had before.
Task Description
Tasks has been one of the most used feature in Brightpod. It has also been the feature we get the most feedback about.
The most common feedback we have received has been about the limit we set on the Task Name. Seems like 250 characters seemed too less. The reason we have the limit is because we assumed that the Task Name would always be a simple headline. More information about the Task would be added while describing the Task. We always allowed for a description to be added to a Task, but our interface for adding/ editing was not quite clear.
Time for another revamp.
‍
Our improved interface, now makes it easier to add/ edit/ update a Task description. When you now click on a Task in your Task list, editing description for the Task is the first option displayed in the window.
We also mark all Tasks, which have description added to it with an "i" symbol.
We have a lot more improvements and features coming to Brightpod soon. We will update our blog and our Changes page as and when they are released.
Have a productive week ahead.