Let's face it. With all the posts, infographics, memes and cats on the internet, it sometimes takes nerves of steel to not open a new tab and lose track of what you're doing.
Internet Marketers particularly are so exposed to networks that foster distractions that you'd wonder how any of us ever get our work done!
So how do you minimize distractions and increase marketing productivity? Here are my top tips to help marketers save time & be at their productive best:
Be firm with Email & Social Media Streams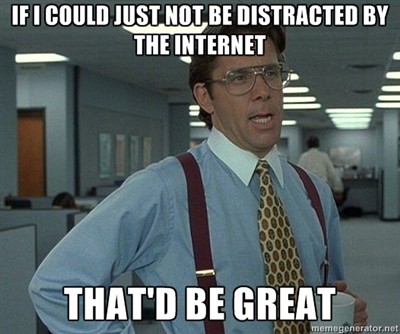 Communication is like oxygen for marketers. You can't escape it. So how do you make sure you stay in the loop and avoid constantly checking your email & social streams?
Be rigid.
That's right. Some of the most productive people in the world are rigid & firm when it comes to allocating time for emails & social media and they're better off for it.
When it comes to email, set aside certain times in a day when you check your email and do it only during that time.
When you do check it, make sure you take an action for every email you check i.e. delete, reply, defer or delegate (forward). If you defer an email, add an entry to your calender & and stick to that deadline.
As for social media streams, again assigning 5–10 mins every 45 mins is a good practice and will help you stay on top of all the information you're consuming. For Social Media Marketers that need to monitor mentions & interactions on a real time basis, using a tool that allows team members to assign tasks can help reduce time.
Automate, Automate, Automate!

There are a plethora of tools to help Marketers automate their tasks. Want to post your blog posts on Twitter & Facebook? Use Twitterfeed. Want to schedule tweets while you're reading feeds? Use Buffer. I could go on! I use a whole bunch of tools to automate certain areas of my marketing efforts and I save a hell of a lot of time because of it. Try it!
Be a Technical Marketer
In the digital marketing world, Marketers are required to deal with technology everyday. Whether it's creating designs for marketing collaterals, putting together an email newsletter or running MYSQL queries to analyse numbers & patterns. Having to depend on a large number of people can be taxing and just leads to a lot of coordination.
How do you solve this? By being a technical marketer.
Equipping yourself with the basic know-how of content platforms, email technology, design tools, MYSQL etc. can help reduce coordination and also give you a whole new insight into your campaigns. After all, Knowledge is Power.
There is actually a great website that Marketers can use to learn the basics of technical marketing. Check it out here — http://technicalmktg.com/
Minimize Meetings
Meetings are one the biggest time wasters for Marketers (or anyone actually). There is a great TED talk by Jason Fried (How work doesn't happen at work) that talks about how meetings actually slow down productivity.
Obviously, it's impossible to not communicate with co-workers and take stock of what everyone is up to but conducting meetings in the right way saves everyone boatloads of time. Some of my tips on reducing meetings are:
Have meetings once or twice a week
Email everyone an agenda before the meeting so they can be prepared
Discuss and assign a solution to everything on the agenda in the meeting itself. Don't decide to have another meeting to finish this meeting — that loop will never end!
Invite only people you need for the meeting.
As far as possible, avoid having meetings for things that can be solved over email or by just talking to another coworker
Don't mistake meetings for brainstorming sessions. Have these once a week, preferably at a place where your team can relax and ideas can flow.
Use a Task Management System
Using a task management app can reduce the time taken to plan campaigns to a great extent. Most tools have the option to add tasks, assign users and collaborate within the tool itself. Brightpod, for instance even has ready-made workflows and custom workflows that you can reuse thus saving a ton of planning effort.
Such a system keeps everyone on the same page and just makes planning & execution a seamless process.
Reuse & Recycle:
For all the content marketers out there, a handy little tip is to re-purpose older content with a new twist to ensure that you're adding to your editorial calender regularly. Using excerpts from long form content like whitepapers/ebooks as blog posts or email newsletters is also a great way to save time.