Google's new flagship phone, the Google Pixel, has been on the market for several months and received nothing but rave reviews from journalists.
Spearheading the Pixel's excellent launch is Google's new voice platform, Google assistant. We're coming to understand is that it's Google assistant, and less the Pixel, that's really disrupting the mobile market.
We normally don't give much credence to mobile launches, but Google assistant is worth following.
Google is calling assistant "the next big thing in search," and they're not exaggerating. Their Pixel phone has given assistant enough market penetration that voice search is seriously impacting mobile SEO.
While we're not sure of assistant's total impact, preparing for these changes is vital to staying retaining strong SEO. Let's look at what we know so far, and what we speculate could happen.
The Location Factor
Google released its Possum update this past autumn, and made it clear that local search was the next big "thing" in their strategy moving forward.
The update made it possible for businesses located just outside of a city boundary to become viable during a mobile search.
For example, a business in Weston, Florida can rank for searches in Miami. The idea is to allowing suburban business some visibility.
Why would Google do this? Well, it's because of their new found love for GPS data.
Every voice search is targeted based on the user's specific location. This means that your business will fare worse during some searches, based on location alone.
Understanding this is crucial keeping strong SEO across your mobile platforms. Essentially, you'll need to combat the automatic location disadvantage.
We recommend following Google's path, and including nearby city names in your keywords. Also important is targeting long-tail keywords for specific niches.
Aim to become the only nearby store that ranks for a specific niche topic. Don't rank for "vacuum hoses," but instead "cheap dirt devil vacuums hoses and filters."
Give The People What They Want
Desktop searches usually differ in intent from mobile searches.
Eighty eight percent of consumers using a search engine admitted to conducting local searches on their smartphone. This isn't mindless desktop Googling, but instead highly targeted search.
Think about how people use mobile platforms. They're on the go, searching for quick information about a business.
Google has taken note of this and given businesses an easy way to update their information, in the form of Google My Business.
Research has proven that this information matters. Over 50 percent of local mobile searches result in a store visit.
So give the people what they want; fill out your Google My Business page with basic information. Include your hours, location, phone number, etc.
‍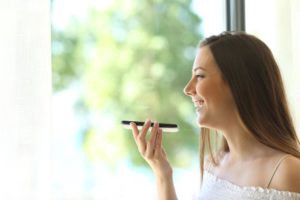 ‍
Speak It, Don't Write It
Think about your writing versus your typing. It's not very similar, right?
For example, typing you might search for "shoes in New York City," but your voice search will probably look more like, "Where can I buy some shoes?"
Google assistant utilizes "natural" conversation with its users, so "shoes in New York City," won't turn up positive results during a voice search.
Your keywords need to reflect this voice centric change. Start including spoken phrases in your keywords lists.
Just like with desktop search, including what people are searching (keywords) will help improve your SEO.What we've laid out today is a strong foundation to build your voice centric mobile SEO. However, like any other Google service, Google assistant is always evolving.
Staying current with voice search trends is crucial to staying ahead of the competition.