It's common knowledge that workaholics maintain a crazy schedule. They are always preoccupied with performing well and as long as they are able to meet their targets, no second thought is given to how they managed it all. But what happens when you want to repeat such accidental success stories?
This is one situation we have all stumbled into at some point in our lives. And often respite rests merely in our abilities to conjure up memories from the last time we were involved in a similar situation. Haven't we all wondered if there was some way we could restore our mental and physical faculties to those prevailing in those exact moments when we did something that worked out really well?
For those like me, who bestow little to no faith in their own mental faculties to come to rescue in such demanding times, there exists hope in technology. Let me introduce you to the concept of 'workflow templates' or (more subtly put) the 'to-do list template'.
What is a to-do list template?
Basically, a to-do list template is a responsibility chart (or a template therefor) which contains pre-built set of task lists that can be applied to any number of projects that are similar in nature. Applicable to simple projects or even mission critical ones, a to-do list template serves as a central repository of all necessary tasks pre-designed for use when need arises. Such a template of task lists can be duplicated again and again for (seemingly) similar projects.
The purpose of such pre-designed workflow charts is to help you get started with a project quickly without having to spend too much time deciding who does what and when. When you put in place such to-do list templates for specific kinds of projects (say a to-do list template for managing social media campaigns and another to-do list template for managing SEO activities) you save a lot of time and energy that would have been otherwise spent trying to outline responsibility centres and individual tasks each time a project comes your way.
Why a to-do list template is important when working in teams?
At the helm of it, a to-do list template or workflow template helps save on time and effort. It becomes far easier to start collaborating once you know all accountabilities and a timeline for achieving them beforehand.
More importantly, a workflow template saves you the opportunity cost that would have been incurred if you would have spent that time devising a workflow order from scratch. Not only can you kick-start work quickly with a template already in place but use all that time you save on doing new things or simply do things in a new way. So, in a way, all this time saving leaves you with much more room to explore options for bringing creativity in task execution.
Another plus of this ingenuity is that your team becomes habituated to a certain protocol. This helps them get their resources in order far more quickly than if they were starting from scratch every time. Additionally, tracking the progress of any task becomes a regulated endeavour.
How to develop a workable to-do list template for your team?
One of the simplest ways of instituting specific to-do-list templates for similar projects is to use Excel spreadsheets. Pre-design workflow orders on excel and share it with your team for easy on-boarding and task initiation. For this, you can either manually create a template or download one from Microsoft's official website. There are plenty of project to-do list templates available there.
If you prefer working on the go, there are plenty of to-do list building apps that can do a similar job. I recommend trying Wunderlist (a very basic application for developing to-do lists), Any.do (a personal favorite) and todoist (a popular pick for those constantly trying to keep up with their busy lives). These apps are pretty basic but help you get acclimatized to to-do lists rather comfortably.
However, if you wish to eliminate this entire activity of pre-designing to-do list templates yourself, opt for downloading a web application online. Such web applications are downloadable at an affordable price and provide a range of pre-made workflow templates pre-built in to the application itself. Let me take Brightpod's Workflow template here as an example:
Brightpod's readymade workflow templates are designed especially for marketers to plan their campaign activities quickly and easily. For example, if you are engaged in managing a client's email marketing campaign, you can choose the 'email marketing workflow' option while adding a Pod so that you don't have to manually add milestones and tasks required to get this type of a project done.
‍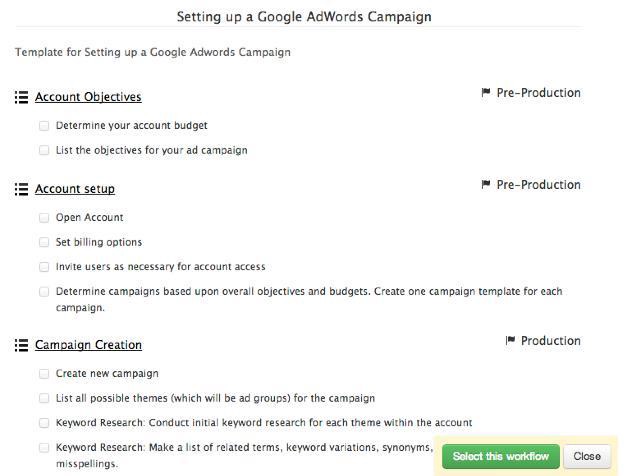 ‍
A workflow template like this allows you to clone pre-set tasks and apply them to a similar project in the future. Pretty workable, right.
On a concluding note, the one thing I wish you can take away from this post is that bringing a level of standardization into your work eco-system (such as through the use of workflow templates and to-do lists) is a good way to boost productivity of your team. Let it be known that standardization has nothing to do with monotony; it is simply a matter of realizing that conforming to a pre-set way of doing things helps get things done faster, and with efficiency. This further helps avoid any scope for dissonance that may arise out of doing things from scratch every time.
Meeta Sharma is an independent writing and editing professional from the digital marketing domain. Loves marketing and everything about it.