For our eleventh interview series, we feature Thomas Schranz, CEO & Co-Founder at Blossom. Blossom is a lightweight project management tool for people who love the products they create.
In this interview, you can read more about his work at Blossom, favorite marketing tools, productivity tips as well as his advice for budding startup marketers.
Your location: San Francisco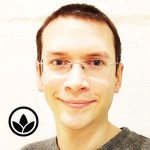 Your favorite gadget: iPhone
You start your day with: A cup of tea
Your favorite time-saving trick: Saying "no" & understanding that the main value I create is through "editing".
Your top 3 blogs you read daily:
Describe an average day at Blossom?
Depending on where we are at the moment we meet either at a co-working space, in a coffee shop, or crash at an office of fellow founders. Then we usually have a cup of tea and briefly go through the most important activities for the day and update each other on what's going on.
After that we walk through our product board in Blossom. It shows us on which features we're working on at the moment, why we do them and how far along they are in the process. This helps to establish context for the rest of the day to really get into the zone again.
Then it's mainly focus time until around noon when we grab lunch. One thing that we've recently started is to block time for writing blog posts later in the afternoon to consciously free up time for content that helps our customers to get better at crafting software products.
We've picked the end of the day for this activity as usually we're already a bit lower on energy compared to the morning and making product decisions, doing code reviews and writing new code is probably not the ideal activity to unwind. Having these writing time-boxes also helps to get into the habit of writing regularly.
On days where we work distributed Hipchat, Sqwiggle & Google Hangout help to bridge the distance.
We also have specially themed days every few weeks where we focus various higher level things like product strategy, customer acquisition channels, partnerships, tech stack & software architecture, customer satisfaction & personal growth. These days help us set the theme and what to focus on the usual day to day.
As a startup marketer, what are some of your favorite productivity hacks?
I think the main productivity hack I use is trying my best to stay aware that every "good idea" needs to compete against other "good ideas" and the real challenge is not coming up with good ideas. It is picking the right activities/ideas to focus on with your limited resources.
It's all about opportunity cost. Committing to one thing means you have less time to do something else that might be more important. The art is getting a feeling for what that means and how to make better decisions and being great at saying "no" to things that initially sound like a brilliant idea if something else is more important at the moment.
This is one of the things that are very simple to understand but also very hard to actually be great at and I'm striving to consciously get better at it. If you care about making better decisions I can highly recommend books like "The Principles of Product Management" Flow, "Thinking fast and slow" and "Predictably Irrational".
As a person leading a small team, I'm sure you rely on a few marketing tools to automate your efforts. What are the top 3–5 tools you use to bring people to the Blossom.io site and convert them into customers?
Most of our customers find us through three channels. Medium, Quora and Twitter.
Medium is a great platform to publish essays in a clear and non-distracting way. On Medium we mainly write about Product Management, Design, Development & Marketing.
Quora is another great platform for attracting customers because it is based on a Question & Answer format that helps to stay to the point and write helpful content that's easy to read & understand.
Twitter is a brilliant platform where people share what they like, whether it is our tweets, content or our product. Twitter really facilitates word of mouth. If you do something great, it spreads like wildfire.
On top of that we've also recently started to play around with the idea of setting up a drip campaign on our Product Resources page using Mailchimp. It's still early but the conversion rate looks promising.
Blossom has a growing community of users. How do you use this treasure trove of customer insight to power your marketing efforts?
Great point, I think when we look at our major acquisition channels we see that the people who actually drive those acquisitions are our existing customers that like our product and the content we produce and help us get the word out.That's our machine of growth. Our existing customers and the community around them that share our love for building great products.
Is there any advice you'd like to give to budding startup marketers to help them work smart and stay productive?
Make time to get to know your target audience. Spend time with them. Do customer interviews with them. Rob Fitzpatrick wrote a fantastic book on what to watch out for when doing customer interviews, that really helps a lot.
Kathy Sierra gave a brilliant talk at the Business of Software conference on giving your users super powers. In a nutshell the idea is that if you want to sell digital cameras, find a way to make your users better photographers. That's what you should care about.
Another great framework to think about your customers, market and your positioning in that market is "Job to be done" by Clay Christensen. Basically it helps you to understand what your customers are hiring your product for. Once you grasp that it brings a lot of clarity to what you should focus on with your product as well as in your marketing activities.I first heard about it from Eoghan McCabe & Des Traynor of Intercom and use it all the time.
A big thanks to Thomas for taking the time out to answer these questions! If you haven't already, I highly recommend that you check out Blossom.
The 'How Marketers Stay Productive' series asks marketers their tips & strategies for staying productive. Every month we'll feature a new guest and the tricks that keep them working smart. Know someone you'd love to see featured? Email Us.