This week we feature Aaron Beashel, Director of Content & Community at Campaign Monitor. Campaign Monitor is an online email marketing software that enables designers to create, send, manage and track branded emails for themselves and their clients with ease.
In this interview, you can read more about his work at Campaign Monitor, favorite marketing tools, productivity tips as well as his advice for budding marketers.
Your location: Sydney, Australia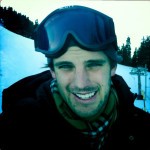 Your favorite gadget: My iPad mini. The best content consumption device ever invented. I love it.
You start your day with: Reading my emails. I know this sounds bad, but I usually get up at like 5:30 so I can finish early and go surfing, so reading my emails helps me wake up. If I don't do it, I fall straight back asleep and suddenly it's 10am.
Your favorite time-saving trick: I'm definitely going to lock in Focus@Will. I am seriously like a different person when I start listening to that and couldn't recommend it enough.
Your top 3 blogs you read daily: I personally hate these questions as I hate having to pick a certain number. I am a completely obsessive reader who follows about 50+ blogs using Feedly, all of which have contributed to my knowledge in some way so I feel they all deserve a mention. Right now though, I'd have to go with:
Content Marketing Institute — Being so focused on content marketing, these guys are huge for me. Campaign Monitor was kind enough to shout me a spot in their paid training course and it's been really good so far.
Buffer — I've been really getting into their posts in the last few weeks. They've built an amazing blog readership and have started sharing their knowledge in some really in-depth, insightful posts which I've really been enjoying.
Gregory Ciotti — Another recent addition to my Feedly account and one I've been enjoying also. He has done a great job of building the Helpscout blog to over 60,000 subscribers and produces some really great content pieces on his personal blog that you can just tell are bred from serious experience in the trenches making it happen.
"We're really lucky to have a lot of passionate users who are willing to take the time of day to speak with us and give us the feedback we need."
Describe an average day at Campaign Monitor?
Campaign Monitor is growing so quickly that every day is really different, which is super exciting. Lately though, I've been really focused on speaking with our customers and trying to understand as much as I can about them to guide our content strategy.
So if I had to break it down, an average day at the moment, it consists of a few interviews with customers, some time lining up interviews with others and then meeting with internal stakeholders to really pull it all together.
We also all eat lunch together cooked by Ollie and Chris, our in-house chefs. Those guys make incredible food so I always make sure to stop and enjoy it with the rest of the team. A bit of post-lunch ping pong also goes well to try and keep the waistline in check.
As a marketer, what is your favorite productivity hack?
Focus@Will — I'm a big music listener while I work, but research has shown that listening to commercial music actually distracts you as it's designed to get your attention and connect with you emotionally. So the premise behind Focus@Will is that it plays 'ambient' music that helps you focus, rather than distracting you. I absolutely love it and would encourage anybody to give it a try. It's free and getting started is basically a case of visiting their site and clicking the play button. Do it now and thank me later.
As a person who is well-versed with online marketing/ inbound, I'm sure you rely on a few marketing tools to automate your efforts. What are the top 3 tools you use?
Google Docs — While we have kick-ass offices here in Sydney, Australia, about ⅓ of our team is remote so Google Docs is pretty big for us. From a content marketing perspective, we'll write most of our content in Google Docs and collaborate on it in there before moving it over to our CMS.
Feedly — I am a firm believer that any good content marketer needs to be a very big reader, and a lot of the inspiration and ideas for our own content comes out of reading content about other aspects of marketing (copywriting, conversion rate optimization, etc) and then re-purposing that information within the context of email. So in terms of automating content idea generation, Feedly is a critical tool.
Campaign Monitor — Not surprisingly, we use Campaign Monitor to manage all our blog and content subscriber lists and deliver them blog updates, newsletters, etc. I would rant on about how much I love it, but I think your audience is smart enough to see through that :)
Your company has a growing community of users. How do you use this treasure trove of customer insight to power your marketing efforts?
We're really lucky to have a lot of passionate users who are willing to take the time of day to speak with us and give us the feedback we need.
From a content marketing perspective, speaking with these people has been really valuable in helping us craft an effective content strategy. Asking them questions around what their pain points are and where they are hanging out online really helps us define the kind of content we create and the channels we use to get it in front of them.
What is your strategy for getting people to your site and then converting them to a customer?
I know it's one of those cliches that you always hear, but honestly one of the biggest things we do to attract and convert customers is just to focus on having a great product that people love to use. That has been Ben and Dave's (Campaign Monitor founders) philosophy from the beginning and it's still really ingrained in the culture today which is great.
The role of Marketing at Campaign Monitor is really just to amplify the number of people who experience the product. To do that, we focus a lot on producing really great content around email marketing & design and that drives a good portion of our traffic.
There are lots of different 'growth hacks' out there that seem to be all the rage at the moment and we're certainly playing around with those kind of approaches, but in my opinion they are no substitute for a product that people want to use and content that people want to read.
Is there any advice you'd like to give to budding marketers to help them work smart and stay productive?
We're so fortunate to live in a world whereby everything you could possibly need to know about marketing is being written and shared online completely for free. So although this advice may seem 'anti-productivity', my biggest piece of advice would be to read as much as you can from guys like Neil Patel, Sean Ellis and other people who have been there before. Although you might spend some time reading and not being 'productive' in the traditional sense, the stuff you'll learn from them will help ensure you don't waste your time on ineffective marketing activities that'll cost you a lot more than the time you took to read a few of their posts.
A big thanks to Aaron for taking the time out to answer these questions! If you haven't already, I highly recommend that you check out Campaign Monitor.
The 'How Marketers Stay Productive' series asks marketers their tips & strategies for staying productive. Every month we'll feature a new guest and the tricks that keep them working smart. Know someone you'd love to see featured? Email Us.