This week we feature, Alexander Kesler Founder of TestUp and inSegment. TestUP is a cloud-based, integrated hiring platform that organizes employee pre-screening tests for all industries and roles.
In this interview, you can read more about his work at Test Up, favorite marketing tools, productivity tips as well as his advice for budding marketers.
Your location: ​Boston, MA​.
‍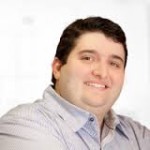 ‍
Your favorite gadget: ​My noise canceling headphones​.
You start your day with:​ A glass of water​
Your favorite time-saving trick: ​Use WAZE app for Navigation​
Your top 3 blogs you read daily: ​I do not read any 3 blogs daily, but I like TechCrunch​
"Monitor they usage of our system and remove features that are not being used."
Describe an average day at TestUp?
​We work from 7am until very late advancing the product, helping users and improving the user experience.​
As a marketer, what is your favorite productivity hack?
​Here are my 3 favorite productivity hacks:
1. Using GTD method by David Allen. Love the THINGS app.
2. Using Followup.cc — never forget anything.
3. Using TestUP.com for pre-employment testing (shameless plug!)​
As a person who is well-versed with online marketing/ inbound, I'm sure you rely on a few marketing tools to automate your efforts. What are the top 5 tools you use?
​Here are 5 top tool categories we use, tools can vary and change sometimes:
1. ​Marketing Automation / Lead Nurturing
2. Social Media Monitoring
3. SEO Monitoring and Management
4. Programmatic Media Buying
5. Email Marketing System
Your company has a growing community of users. How do you use this treasure trove of customer insight to power your marketing efforts?
​Monitor the usage of our system and remove features that are not being used and talk to clients ask them what they want and add those features. Then, we highlight what users love in our marketing.​
What is your strategy for getting people to your site and then converting them to a customer?
​It's a 3 part strategy:
1. We use a network of segmented l​anding pages
​2. We measure everything and make changes that the data dictates
3. We look at every channel separately and optimize it separately​
Is there any advice you'd like to give to budding marketers to help them work smart and stay productive?
​Ship your product early, start iterating, setup KPIs and watch them, find a way to get your product to your customers through many different channels, do not get stuck / dependent on any one channel.​
A big thanks to Alexander for taking the time out to answer these questions! If you haven't already, we highly recommend that you check out Test Up.
The 'How Marketers Stay Productive' series asks marketers their tips & strategies for staying productive. Every week we'll feature a new guest and the tricks that keep them working smart. Know someone you'd love to see featured? Email Us.