This week we feature Alexandra Tachalova, Corporate Communication Manager at SEMrush. SEMrush shows you which keywords that your websites rank for and the number of searches done for those keywords per month.
In this interview, you can read more about her work at SMErush, favorite marketing tools, productivity tips as well as her advice for budding marketers.
Your location: St. Petersburg.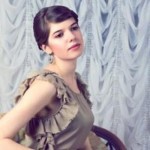 Your favorite gadget: Anything Apple.
You start your day with: Cup of coffee:)
Your favorite time-saving trick: Trying not to do more than 2 tasks in parallel.
Your top 3 blogs you read daily : Search Engine Journal, SEMrush blog, Iacquaire Blog
"We invested in a relationship with bloggers and other opinion leaders and that has paid us dividends."
Describe an average day at SEMrush.
I think the most exciting and interesting part about SEMrush internal life is that we have demos. It's the topic of public reporting on which any person from the company can come, and ask questions. Right now we have 6 developer teams who have demos twice a month, and 2 marketing teams that do it only once per month. This kind of public reporting helps us be more transparent in our business process. Also, it gives marketing teams a deeper understanding of the product and general development process. We love innovating at SEMrush, and we try to create a special environment where everyone is open minded and ready to try something new.
As a startup marketer, what are some of your favorite productivity hacks?
Honestly, I'm not a startup marketer because SEMrush is no longer a startup. We're too big and too old to be classified like that. But I used to be a startup marketer, and there are plenty of things we created without any budget. We invested in a relationship with bloggers and other opinion leaders and that has paid us dividends.
As a person who is well-versed with online marketing, I'm sure you rely on a few marketing tools to automate your efforts. What are the top 3–5 tools you use?
Sure. Here is the list of the tools without which I can't imagine the effective working process:
salesforce.commailchimp.comgotomeeting.com
How do you drive traffic to your site, and what top 3 strategies do you use to convert the people trying the app into paying customers?
We have different conversion processes. I think I can highlight the following ones (besides the natural conversion process):
1. Product demos 2. Product trials 3. Email marketing and webinars
SEMrush has a growing community of users. How do you use this treasure trove of customer insight to power your marketing efforts?
We try to make our customers our partners. And we've already made a positive impact on the European market. On the other hand, our users do a lot for our company on a daily basis. For example, they show a high level of engagement on social media which helps us to enforce our coverage. Plenty of users are interested in adding additional features, and they provide a lot of ideas about the product feature. We have a huge number of users who are really advanced in digital marketing, and we try to give them an opportunity to share their experience by participation in our webinars and guest postings.
A big thanks to Alexandra for taking the time out to answer these questions! If you haven't already, I highly recommend that you check out SEMrush.
The 'How Marketers Stay Productive' series asks marketers their tips & strategies for staying productive. Every month we'll feature a new guest and the tricks that keep them working smart. Know someone you'd love to see featured? Email Us.