This week we feature Ami Brabbins, Business Development Director of Slidebank. Slidebank is an online PowerPoint Management Software service that lets your staff to search, find, and share PPT & PPTX files across your company. Users can make new presentations in a fraction of the time by pulling existing content from the shared slide library.
In this interview, you can read more about her work at Slidebank, favorite marketing tools, productivity tips as well as her advice for budding marketers.
Your location: UK: London and West Yorkshire.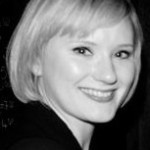 Your favorite gadget: I live and die by my iPhone. If it's not in my calendar, it doesn't happen!
You start you day with: Coffee. Lots of coffee. I'm a night owl, which helps when your clients are in the States!
Your favorite time-saving trick: Schedule social media then step away from the browser!
Your top 3 blogs you read daily: Neil Patel's Quick Sprout blog, GrowthHackers and I have a borderline Quora addiction when my brain needs to think about something else!
"One thing that never changes is that we speak to our clients daily."
Describe an average day at Slidebank?
In this business, no two days are the same, and there are often surprises around the corner! One moment you can be watching web traffic, looking for ways to give it a bump, and suddenly you might get a flurry of fantastic leads in quick succession. Much of my time is spent exploring the mysteries of Google! One thing that never changes is that we speak to our clients daily. They often come to us with queries or suggestions, which is par for the course as our support offering is comprehensive. We find that this can be of dual benefit — we help our customers get the most from our software, but it's also a great way to keep seeking insight into how we can innovate and continuously deliver value.
As a founder/ marketer, what are some of your favorite productivity hacks?
Honestly? The best productivity hack can sometimes be throwing on my boots and striding over the Heath with the dog! It can be very easy in this job to get lost in data and not be able to see the wood for the trees, so it occasionally helps to see some real ones! Everything can seem clearer with a bit of fresh air. Other than that, I'm an obsessive list maker. I find a 'done' list as valuable as a 'to do' list, and often a lot more satisfying! I'm a sucker for trying out any new web-based productivity tools (I love Asana, for example) but it usually comes back to 'old faithful' — I have an arsenal of black Moleskine notebooks documenting years of ideas and projects. I'm a bit fanatical about them actually — not very high tech, I know!
As a person who is well-versed with online marketing/ inbound, I'm sure you rely on a few marketing tools to automate your efforts. What are the top 3–5 tools you use?
We're actually undertaking a review of our marketing tools at the moment, in particular ways to get everything joined up. In my view, if it integrates with Salesforce then it's in the running! There are simply not enough hours in the day to be monitoring multiple platforms and data sets. If you're not careful you could do nothing else! That being said, I love the simplicity of Hootsuite, which means I can have a burst of activity in scheduling Tweets and then get on with other things. It's great to be able to track levels of engagement as well. We're all about simplifying and paring down right now. We'd rather focus on one social media channel and do it well than be spread too thinly and water down the quality of engagement. Other channels are on pause for now whilst we focus on developing our own content and on email. For this we're looking at Campaign Monitor, amongst others. A platform that lets us engage directly with our different customer segments will be important.
Your company has a growing community of users. How do you use this treasure trove of customer insight to power your marketing efforts?
Our software is designed primarily for Enterprise, which means that in our sales and support cycles we develop strong relationships with real individuals — an advantage you tend to miss with a self service software model. This means that, as part of the onboarding process, we are naturally having in-depth conversations about our users' needs. A lot of our insight is therefore anecdotal and cumulative, which is very helpful as long as we keep circling back to our development team. In fact, our business was born out of an acute understanding of our clients' (marketing directors) problems, so you could say that their insight has been built in from Day One. You can read more about this in our story. There's no real secret to it, other than to home in on our customers' pain points and try to deliver valuable solutions and insight. We're not trying to sell them something they don't already need, which makes life easier! What we are starting to do, however, is to engage users several tiers down and find ways to be a relevant voice for all our audiences — not just the decision makers. Looking at how users are using our platform in a more systematic way will inevitably lead this process.
What is your strategy for getting people to your site and then converting them to a customer?
We've been through the loop a number of times with the 'onboarding question' — whether to let customers sign up and fend for themselves with an instant account, or whether to have a more involved sign-up process. To date, we've always returned to the same conclusion which is that, for our business, it's better to build that inter-personal relationship right from the start, despite the current trend for self service. All our customers' needs are subtly different and it can be a minefield comparing different solutions. If we're able to talk to them, we can give them the information they need to make that decision quicker. It can also help them speed through the procurement process. We're used to managing the contractual and IT security check circus, which is always involved, so being able to check off questions at the start certainly helps. The process itself is simple — customers view our site, request a demo, we walk them through online and then there's often a free trial after which they sign up. No particular sorcery involved, just politeness, being helpful and having a great product!
Is there any advice you'd like to give to budding marketers to help them work smart and stay productive?
I'd say, define the metrics that are important to your business from day one. Focus on 3–5 of these, not 10–15, then get the right platforms configured; whether it's Google Analytics, KISSmetrics, Sprout Social, whatever. Just don't agonize over it and try to track absolutely everything, or you'll get paralyzed in quicksand. Much better to pare it down and focus on conducting experiments that help you optimize across the most important metrics for helping your business to grow. It's easy to get caught up in watching data without actually making an impact through action — especially critical when you have a business to run.
A big thanks to Ami for taking the time out to answer these questions! If you haven't already, I highly recommend that you check out Slidebank.
The 'How Marketers Stay Productive' series asks marketers their tips & strategies for staying productive. Every week we'll feature a new guest and the tricks that keep them working smart. Know someone you'd love to see featured? Email Us.