This week we feature Andrew Donnelly, Online Marketing Manager at Mikogo. Mikogo is a free screen sharing solution for online meetings, web conferencing and online sales demos. Mikogo offers a 100% web-based way for participants to join meetings, a free version for private users, and business plans for professionals.
In this interview, you can read more about his work at Mikogo, favorite marketing tools, productivity tips as well as his advice for budding marketers.
Your location: London, United Kingdom.
‍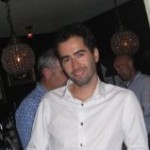 ‍
Your favorite gadget: Samsung S4 Mini.
You start your day with: Cleaning up my email inbox and prioritizing any new tasks.
Your favorite time-saving trick: Close my email when I'm working on something important or creative e.g. writing. Thank you Tim Ferriss for that tip!
Your top 3 blogs you read daily: KISSmetrics and HubSpot are a head above the rest. As a third, I occasionally see what has been written and recommended on LinkedIn Pulse within my network.
"Think about the top 2–3 things that you do better than anyone and make sure that is clearly communicated."
Describe an average day at Mikogo?
There's nothing really "average" in a tech start-up. The landscape is forever changing and you never know when you'll get thrown a curve ball and your day's plans take a sudden change. I'm responsible for all aspects of marketing at Mikogo so my tasks from one day to the next can be very varied, for example: researching and creating content, optimizing and testing our website, managing our email automation, doing a detailed analysis of our marketing data, interviewing customers, etc.
The days are quite action-packed and it can almost feel like a race at times getting through all the tasks for the day, meeting deadlines, and reaching our goals. That's the world of a tech start-up! I also check for progress and status updates on any work I have recently delegated or outsourced to others.
As a marketer, what is your favorite productivity hack?
At the start of every day usually before work, I think about my priorities and what I want to accomplish for the day. If I haven't already done so, I write them down on my phone or in a file on my desktop. That list becomes everything to me for the day. Of course, all my tasks and projects are tracked in our project management system, JIRA, but I find that a short, concise list is better at quickly summarizing what I have to do for the day.
It's important to know exactly what you want to accomplish for the day, focus on that, and don't get distracted by smaller tasks which can suddenly become far more time-consuming than expected and prevent you from achieving the day's goals.
One other "hack" which I think is vital is knowing the hours when you are most productive. For me, it's the afternoon. I'm far more switched then. So if there is something creative (e.g. blogging) that needs to be done or a project where I must be at my best, then I will take that on after lunch. And reserve the non-creative tasks for the morning e.g. emails, data analysis, etc.
As a person who is well-versed with online marketing/ inbound, I'm sure you rely on a few marketing tools to automate your efforts. What are the top 3 tools you use?
Act-On — our email and marketing automation system collects new lead data and organizes them to receive our important product emails so leads can get started with our software. We have set up Act-On to place leads in automatic email drip campaigns, nurture the leads, and send emails to educate them in our product.
Buffer — it would be far too time-consuming to get all our social posts out without an SMM tool and Buffer is our tool of choice. It's easy-to-use and has a great user interface.
Mikogo — our team is spread out over 4 countries so we must collaborate and communicate together effectively, with no room to waste time. We use Mikogo on a daily basis to jump into an online meeting and get on the same page with anyone. I can share anything from my screen to my colleagues, and vice versa. This is used across the team and not limited to only marketing.
Your company has a growing community of users. How do you use this treasure trove of customer insight to power your marketing efforts?
As I said before, Act-On is our marketing automation platform and one of the most important automated processes is the lead scoring, which allocates points to leads who complete certain activities and this powers our marketing and sales efforts. It also integrates with Salesforce so our sales team receives the Act-On lead data and activity history straight to their CRM dashboards. It provides them with a real-time picture of a lead's activity and sales-readiness.
Furthermore we are big on customer feedback. We use Zendesk to power our website support pages and helpdesk which centralizes all this valuable feedback from users. We analyze our support queries closely looking for pain points which can be eradicated with an innovative feature solution. This supports our marketing efforts when we launch such new features.
What is your strategy for getting people to your site and then converting them to a customer?
We leverage several different marketing channels including SEO, social media, content marketing, and PR, to drive traffic to our website. Once they land on our website we focus a lot on nurturing a visitor to a lead and then to a customer, by optimizing our website (i.e. A/B tests), supporting our users' needs via content and support pages, and a series of email drip campaigns.
Content is really key. It's not enough just to provide a quality product, or even to give it away for free (in our case). We need to support our website visitors or new leads even further by presenting them with best practice advice via blog articles, white papers, emails, etc. Check out the Mikogo resources page for examples. All of this content adds further value to our service. It helps educate them in how to best collaborate over the Web and they quickly learn that they can get far more from us than just a piece of software.
Also, because we're a freemium product with over a million free users, our content marketing enables us to showcase our premium features and highlight the benefits for businesses, which in turn assists in converting leads to customers.
It's also very important to react appropriately based on our Zendesk support queries and update our website content or support pages where necessary. If many people ask the same question, we can assist others by making the information clearer via our email marketing, website or support pages. It helps greatly later when people Google a common question or search for it in our helpdesk and the first thing they see is the specific article written by us for that very thing.
Is there any advice you'd like to give to budding marketers to help them work smart and stay productive?
Take a step back from your website and try to view your service through the eyes of a prospective customer. I see many websites which are cluttered with buzz words or stock photos which are completely irrelevant to the service being offered. It's paramount that your website clearly communicates what your service offers and what value you create for customers. Think about the top 2–3 things that you do better than anyone and make sure that is clearly communicated on your homepage. That will result in the most productive use of your time for your website messaging and communication. If visitors don't understand your service in the first few seconds, they are out of there.
A big thanks to Andrew for taking the time out to answer these questions! If you haven't already, we highly recommend that you check out Mikogo.
The 'How Marketers Stay Productive' series asks marketers their tips & strategies for staying productive. Every week we'll feature a new guest and the tricks that keep them working smart. Know someone you'd love to see featured? Email Us.