This week we feature Annika Helendi, Lead Generation Manager at Toggl. Toggl is an online time tracking tool. It features 1-click time tracking and helps you see where your time goes.
In this interview, you can read more about her work at Toggl, favorite marketing tools, productivity tips as well as her advice for budding marketers.
Your location: Tallinn, Estonia (Toggl HQ).
‍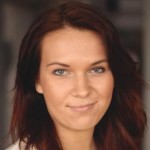 ‍
Your favorite gadget: GoPro.
You start your day with: Coffee
Your favorite time-saving trick: Analysing my time usage and then dropping low impact (but time consuming) activities
Your top 3 blogs you read daily: Kissmetrics Blog, The Daily Egg, Search Engine Watch
"Try many different things and be ready to shift focus very quickly."
Describe an average day at Toggl?
Most people work remotely so the office is pretty empty on most days. Team communication is going on in Slack. On a typical day every team works privately on their 3-month goals and communicates in their own Slack chat. Every team member has their own goals — so there's very little micromanagement. We occasionally have meetings but we try to avoid them as much as we can since these tend to waste a lot of productive time. We also have a common chat room for random ramblings — we post cat videos, jokes, funny news, ideas and so on.
As a startup marketer, what is your favorite productivity hack?
Tracking time with Toggl! It really gives me insights on where I spend the majority of my time and then I can see if I'm keeping my focus on all the things that bring the most traffic or if I'm doing things that are not that beneficial for lead generation. So based on this data I can change my activities and be more productive — for example I now check e-mails only once a day and not in the mornings. This has saved me a lot of time and kept me focused on more important tasks.
As a person who is well-versed with online marketing/ inbound, I'm sure you rely on a few marketing tools to automate your efforts. What are the top 3 tools you use?
Hootsuite, Google Analytics with Webmasters Tools, Twtrland and Mailchimp.
Your company has a growing community of users. How do you use this treasure trove of customer insight to power your marketing efforts?
We fly out to meet our users all over the world and chat with them face-to-face. The main questions we are asking: what problem is Toggl solving for your business and how can we make the product better? These chats give us great insights about user expectations, what product benefits we should communicate better, how users describe us in their own words and how motivated they are to recommend us to their friends and coworkers.
What is your strategy for getting people to your site and then converting them to a customer?
Enhancing WOM and SEO. This gives us highly qualified leads that are very motivated to sign up when they land on our home page. And after that they are in the hands of our Onboarding Manager (Liisa Toompuu) who constantly tests different strategies that would make the user's first experience so good that they would convert into an active long-time user.
Is there any advice you'd like to give to budding marketers to help them work smart and stay productive?
Try many different things and be ready to shift focus very quickly. There are no silver bullets.
A big thanks to Annika for taking the time out to answer these questions! If you haven't already, we highly recommend that you check out Toggl.
The 'How Marketers Stay Productive' series asks marketers their tips & strategies for staying productive. Every week we'll feature a new guest and the tricks that keep them working smart. Know someone you'd love to see featured? Email Us.