This week we feature, Babak Hedayati Chairman and CEO at TapClicks . TapClicks is an MarTech company that caters to digital agencies, local-media, and enterprise customers, with a suite of products including the TapAnalytics Marketing Reporting Dashboard (www.tapanalytics.com). TapAnalytics consolidates all your digital marketing analytics reporting with a unified digital dashboard.
In this interview, you can read more about his work at TapClicks, favorite marketing tools, productivity tips as well as his advice for budding marketers.
Your location: HeadQuarter: San Jose/Silicon valley, major offices high resourced offices in Boston and Montreal.
‍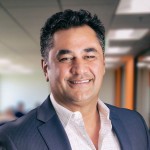 ‍
Your favorite gadget: iPhone 6S Plus.
You start your day with: With light Cardio while thinking about our customers, our products, our people and our challenges and how we can make extreme impact in a short period of time while achieving long-term goals
Your favorite time-saving trick: To work when everyone else is sleeping.
Your top blogs you read daily: Business Insider , The eMarketing Association , MacKenzie Quarterly , HBS Working knowledge
"You can't manage what you can't measure."
Describe an average day at Tapclicks.
It is intense. We are incredibly pumped and excited about our customers, our products and the opportunity at hand.
So you have a lot of people with extreme amounts of energy, with incredible work ethic, who try their best to deliver value to our customers. The great thing about our work environment is that we are excited to be here. We are happy and we enjoy what we do, we are engaged and we care.
It's a lot of teamwork and work groups, working together to roll out useful solutions to solve our customers challenges. We are thrilled to learn about the challenges and opportunities and to have the ability to create value from them.
As a person who is well-versed with online marketing, I'm sure you rely on a few marketing tools to automate your efforts. What are the top 3–5 tools you use?
We believe in drinking our own champagne or eating our own dog food:) of course. TapClicks products and solutions are heavily used internally for order entry, workflow management, analytics and reporting. We are proud that we use our own solution and it has tremendous value when analyzing and reporting our overall marketing effort to various stake holders within the company. We leverage over 20 different marketing vehicles so the unified dashboard is a big time saver and the analytics tool is a money maker.
Next is our lead nurturing email solutions.
Then it is about search, social and content base marketing tools.
Your company has a growing community of users. How do you use this treasure trove of customer insight to power your marketing efforts?
The good news about TapClicks is that we take our customer's expertise and feedback with our products services extremely seriously. As a result of truly offering the ultimate Nordstrom level service as a solution provider, the treasure trove is all the extraordinary, positive reviews you can find on websites such as on Capterra about TapClicks.The treasure trove really has to do with happy customers that see tremendous value in the solution.
What is your strategy for getting people to your site and then converting them to a customer?
We get customers coming to us because we solve very specific problems associated with analytics, reporting and other marketing operation issues for marketers, digital agencies, brands and media companies. They come because they need our solutions. We are a unique solution provider. Our tools are easy to use, self-serve and easy to deploy with a lot of rapid support around high volume massive implementations. We tend to get a lot of conversions. The combination of solving real problems and delivering solutions with service seems to do very well for our conversions.
Is there any advice you'd like to give to budding startup marketers to help them work smart and stay productive?
You can't manage what you can't measure. As a seasoned marketer, that has been in tech, Fortune 500 companies, global companies, start-ups and is an angel investor, I will tell you that the most important part of marketing is about your ability to manage it. You can't manage it unless you are measuring it through some kind of reporting analytics solution. Once you know which vendor/targets/markets are working and which ones are not, then you can optimize your marketing. You need to do it regularly to make it the most efficient . Scalable reporting helps with your management team, your inside clients and your outside clients. Having a marketing platform solution will help you manage the whole problem easily. The reason we are in business is to help marketers to be value-add players in their companies.
A big thanks to Babak for taking the time out to answer these questions! If you haven't already, we highly recommend that you check out TapClicks.
The 'How Marketers Stay Productive' series asks marketers their tips & strategies for staying productive. Every week we'll feature a new guest and the tricks that keep them working smart. Know someone you'd love to see featured? Email Us.