This week we feature Benjamin Zenou, CEO & Co-Founder at SimpliField. SimpliField is a B2B mobile solution that streamlines your field team's reports & audits, giving you real time insights.
In this interview, you can read more about his work at SimpliField, favorite marketing tools, productivity tips as well as his advice for budding marketers.
‍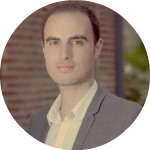 ‍
Your location: Paris.
Your favorite gadget: iPhone 6.
You start your day with: Coffee / News.
Your favorite time-saving trick: No notification.
Your top 3 blogs you read daily: Nuzzel , Close.io , Inside Intercom.
"Focus on your customer and not on the competition."
Describe an average day at SimpliField?
A day in SimpliField is very dynamic because we are experimenting fast growth. I organize my day, then I have my daily meeting with all the team, I answer emails to customers and investors, I make some calls, I visit clients and so on. All days are not the same because when you are in a start-up you will find new things which show up almost every day.
As a founder, what is your favorite productivity hack?
Evernote tags- I have all my notes well organized and classified, in that way my tasks and goals are clear and I know what to do now and what to do later.
No notification (from email/ slack / social …) — Sometimes the best tool is to not have the tool, nowadays in a world every day more connected, when selecting activities to work on, you should focus only on those activities. Being self-disciplined in this aspect has let me avoid an unproductive multitasking.
Schedule my week every monday morning- I have kept one phrase attributed to Seneca: If one does not know to which port one is sailing, no wind is favorable… I plan always my weeks!
Start my day early — Nothing is better, I have time to reflex and I'm ahead of my tasks.
No meeting on Fridays, this is the designated day to work on our project, to reflect about our product, customers, strategies and our future.
As a person who is well-versed with online marketing/ inbound, I'm sure you rely on a few marketing tools to automate your efforts. What are the top 3 tools you use?
With not too much time available, automate some processes is a key issue.
Buffer — To manage all my social media platforms and schedule what to post every week.
Gosquared — Essential to understand customers.
Intercom — For all the conversations with customers.
Mention — For being alert of what happens around our brand through the Internet.
Yesware — Email tracking and follow up
Your company has a growing community of users. How do you use this treasure trove of customer insight to power your marketing efforts?
Understanding how clients think, is a powerful ingredient for success. If you have established the correct processes to funnel all your customers' reviews and you make your team part of it, you'll have day by day a more clear sight of their needs, your product improvements will be more suitable and you will know how to market better; that's a cycle that is important to settle.
What is your strategy for getting people to your site and then converting them to a customer?
Being referenced in the most important SaaS marketplaces and create useful content for our potential customers are key factors to drive them to our website.
Once leads enter to our website, a video explain our solution and encourage to begin a free trial period. Then with all our customer support we try to activate them into customers. However, it's imperative to rely on an awesome customer success team.
Is there any advice you'd like to give to budding marketers to help them work smart and stay productive?
Focus on your customer and not on the competition. Listen and be flexible and don't hesitate to ask advice to mentors and experts.
Your product is your main marketing tool, so try to understand how your customers think. Make your best to figure out what they are really looking for and how you can fulfil those needs. In short: give them value.
A big thanks to Benjamin for taking the time out to answer these questions! If you haven't already, we highly recommend that you check out SimpliField.
Managing marketing projects shouldn't be chaotic — Try Brightpod for free and start focusing on what matters.