This week we feature, Bharath Ganesh Head of Digital Marketing at Zarget. Zarget is a new age CRO software with integrated A/B testing, Split Testing, Heatmaps and Funnel Analysis modules.
In this interview, you can read more about his work at Zarget, favorite marketing tools, productivity tips as well as his advice for budding marketers.
Your location: Chennai, India.
‍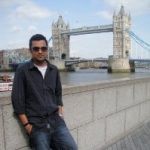 ‍
Your favorite gadget: My macbook pro.
You start your day with: Strong Coffee and the Newspaper.
Your favorite time-saving trick: Prioritize work at the start of the day.
Your top blogs you read daily: Not daily but often — Inside Adwords, Hubspot, Occam's Razor (by Avinash Kaushik).
"Fail fast and move on."
Describe an average day at Zarget?
An average day at Zarget is quite difficult to summarize. Being a new startup in the industry, work is never the same everyday. I usually start my day by going through the basic metrics on the different analytics tools to check if things are going fine. Post that, I usually take sometime to review the upcoming blogs/content. Having been with the team since the beginning, I also handle product demos whenever possible (#startuplife). Sometimes, I even sit with the product team and work closely with them to get a deeper understanding of the product. So you can imagine how my day could look.
As a startup marketer, what are some of your favorite productivity hacks?
I prioritize. First I build an exhaustive list of work items. Then I prioritize it based on impact each item would create and stick to it no matter what. That way, I have a clear idea on my schedule and plan accordingly.
I also make sure to take 5 minute walk every hour. This helps in relaxing my mind and start focusing again.
As a person who is well-versed with online marketing, I'm sure you rely on a few marketing tools to automate your efforts. What are the top 3–5 tools you use?
We use Trello as a team to keep the work items in place and visible to everyone. We also use Hootsuite to manage all the social media content.
Your company has a growing community of users. How do you use this treasure trove of customer insight to power your marketing efforts?
We believe in the lean startup model. At every point, we ensure our customers' feedback is taken up seriously before we progress. Staying close to our customers helps us understand them better. It also gives us an outlook on their personas. Understanding customers' personas is very crucial if you want to reach the right audience. It's simple — If you don't know who your customer is, you won't know where to find them.
What is your strategy for getting people to your site and then converting them to a customer?
Though marketers are well aware of A/B testing and heatmaps, they research online and consume a lot of content before taking decisions. This is because the product is designed to optimize websites and has an effect on the website conversion rate. So unless marketers are completely sure of the product, they usually continue the research. With such a well informed audience, we focus a lot on providing high quality and relevant content to our audience and bring them to our site
Our product — Zarget focuses on getting more visitors to convert on the website. Hence, the strategy is obvious! With the help of tools like heatmaps, it is quite easy to identify where our users have clicked and why they have dropped off from the page. This provides us with a clear action item which we A/B test, thus ensuring our conversion rates are steadily increasing.
Is there any advice you'd like to give to budding startup marketers to help them work smart and stay productive?
I follow and would urge everyone to follow a simple advice that I received from a great person — 'Fail fast and move on'. This does not mean you have to fail in your attempt, but shed your fear of failure, learn fast from any minor failures you may have in your journey and move on to do something great.
A big thanks to Bharat for taking the time out to answer these questions! If you haven't already, we highly recommend that you check out Zarget.
The 'How Marketers Stay Productive' series asks marketers their tips & strategies for staying productive. Every week we'll feature a new guest and the tricks that keep them working smart. Know someone you'd love to see featured? Email Us.