This week we feature Caroline Phillips Rodin, Director of Performance Marketing at Grovo. Grovo is a better way to learn at work. The platform empowers companies with the training technology and content to align, educate, and inspire their teams.
In this interview, you can read more about her work at Grovo, favorite marketing tools, productivity tips as well as her advice for budding marketers.
‍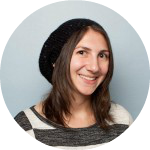 ‍
Your location: ​Heart of NYC.
Your favorite gadget: ​My iPhone.
You start your day with:​ A warm cup of tea.
Your favorite time-saving trick: ​Know who you can rely on to know things and get things done in a pinch.
Your top 3 blogs you read daily: ​Hubspot, Percolate, Moz.
"Feedback is everything to a marketer."
Describe an average day at Grovo?
The first thing you notice when you walk into Grovo is the incredible energy — there's really a feeling that anything is possible, and I never know what the day will hold. A typical day includes sneaking in some quiet work before the day truly starts — by 9am the whole office is buzzing.
Grovo has a strong culture of over-communicating, so we do a daily team stand up to discuss what we're working on, ensure it lines up with our team priorities and company goals, and to identify any potential blockers. And then we're off!
Every member of the marketing team has true ownership and runs with their own projects, gathering throughout the day to check in, calibrate and support. We have a very social culture at Grovo, so there will be people working all over the office, taking a coffee break or playing ping pong. I never know where the day will take me, but I know that at the end of the day I will have learned something I didn't know, with just enough time to rest up before the next day.
As a marketer, what is your favorite productivity hack?
Given how much we rely on email, I love the Gmail keyboard shortcuts.
As a person who is well-versed with online marketing/ inbound, I'm sure you rely on a few marketing tools to automate your efforts. What are the top 3 tools you use?
As B2B marketers, the Grovo marketing team lives and breathes Marketo & Salesforce. Both are great marketing automation tools. Yesware is also an incredibly powerful tool for understanding who is engaging in your one-off, personal emails, if you use it well.
Your company has a growing community of users. How do you use this treasure trove of customer insight to power your marketing efforts?
Feedback is everything to a marketer. We solicit feedback in every way we can, including customer interviews, listening to Sales calls, analyzing our data and testing messaging and the user experience everyday. We also love to go out into the field and talk to people in our space and just listen — at tradeshows, in house events, competitors events. I believe that you can never know too much about your customer.
What is your strategy for getting people to your site and then converting them to a customer?
We show them the value Grovo can add to their organization. That's the world we live in — why go to any website if it won't add value in some way? It's crucial to figure out who your product is valuable for and then go out and introduce it to them. They'll be grateful and spread the word, and you'll get to do great marketing. Also, don't rush people. Be confident in your product, show them the value each day and they will convert and share the love.
Is there any advice you'd like to give to budding marketers to help them work smart and stay productive?
Never forget to pick your head up and get out of the office. Grab coffee with people in the field, go to museums, read the paper, talk to customers — whatever will keep you thinking fresh and give you some perspective. Taking a step back will help you prioritize your day, realize what is important and ensure you focus all of your efforts where it will make the biggest impact. Also, smile more. It will make the whole day better.
A big thanks to Caroline for taking the time out to answer these questions! If you haven't already, we highly recommend that you check out Grovo.
Managing marketing projects shouldn't be chaotic — Try Brightpod for free and start focusing on what matters.