For our ninth interview series, we feature Christophe Primault, Founder of GetApp — is a business software marketplace which lists online software categorized by industry, business need, operating system, deployment method and geography. Users can search for business applications or use the various software recommendation tools made available by the site.
In this interview, you can read more about Christophe's work at GetApp, his favorite marketing tools, productivity tips as well as his advice for budding marketers.
Your location : Our HQ is based in Barcelona but most of our clients are in North America. We really run a global business and have staff in various countries; location is not very relevant to what we do.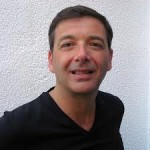 Your favorite gadget: As I work online all day long, I try to relax with things that have nothing to do with Internet and technology. My favorite gadgets are my running shoes, my swimming suit and books!
You start your day with: A big glass of fresh water.
Your favorite time-saving trick: I try to focus only on things that matter the most and that I can influence.
"We try to understand users behavior to make the best software recommendations."
Describe an average day at GetApp?
We start with short daily meetings to review KPIs, tasks performed the previous day and what is on the agenda for the day. The entire company works in agile mode, typically on weekly sprints.
Then, our time is mostly spent on traffic and lead acquisition for our SaaS clients and building our advertising inventory.
In 2013 we have launched an integration platform that is used by SaaS vendors to integrate with complementary apps, build their private app store and join an ecosystem of integrated SaaS partners to grow their business.
Our focus is very much on upgrading our traditional SaaS clients to the GetApp Integrated SaaS Network.
As a founder of GetApp, what are some of your favorite productivity hacks?
I try to stick to an inbox zero policy. It feels good at the end of the day when your inbox is almost empty.
We also eat our own dog food and have most of our business apps integrated on our integration platform. We, automatically, move new clients to our CRM and email lists — this automatically create and back-up invoices.
As a person who is well-versed with online marketing, I'm sure you rely on a few marketing tools to automate your efforts. What are the top 5 tools you use?
We use Brandwatch for social media monitoring and to identify market trends, Oktopost for content marketing, Mailchimp for email marketing, WordPress for our blogs and Google Apps to keep everything together.
How has online marketing evolved in the last decade?
It is becoming extremely competitive. The SaaS and business software industry is a very complex environment for online marketing.
As it becomes easier to develop a new SaaS, the number of products offered is expanding faster than demand. There is also a lot of money being thrown at online marketing by VC backed SaaS companies that have high growth objectives and can afford to run unprofitable campaigns. This is clearly hurting smaller players.
For most SaaS vendors it is very difficult to acquire clients in a cost efficient way and this is in fact the main reason why some SaaS companies fail.
When you can´t afford the best sources of customer acquisition you are tempted to go for cheaper options and this makes the situation even worse as you will build a low quality pipeline that will drain your sales resources.
In a way this is the main reason behind GetApp´s success. SaaS vendors turn to us for their lead generation as we offer a good ROI and never compromise on quality.
GetApp has a growing community of users. How do you use this treasure trove of customer insight to power your marketing efforts?
We try to understand users behavior to make the best software recommendations.
We also gain a lot of insight from our integration platform. We are able to see how users integrate business apps together and that tells use which apps we should recommend. Obviously SaaS vendors are also very keen to have this information, as it will influence their own marketing efforts.
Is there any advice you'd like to give to budding marketers to help them work smart and stay productive?
They need to partner.
Very few SaaS startup marketers will have the firepower to compete with traditional online marketing techniques for new customer acquisition, and it is very difficult to attack the existing user base of their competitors.
One smart way to decrease customer acquisition cost and increase client lifetime value is to partner with complementary apps.
Identify how you can add more features to your product via integration, then build these integrations on top of open APIs and approach 3rd party partners for co-marketing so you can tap their user base.
This is in my opinion the smartest way for a SaaS marketer to grow its business and we see the market leaders such as Salesforce, Intuit, Box or Wix adopting this strategy.
Of course not all marketers will have the resources in-house to grow their business via partnerships and this is why GetApp offers a platform where SaaS marketers can build integrations and develop co-marketing programs with their peers by joining the Integrated SaaS Network.
A big thanks to Christophe for taking the time out to answer these questions! If you haven't already, I highly recommend that you check out GetApp
The 'How Marketers Stay Productive' series asks marketers their tips & strategies for staying productive. Every month we'll feature a new guest and the tricks that keep them working smart. Know someone you'd love to see featured? Email Us.