This week we feature, Dmitri Eroshenko Founder of Relenta. Relenta is an email-based contact and task management platform that replaces information overload anxiety with joy of working.
In this interview, you can read more about his work at Relenta, favorite marketing tools, productivity tips as well as his advice for budding marketers.
Your location: ​In the last 12 months I've lived in seven countries. Currently learning Spanish and salsa in Medellín, Colombia.
‍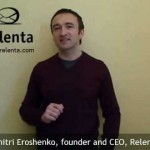 ‍
Your favorite gadget: Bose Soundlink III wireless speaker. Perfect for a homeless mélomane.
You start your day with:​ Ice cold shower and lava hot coffee
Your favorite time-saving trick: Play by the 80/20 rule. Do only things that matter. Think of being too busy as an excuse not to think.
Your top 3 blogs you read daily: Lincoln Murphy's Saas Growing Strategies, Seth Godin, Mark's Daily Apple
"Design seven times, implement once."
Describe an average day at Relenta?
A bunch of guys getting together to do what we love and what we came to be really good at in the last 10 years: Helping our clients be relentlessly productive.
As a startup founder/ marketer, what are some of your favorite productivity hacks?
Inbox Zero and GTD. Both are an integral part of the Relenta design and as such they are no longer hacks. This brings up an important point about hacking.
For me the word "hack" has a negative connotation and I don't understand why everyone is so fascinated with it. "Hack" is a word of German origin which means making rough, irregular cuts with an axe. It implies a lack of elegance and finesse. It is OK as an emergency measure, but not as modus operandi. I much prefer productivity by design.
As a person who is well-versed with online marketing, I'm sure you rely on a few marketing tools to automate your efforts. What are the top 3–5 tools you use?
Instead of using five separate tools as most companies do, we use just one — Relenta. It combines the functionality of a shared email client, email marketing, workflow automation, team calendar and project management tool.
The end result is this, in the words of our client:
"When we interact by email with our large clients at Lokad, I guesstimate that we spend only 10% of the effort that they spend on their end to maintain the flow of conversation"
— Joannes Vermorel, CEO, Lokad
Your company has a growing community of users. How do you use this treasure trove of customer insight to power your marketing efforts?
We think of marketing as the product itself. Our emphasis is on client success. Instead of aggregate statistics, our strategy is to get inside each client's head, understand what makes them successful with our product — or what makes them quit. As the company founder, quite possibly two of my most important functions are 1) product demos for prospective clients and 2) handling client support emails. This way I can rely on my own intuition when making product development decisions. This is the best marketing research, and instead of it being a major expense, I am getting paid for it.
What is your strategy for getting people to your site and then converting them to a customer?
Word of mouth, organic search, product review sites and directories, social networking. To convert visitors to customers we offer a free 14-day trial during which our potential clients are paired up with a client success manager who learns about their business and workflows and essentially acts as an expert CRM consultant who works for them but is paid by us.
Is there any advice you'd like to give to budding startup marketers to help them work smart and stay productive?
Design seven times, implement once. Think of marketing, sales and client success as one unified function. If there is a disconnect, by definition your marketing will not be as productive as it should. As an experiment try and respond to every cold email you get. From my experience, in about 30% of the cases you won't get a reply. This is such a waste if you think about all the effort that went into landing that email in your Inbox.
A big thanks to Dmitri for taking the time out to answer these questions! If you haven't already, we highly recommend that you check out Relenta.
The 'How Marketers Stay Productive' series asks marketers their tips & strategies for staying productive. Every week we'll feature a new guest and the tricks that keep them working smart. Know someone you'd love to see featured? Email Us.