This week we feature, Francisco Ruiz, Co-founder and CEO of RankTab. RankTab is a group decision making platform that leverages the collective intelligence of a group to reduce complexity, nurture innovation and enable wiser, faster decisions.
In this interview, you can read more about his work at RankTab, favorite marketing tools, productivity tips as well as his advice for budding marketers.
‍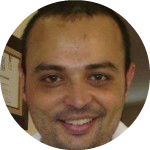 ‍
Your location: San Jose, California.
Your favorite gadget: Looking forward to the iPad PRO.
You start your day with:​ Coffee.
Your favorite time-saving trick: The Pomodoro Technique.
Your top 3 blogs you read daily: Hackers and Founders Blog , Gary Vaynerchuck, The Heretic.
"I believe great marketers are great observers first​"
Describe an average day at RankTab?
As an international startup (offices in San Jose, California and Guadalajara, Mexico), we leverage great collaboration tools to stay connected and engaged as a team. First off, we usually greet each other as we see everyone start popping up in Sqwiggle. We have an ongoing conversation in Slack, quick hustles on Hangouts and collaborate together on several platforms such as Trello, PivotalTracker and BitBucket. We like to stay engaged by sending good vibes through music, using our hub in Juqster to listen to each other's favorite music and play around with funny songs.
As a Marketer, what is your favorite productivity hack?
I'm a big fan of reaching inbox zero every day before 7am, I use Sanebox to keep focused and follow the GTD methodology. We manage our company progress and focus through OKRs. I also use visual planning tools such as GoalEnforcer and Goalscape to clear my priorities, more recently I've started to explore Droptask for this type of visual collaboration for our team.
As a person who is well-versed with online marketing/ inbound, I'm sure you rely on a few marketing tools to automate your efforts. What are the top 3 tools you use?
We benchmark our community insights with SocialStatus, and focus in measuring product engagement with Mixpanel, in order to define our customer priorities using tools like Wizeline.
Your company has a growing community of users. How do you use this treasure trove of customer insight to power your marketing efforts?
Our mission is to revolutionize group decision-making, and as such, we are big believers of consumer anthropology and the culture of observation towards solving this problem for our users. We observe our customers' experience with group decision-making and use that insight to focus in eliminating its pain such as excessive time consumption, groupthink and lack of defined values.
What is your strategy for getting people to your site and then converting them to a customer?
Using the above mentioned anthropology approach, our strategy becomes very simple: ensure a great experience when people use RankTab to decide in groups. If we are successful at doing this, people who were invited as first time users, will continue to use us in the future for their own group decisions and convert into customers.
Is there any advice you'd like to give to budding marketers to help them work smart and stay productive?
I believe great marketers are great observers first; this is why you should leverage all tools to understand how and why your customers engage with your product or service, rather than throwing features or content at them, this is backwards thinking. Too many marketers rely on outbound tactics to build an audience, only to discover that having an audience doesn't necessarily means attracting new customers.
A big thanks to Francisco for taking the time out to answer these questions! If you haven't already, we highly recommend that you check out RankTab.
Managing marketing projects shouldn't be chaotic — Try Brightpod for free and start focusing on what matters.